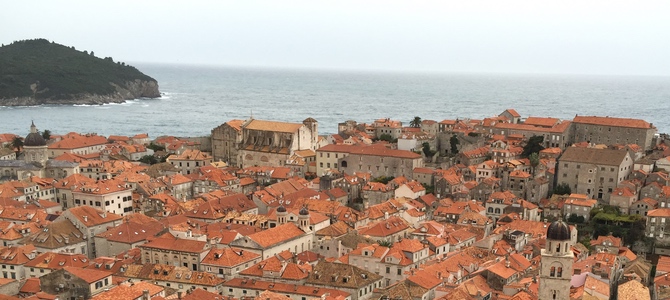 Our final day saw us visit Dubrovnik in Croatia, do the dreaded packing, and have our first experience of dinner in the Windjammer buffet.
Room Service Breakfast
As today was a very early start, Lesley and I decided that room service would be appropriate so we could eat while getting ready and save some time.  The menu is fairly standard, and there are, as usual, a few chargeable options – mainly drinks such as freshly squeezed juices.  The time slots are 30 minutes long and start at 06:30.  We opted for the first slot (06:30 – 07:00) and popped it on the door the night before.
It didn't really go to plan!  Room service called just after 7am to say that they were very busy and would be there as soon as possible.  When the breakfast did arrive, we signed for the orange juice and when we finally dipped in realised they'd got the order wrong!  Not drastically wrong that it was a massive issue, but that's not the point.  Naturally we didn't have time to have them rectify the situation (though I'm sure they would have fixed it with a sincere apology) so we ate up and left.
Dubrovnik, Croatia
We visited Dubrovnik in lieu of our visit to Argostoli so this was an unplanned port and I'd therefore not done any research on what to do here.  In fact I had no clue about what Dubrovnik even had to offer.  Thankfully some lovely people on the forums and my blog seemed convinced that the key highlights were walking around the city itself, the walls, and the cable car.  That's exactly what we aimed for!
The weather in Dubrovnik when we arrived was very poor.  As we were up early and in an inside cabin, we prepared for a cooler day in port without having first looked outside.  Thankfully a crew member told us that we might consider umbrellas and coats, so we nipped back and dressed appropriately.  It wasn't especially cold, but it was very wet!
The port in which we docked is actually about 15 minutes away from the old town of Dubrovnik (which is where the beauty, walls, and cable car are) but there are ample taxis waiting outside the ship to whisk you away in an instant, for a fixed one-way fare of €10 or 75kn. (the Croatian Kuna).  Busses are available but the taxis are so convenient I don't see why you wouldn't just hope in one of those.  We shared a taxi with a couple who had the same idea, making the cost effectively only €5 per person return.  With only so many fares to be had, they do drive at breakneck speeds but got us there in one piece, relatively safely!
Now this was an unplanned visit so I accept that the timings may have been difficult, but it's quite typical of the port visits on this cruise as a whole.  We arrived in Dubrovnik at 07:00, and had to be back aboard by 12:30.  On previous cruises I've enjoyed trying some of the local food and taking my time, but this trip has seen really short port days.  The other problem with such an early start in Dubrovnik is that the cable car and the entrance to the walls don't open until 09:00!  We arrived at around 08:00 and had a little wander round.  With hindsight I would have skipped the room service breakfast (more on that later) and had some breakfast in Dubrovnik.
At 09:00 we decided to enter the walls at the entrance in the North-East of the city, which is a tiny little gate in an alley which leads up to the top.  Entrance to the walls is 100kn. each (under £11) and is payable by cash or credit/debit card.  The walk does involve quite a few steps up and down, and some fairly steep steps if you wish to take in the views from the little forts along the way (optional, but highly recommended).  Any normally healthy person can manage this, and compared to the climb in Kotor this was a breeze!
The views from the walls are absolutely stunning, and Lesley commented that (despite the rain) Dubrovnik was her favourite port on the cruise.  Just walking around and taking in the views of the old town from the walls is incredible, then when you reach the southerly wall the views out to sea are also breathtaking (though they'd have been even better if we had the weather on our side).  I imagine the views from the cable car would have been better too, but due to the wind I don't think this was running (we didn't see on while we were there).  I didn't mind though, as I'm absolutely terrified of cable cars.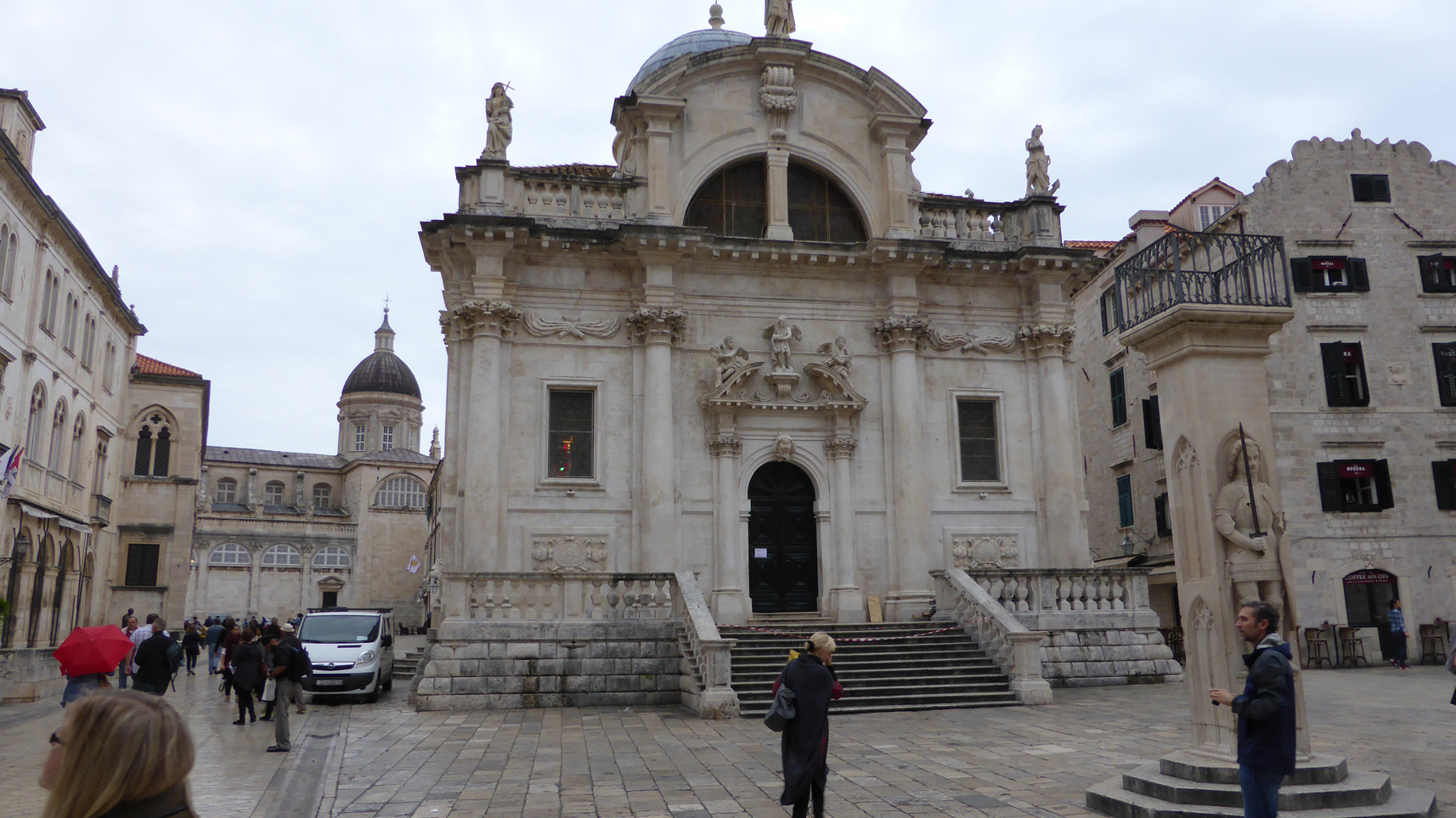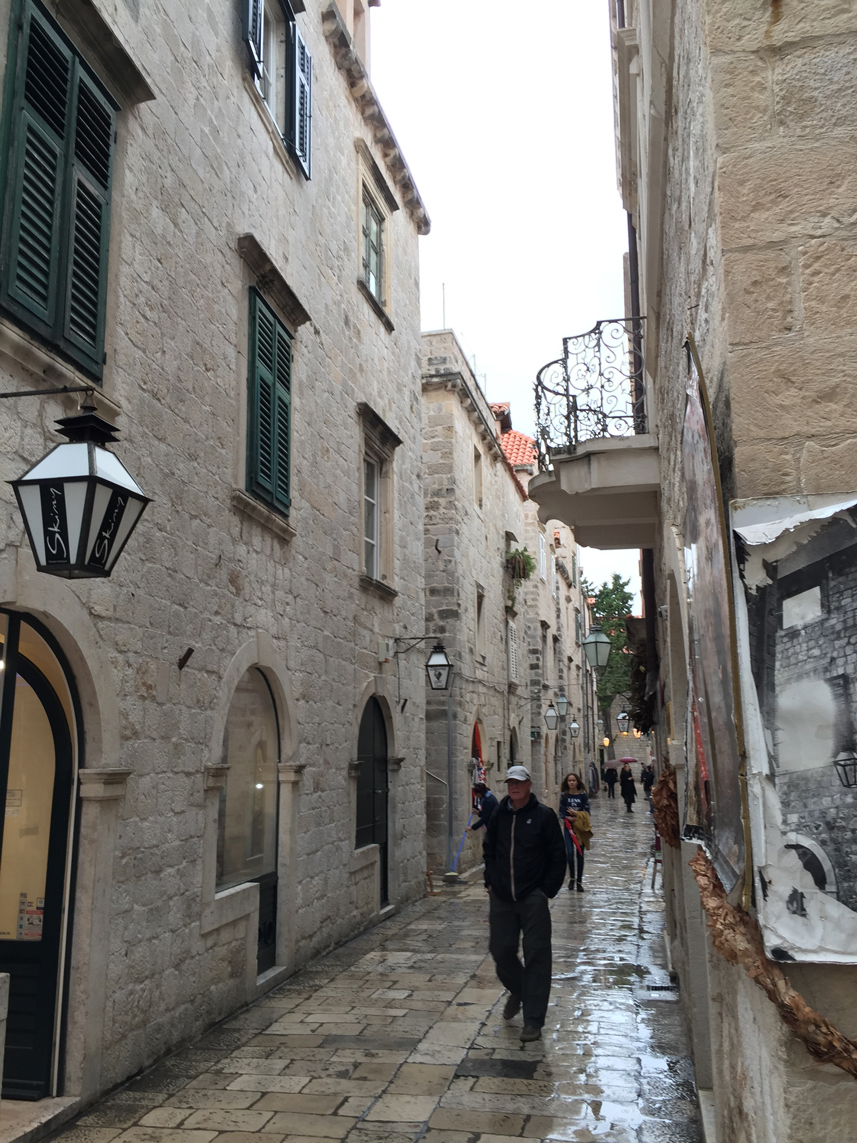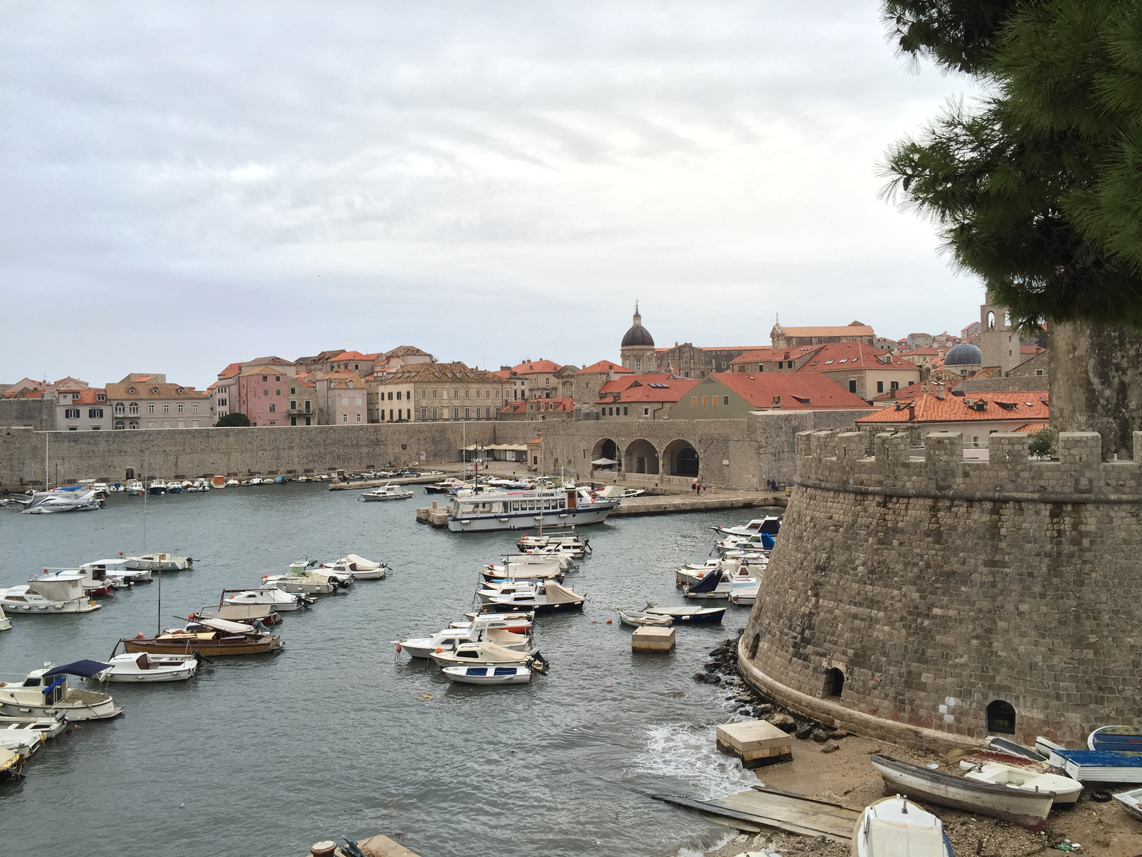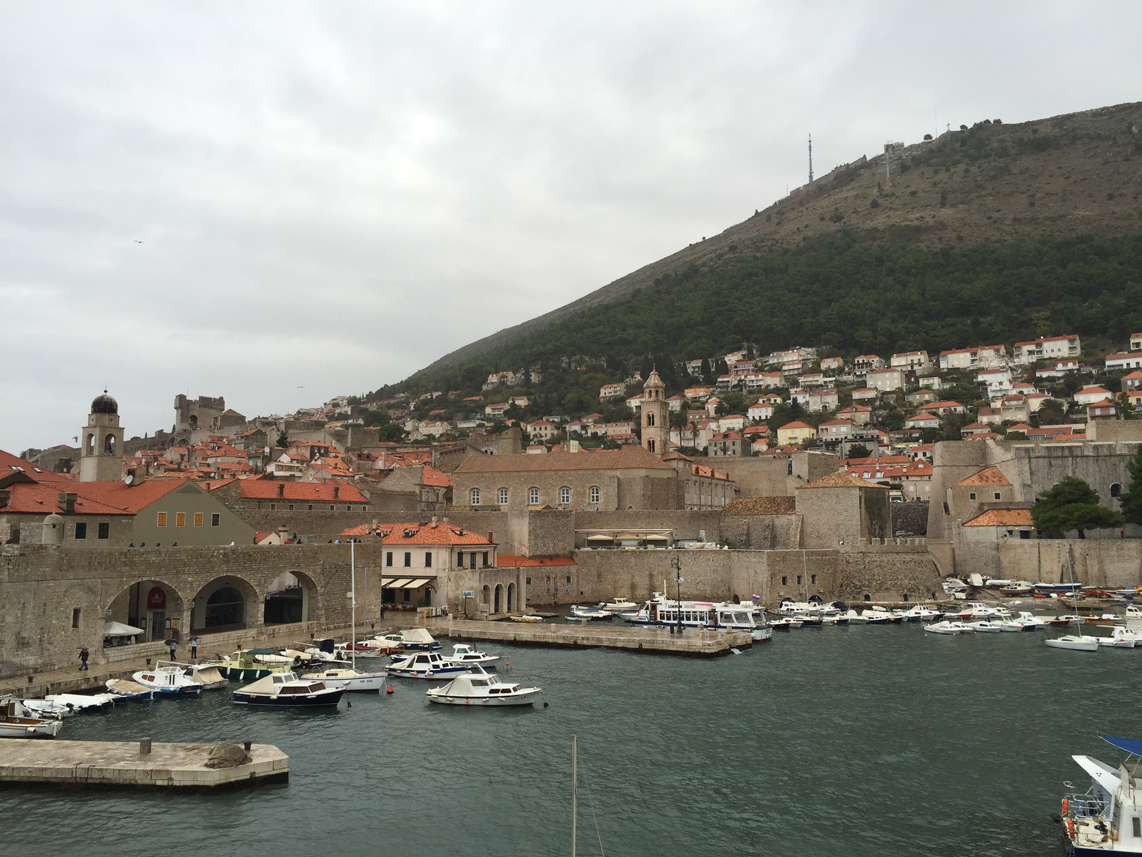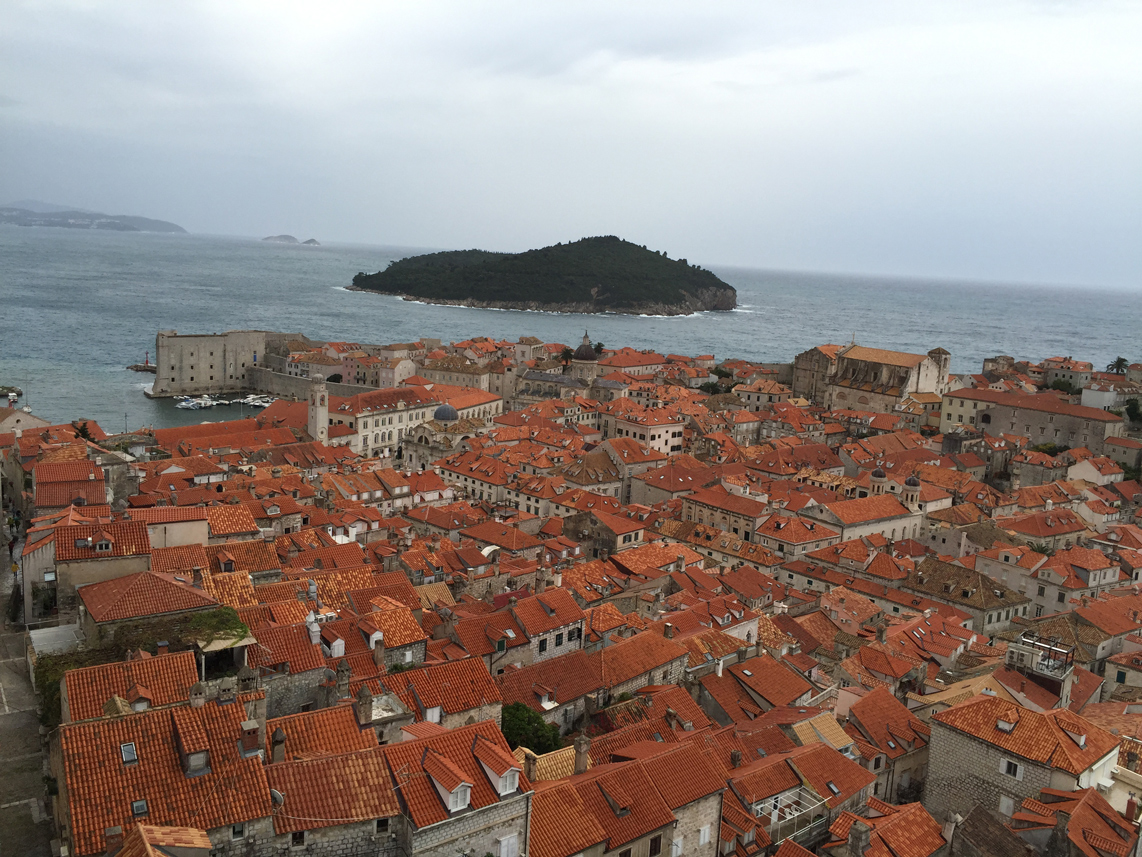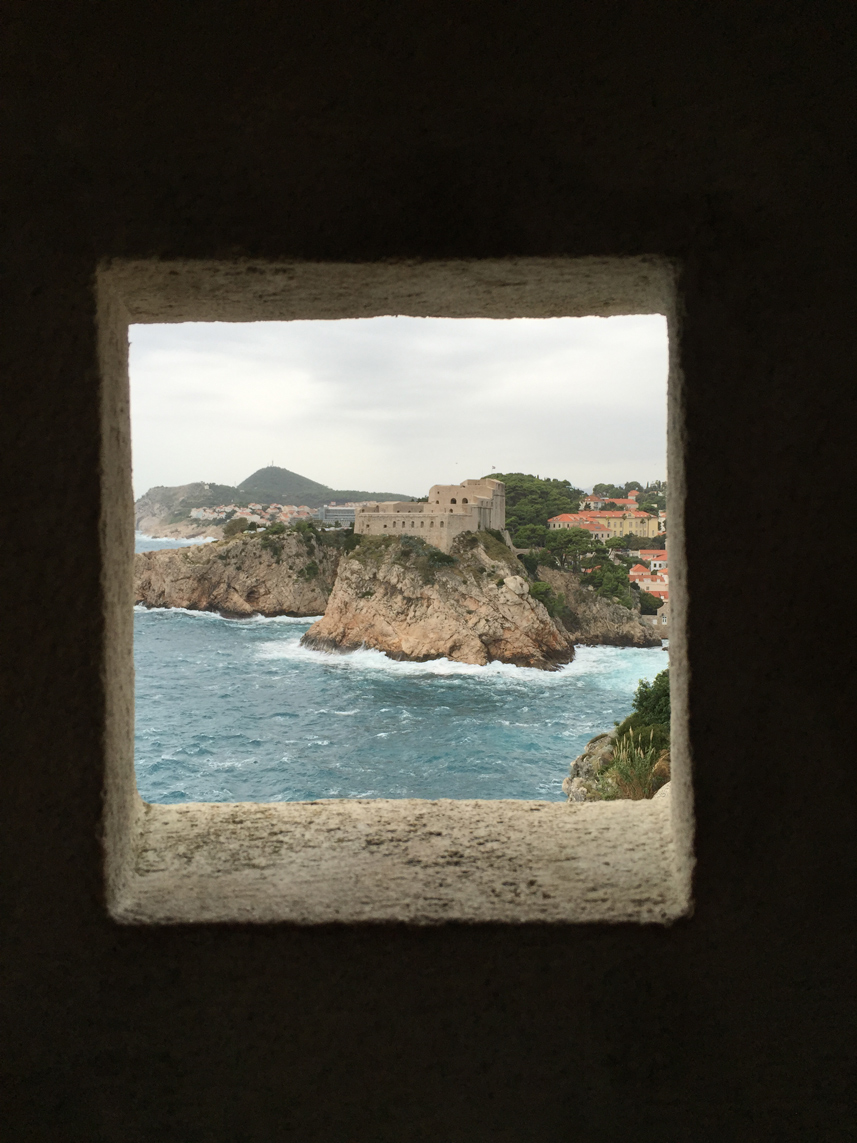 At the end of the main tourist street in Dubrovnik lies a lovely clock and bell tower which I was really drawn to for some reason.  It's not the most beautiful building in the city, but I thought it was rather pretty.  It has a normal sun-motif clock face, and another clock underneath that only shows the current time and is a bit like an old bedside alarm clock, but changes only in 5-minute intervals.  The bell at the top is struck by two figures called Baro and Maro every day at noon (maybe more often) though today these statues are replicas of the originals.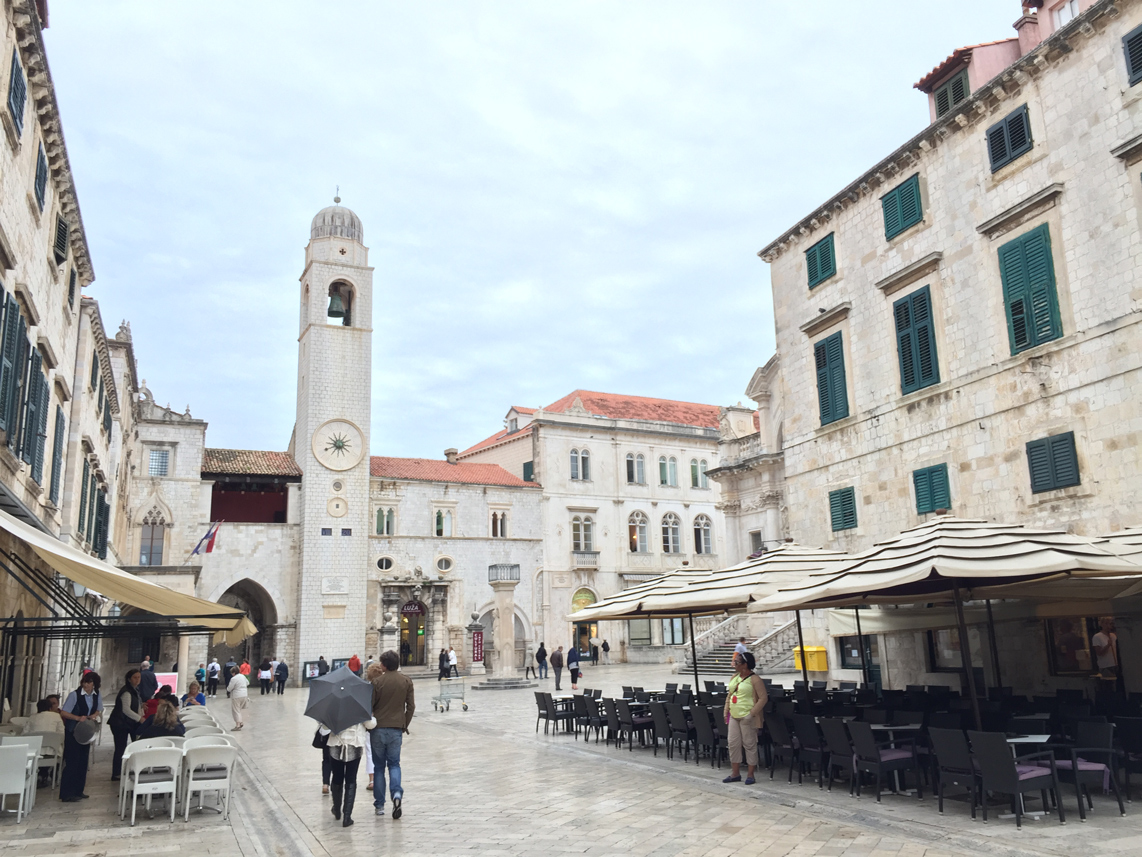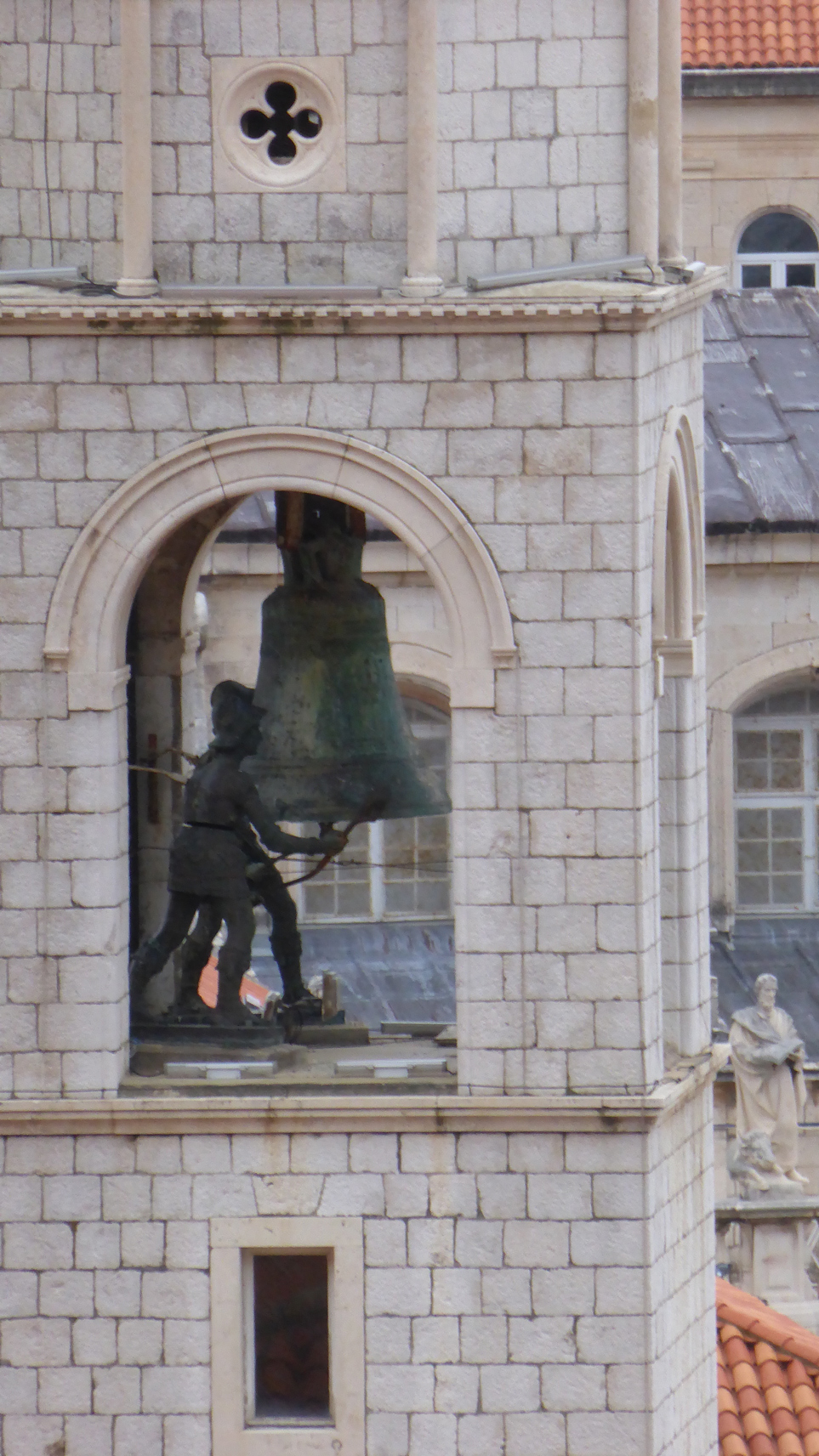 At the end of our short visit Lesley decided to get some ice cream (on perhaps the least appropriate day we've had so far for it) and we tried to get a taxi back.  Once again we found a couple to share with, though beware that the queues for the return taxi ride were extensive.  Combine this with traffic in Dubrovnik being fairly horrible and you should leave plenty of time to get back to the ship – do _not _leave this until the last minute!
This Afternoon
We decided to take it fairly easy in the afternoon.  We enjoyed the sail away from the Viking Crown Lounge with coffee and some snacks.  We sailed past the other cruise ships that were in port (we were the first to leave, despite the MSC ship returning to Venice the following day too).  I had another disappointing hot-dog from the Dog House which was a shame.  Third time was not a charm.  I love hot dogs but these (even at 12 when they just open) are stale!  The meat is actually OK, but what use is a juicy sausage without some fresh buns!?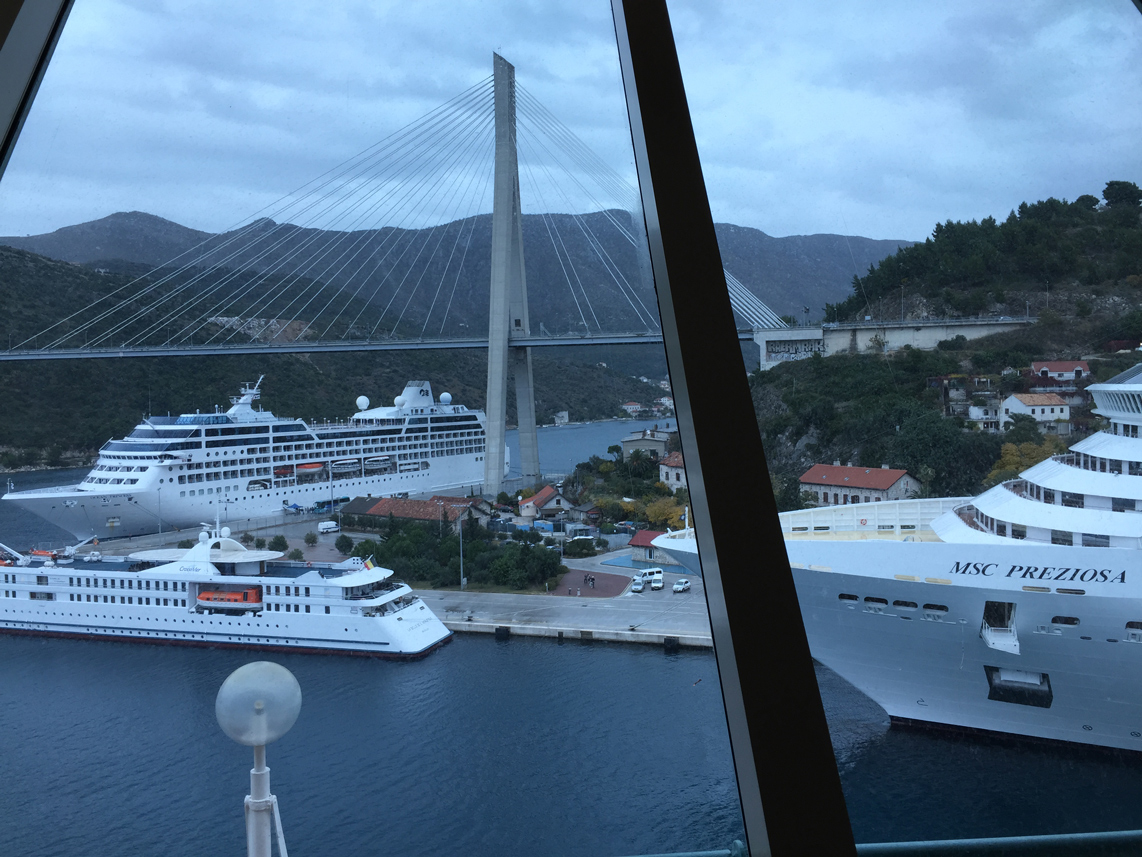 From the Viking Crown Lounge Lesley decided she was going to book a massage, and I decided to try and book the Chops Grille again for dinner.  It's the best speciality restaurant on the ship, and the food is actually pretty good – much better than that in the MDR.  Unfortunately it was fully booked and as we didn't want to dine with others on the last night (it takes too long) I resigned myself to an evening trip to the buffet.
Lesley thoroughly enjoyed her massage while I went back to the room to do some packing.  Her massage ended up costing her more than she expected, so first time cruisers beware – if anything is offered make sure you know what it costs first!  Still, she said it was a wonderful experience and she enjoyed every minute.  It's just a shame that my credit card was registered for both accounts….
Packing was a typically miserable affair, though interestingly Royal Caribbean operate their disembarkation differently to Celebrity.  Celebrity deliver a questionnaire to your stateroom several days before departure (which on a short cruise can be a bit of a shock) asking what time you'd prefer and if you have any onward travel arrangements.  Royal don't bother with this at all – they allocated tags based on random chance (though looking at the luggage on our corridor I guess by location on the ship – they were all the same).  A note in the normal Cruise Compass tells those wishing to self-disembark how to register for this.  We packed before dinner, then returned after dinner to put the bags out.  It was otherwise all fairly standard.
Windjammer Dinner
When cruising with Alex I generally avoid buffets like the plague.  The food in them can be good, but I hate queuing for food and the atmosphere in a buffet restaurant is like a cattle market.  I believe on my Eclipse cruise this year I went to the buffet only one or twice, and it was because I was ill and only wanted something very light.  We favoured the wonderful cafe for breakfast coffee and pasties!
That all said, the Windjammer was a pleasant surprise.  Table drinks service was prompt and friendly, and as we dined very early (18:00) it wasn't intolerably busy.  The variety of food was fairly mediocre, and there was a strong emphasis on fish that night (perhaps a theme of some sort).  This suited me, but Alex would have struggled.  They had some fish and chips which were fine, though the batter wasn't particularly crispy.  What did stand out was the crepe station – freshly made crepes that you can fill or decorate with whatever you want!  They have various fresh fruits, broken biscuits & cookies, chocolate, Nutella and other spreads… the list goes on.  It was an impressive selection but unfortunately I was too full to want dessert!
Overall the experience was fine, and the layout of the buffet means that from the majority of tables you don't actually see the buffet, which makes it feel more like you're having a proper meal.  This combined with the efficient table drinks service made it a reasonable choice for those who, for whatever reason, don't fancy a more formal meal in the MDR or speciality restaurants.  For me, there are very strictly limited situations where I'd go again, and 'because that's what I fancy' isn't on the list.
Showtime!
The final evening's entertainment was a comedy magician act called Charlie Faye & Company, starring Charlie as a somewhat slapstick comic clown and his long suffering wife.  The act itself was actually reasonably good, though once again the entire show was done without any dialogue to ensure it appealed to everyone on the ship.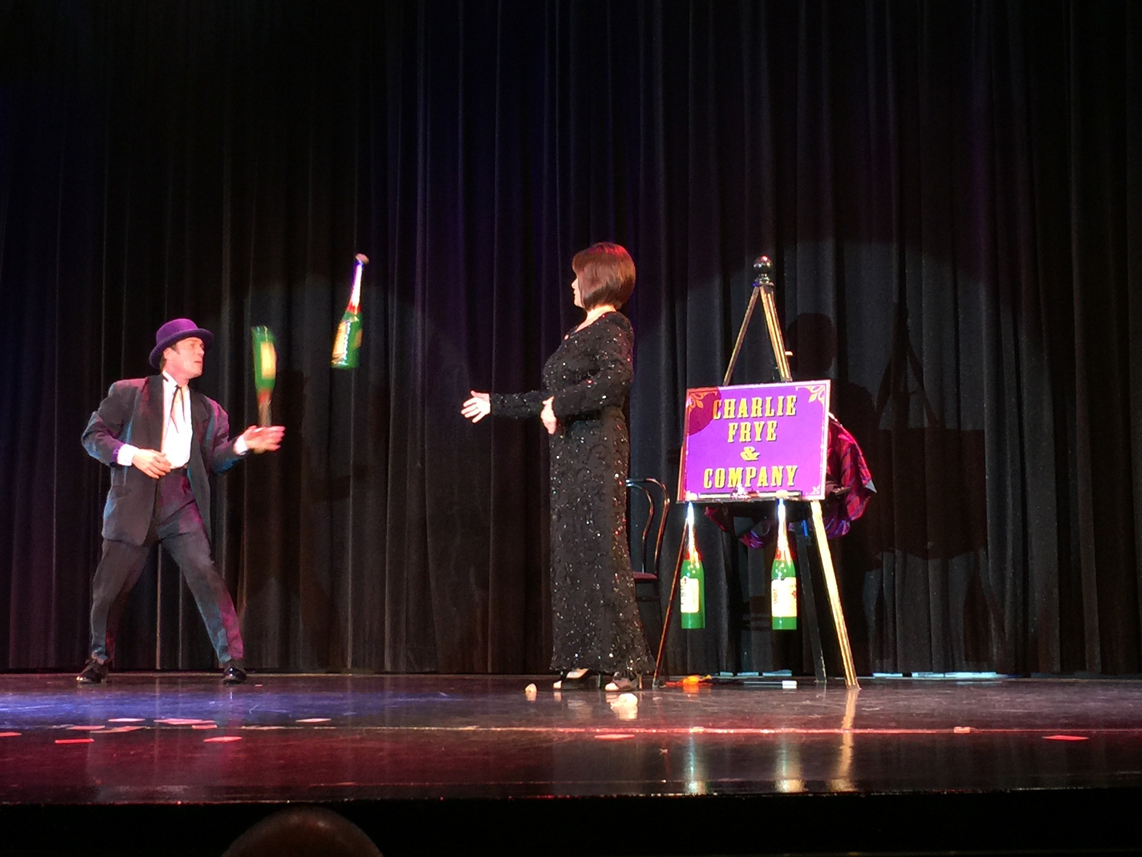 He did a range of juggling, slight of hand, and various other fairly predictable acts.  Despite being fairly unoriginal, he did at least execute his act very well, and a few still left me scratching my head.
After the main act, our cruise director came out and surprised us with a little farewell song presented by the singers and dancers of the ship.  While this was happening the video screens showed photos of various groups of crew waving and saying goodbye, and the overall message was that they don't say goodbye, they say 'until we meet again'.  It was actually quite emotional, and much more powerful a finale than I've seen on any other cruise.  If I'm honest I had a bit of a tear in my eye, and I know Lesley did too!  The finished it off by marching a stage-full of officers and crew down the aisles and onto the stage, all waving along with the 'until next time' number that was still going on in the background.  It was lovely!
We finished off our night quite early – I disposed of some remaining dollars in the casino and we headed to bed.
#####