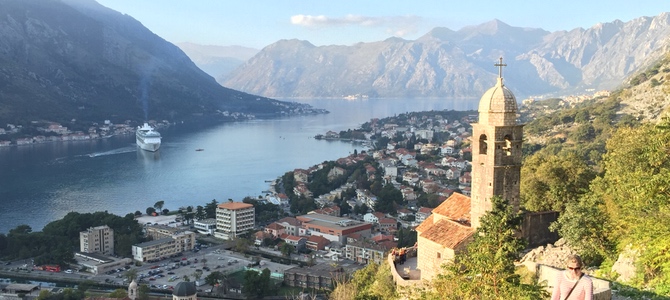 </a>
Today I'm going to try and fill in some gaps from yesterday, as well as tell you all about our day, including our very exhausting visit to Kotor and our first experience of the ship's Main Dining Room (MDR) and My Time dining.
Stateroom 2031
So normally on day 1 I'd give a short review of our stateroom but, as I pointed out, I was much more keen to avail myself of the bed than write about it yesterday so I'll do that now.
We're in an inside stateroom on deck 2. When we first arrived the beds were set together as a double which obviously wasn't suitable so our stateroom attendant fixed that during the turndown service at night. Somehow a single bed doesn't seem to offer as much space as my half of the double bed. I think that says less about the bed and more about my misinformed ideas about what a 'fair share' is…
Out attendant is very friendly and, as is usual on embarkation day, he introduced himself to us. The crew seem very friendly on this ship and all of the attendants that we pass cheerily say hello and ask how our day was. I know how busy and overworked these guys are, so to have a cheery disposition while doing it is great to see. We even had a towel animal waiting for us tonight. Controversial, I know. It's a bit cheesy but certainly a bit of fun and Lesley seemed quite excited by it!
The storage in the main bedroom is quite good. There's a double wardrobe with half containing a full-drop rail and the other containing two half-drop rails. This is great for maximising space and Lesley and I haven't come close to filling it for our 7-night cruise.
Drawer space is also fairly generous, with three narrow drawers and three full-width drawers as part of the desk and another two full-width drawers in the bedside table. The top drawer on the narrower set has the hairdryer in it though, which limits its potential usefulness a bit. Lesley put her straighteners in there.
These drawers are on either side of the desk which is spacious enough for me to comfortably blog from. Above the desk are two mirrored corner units (one on either side) which I initially though were a complete waste of space but which now contain a variety of chargers, cables and accessories (like cufflinks, painkillers, and other small miscellanies).
Notably missing from the stateroom is a mini-fridge (and this is mere days after asking incredulously on one cruise forum "What cruise lines don't have a fridge?!") Well now I know! The other downside of not having a mini-fridge in the stateroom is that the contents of the 'mini-bar' (if you can call it that) are stuck in the corner of the desk which isn't ideal.
The bathroom is small and, from what I gather from other reviews and photos, fairly typical of an older ship's bathroom. It's very similar to what I had on Queen Mary 2, but without as much storage. There is a small shower with a wire basket on the wall for soaps and shampoos. This has no glass screen as found on more modern ships, favouring instead the dreaded shower curtain of doom. So far I haven't found it to be too much of a problem, though of course every time the slimy beast sticks to my leg I get a horrid shiver! The shower itself is quite powerful and has had plenty of hot water whenever we've used it (morning and before dinner).
The toilet is at about a 45º angle from the corner which means larger people (frankly, even smaller people) might struggle to sit easily unless they can find a way to somehow intersect their leg with the wall – not something I'd recommend! The main issue in the bathroom is lack of storage space; we've started storing things that I'd typically keep in the bathroom in those little corner cupboards above the desk – see they do have a purpose!
There are no tea and coffee making facilities to take even more desk space away, much to my delight and no doubt many others' frustration!
Overall it's a functional little room and perfectly sufficient. For those on a budget it's a great way to experience cruising while keeping costs down and of course the stateroom doesn't detract from the rest of the experience you have on board. Personally I like having a balcony and would probably continue to book that grade of cabin or higher on future cruises with Alex, but the inside stateroom is much more tolerable than I expected it to be.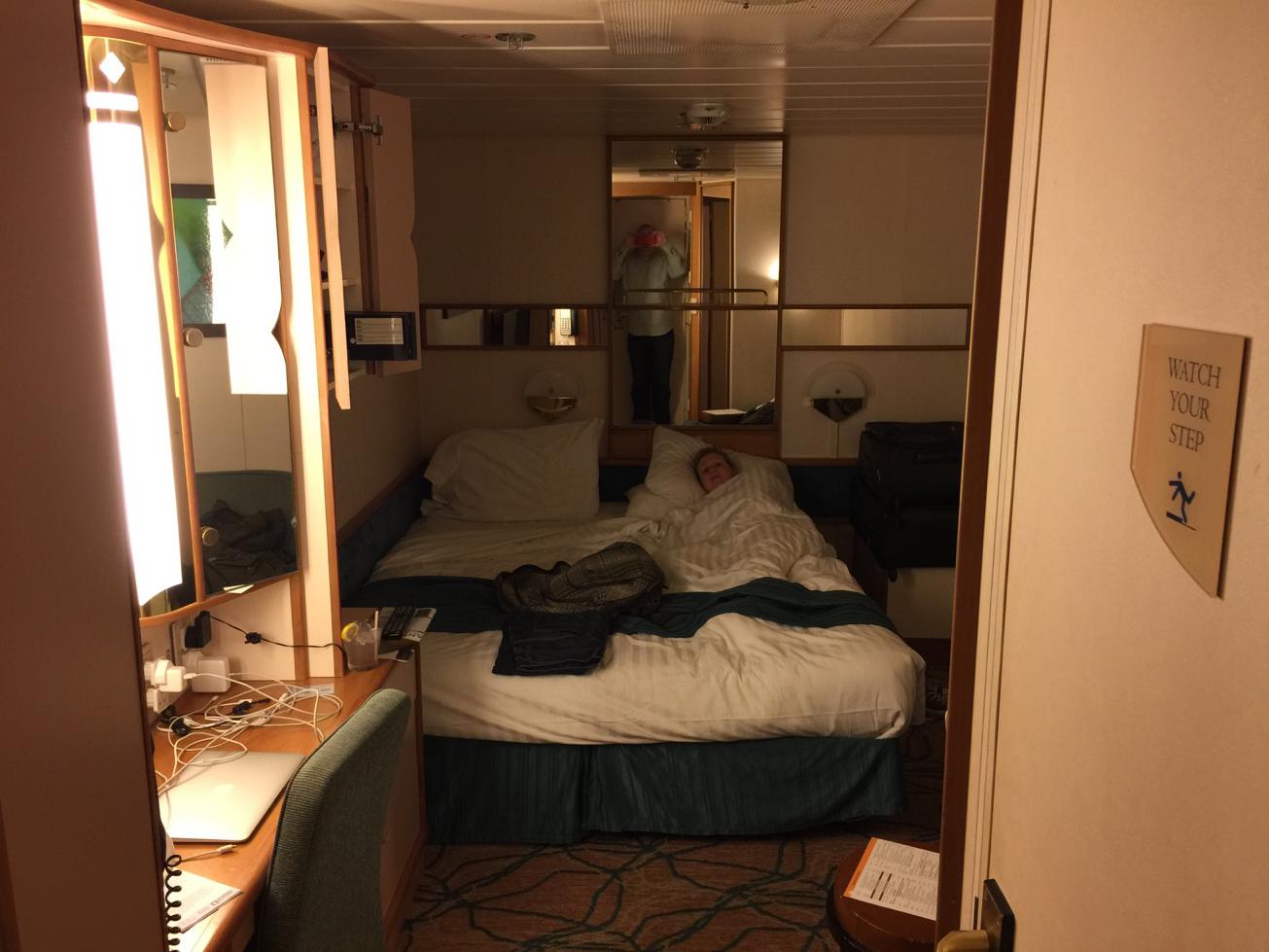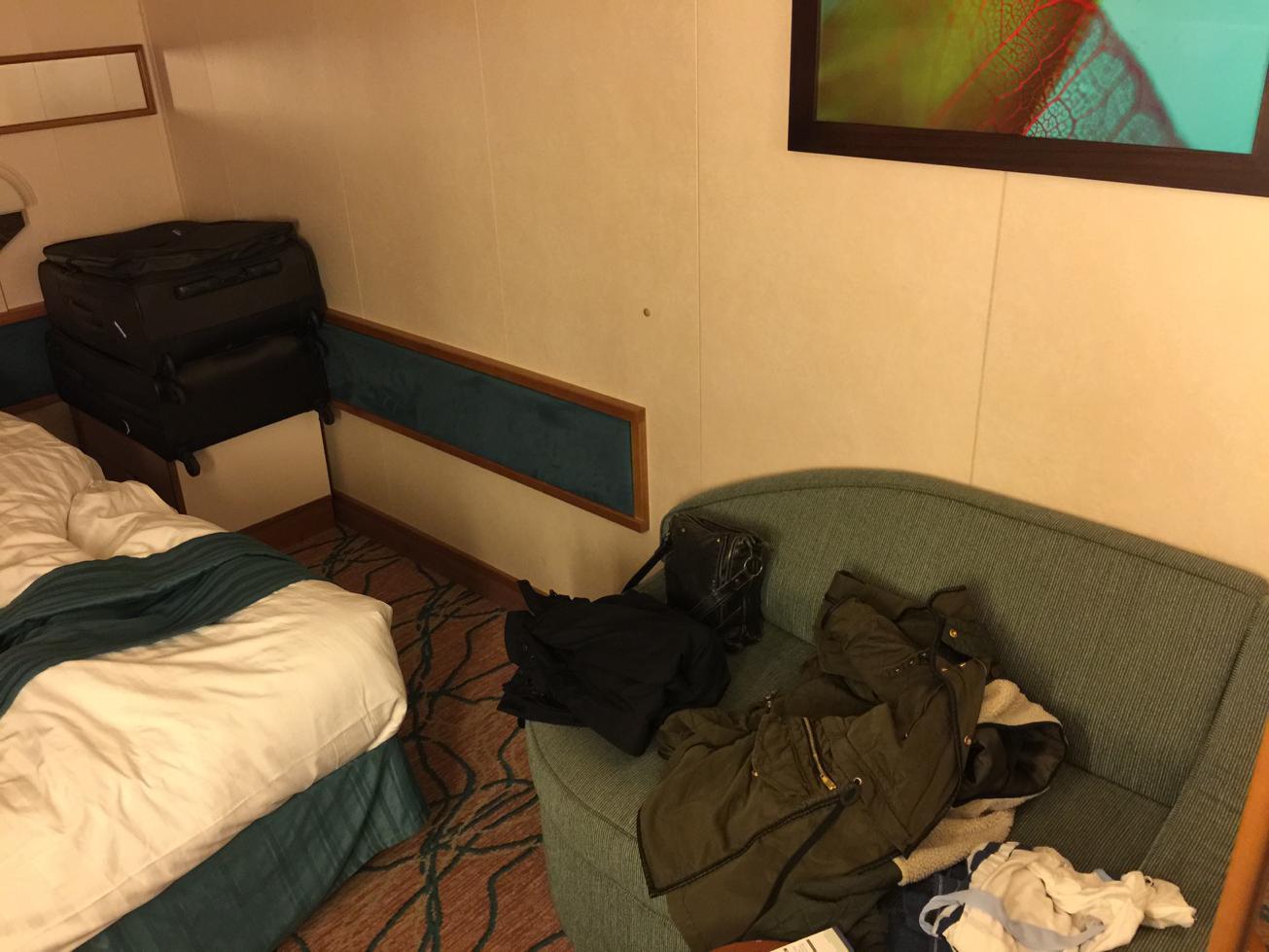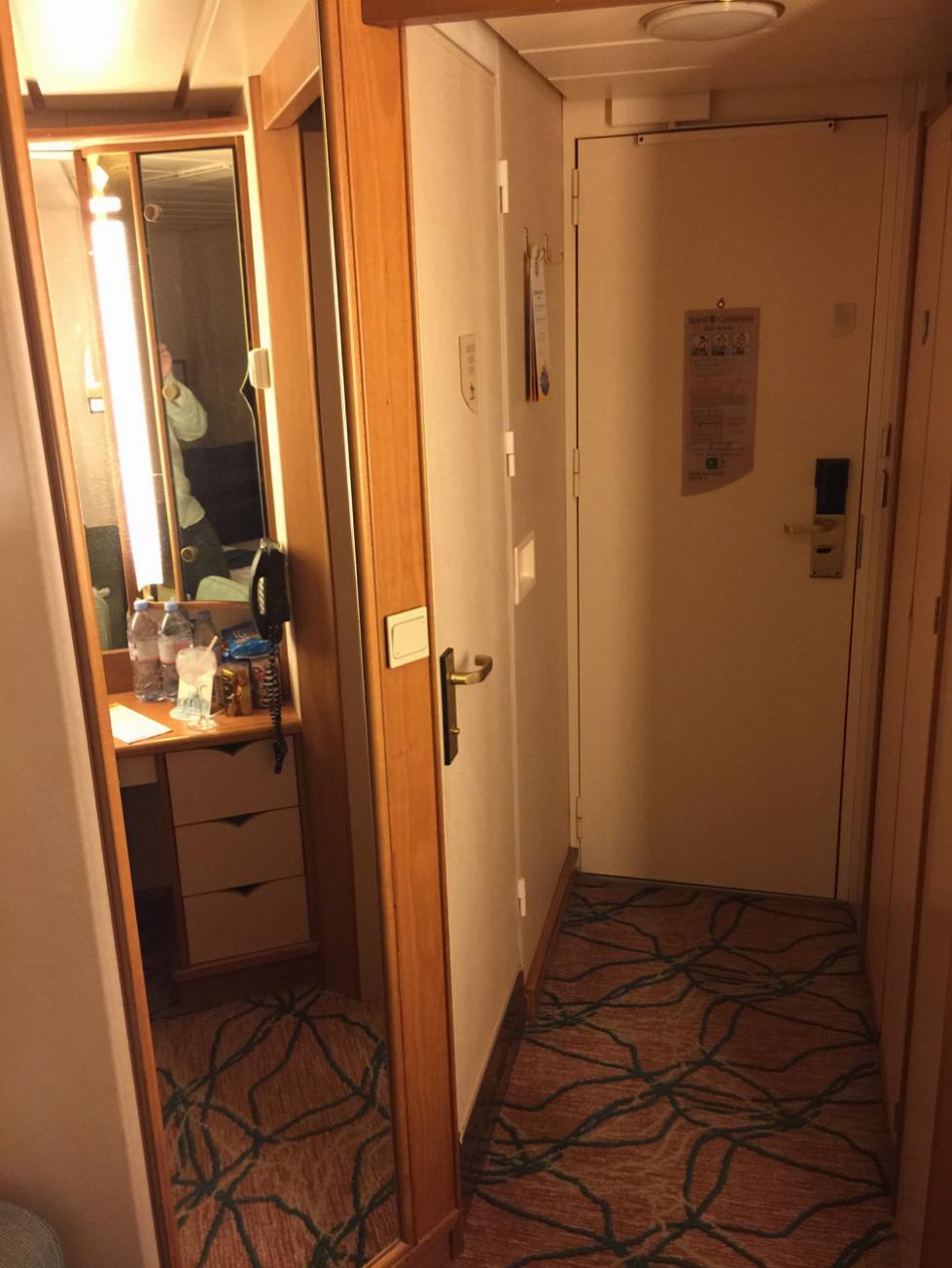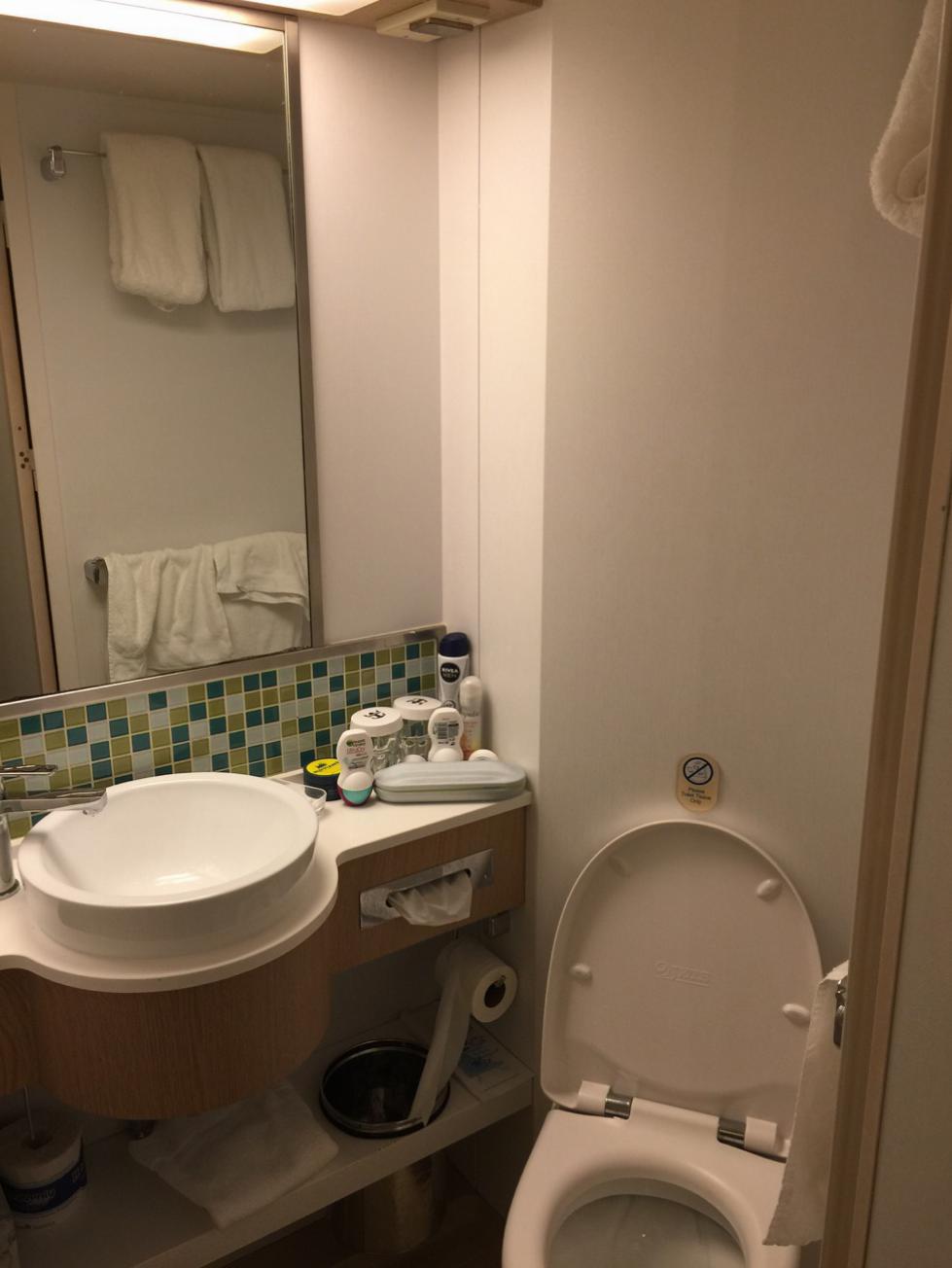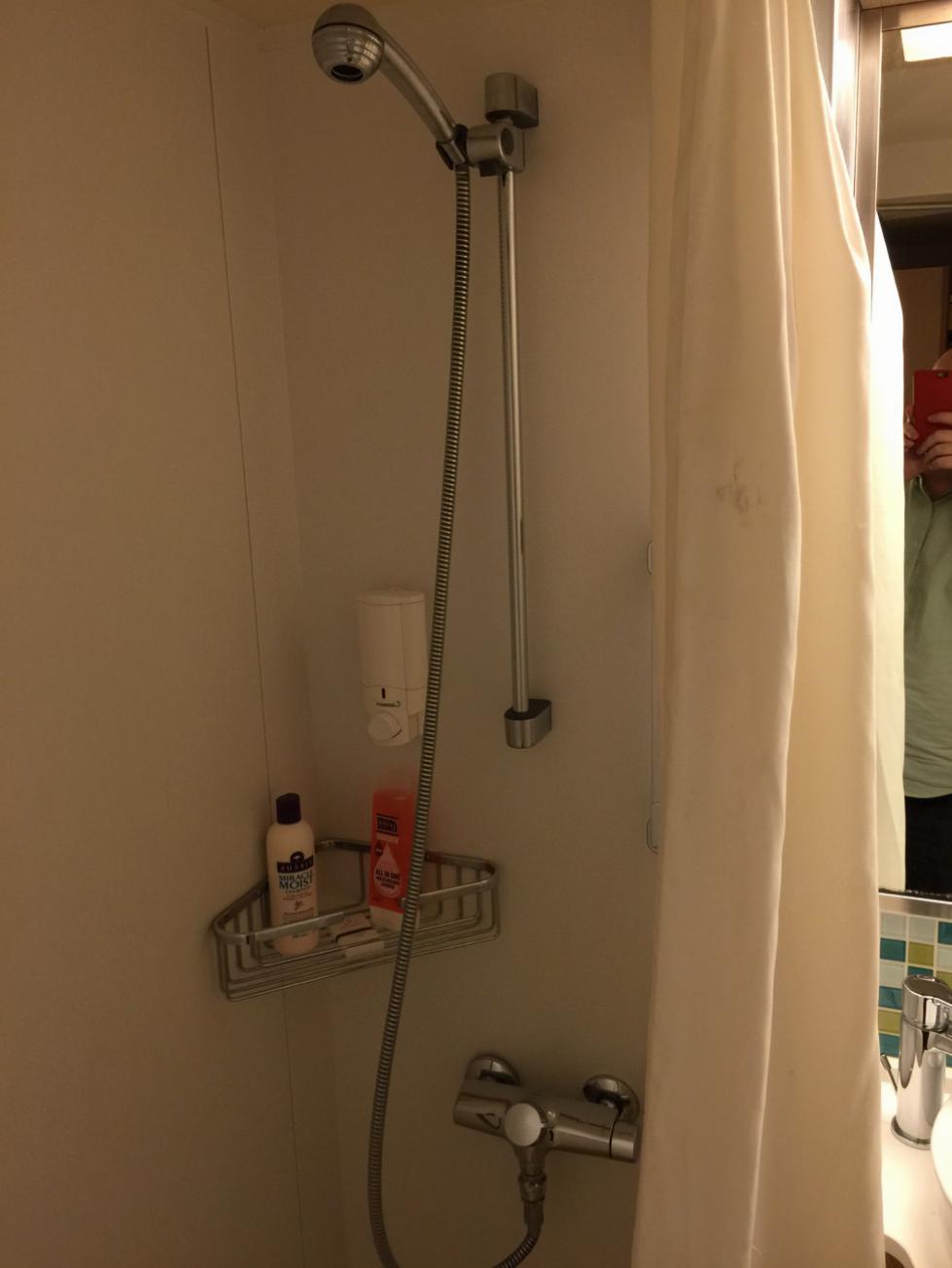 More Royal Discoveries
From yesterday and today I can see more examples of where Royal is a line that uses technology sensibly in many areas of the ship. For start there are huge LED displays all around the ship with touch sensitive displays that allow you to look at whats on and where, look at all of the venues around the ship, and get directions from your current location with the instructions show on a deck-plan and a ship-plan at the bottom. Very innovative!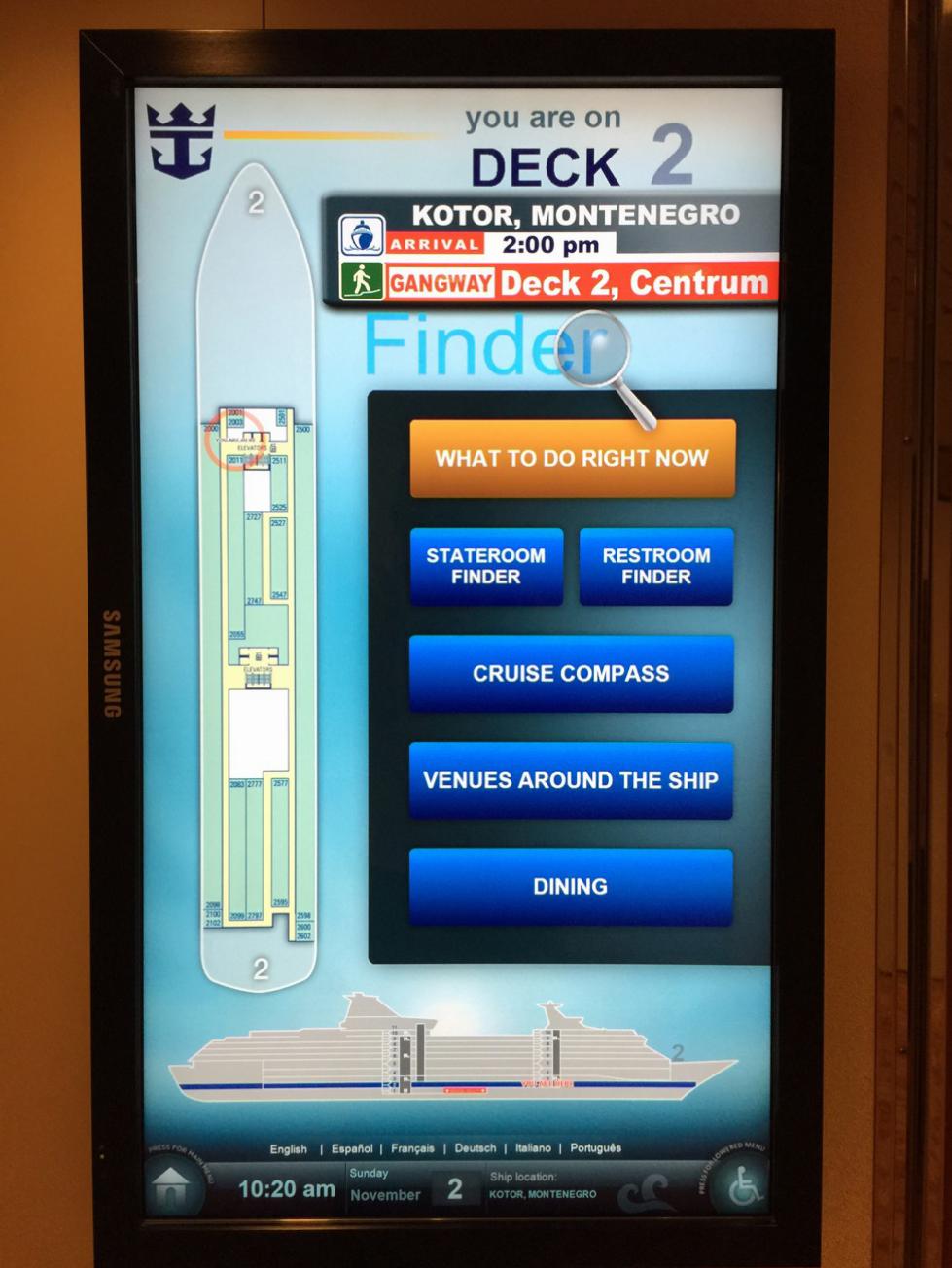 </a>
Royal also seem to use more touch-screen payment terminals for signing for things. These are far from ubiquitous, but I can see how they'll manage payments on the go on Anthem next year – mobile payment terminals.
WiFi was another surprise on Royal, and an area where I'd love all of the other cruise lines to take note. I was expecting the usual $0.65/minute charging or a package for a reduced rate, but instead was offered unlimited access packages for the whole cruise. I got a 1-device package allowing me to keep one device connected at all times (but allowing me to log out and log back in again on another device) for $190. A package allowing two devices to connect simultaneously was about $230. This is great for someone who likes to keep in touch, especially when I'm away from Alex for almost 10 days! It also means blog entries that take a bit longer to upload don't leave me in a cold sweat worrying about how much it's costing!
Our Morning
After a hectic few days we tried to have a fairly relaxing morning, though with tender ticket distribution happening quite early we didn't really have much opportunity for a lie in.
We had breakfast in the Windjammer Cafe which was much less hectic than I expected. It's a fairly small buffet area, but has a good range of seating. We quickly managed to get a bar-style table facing the window which offered us both a lovely view with breakfast.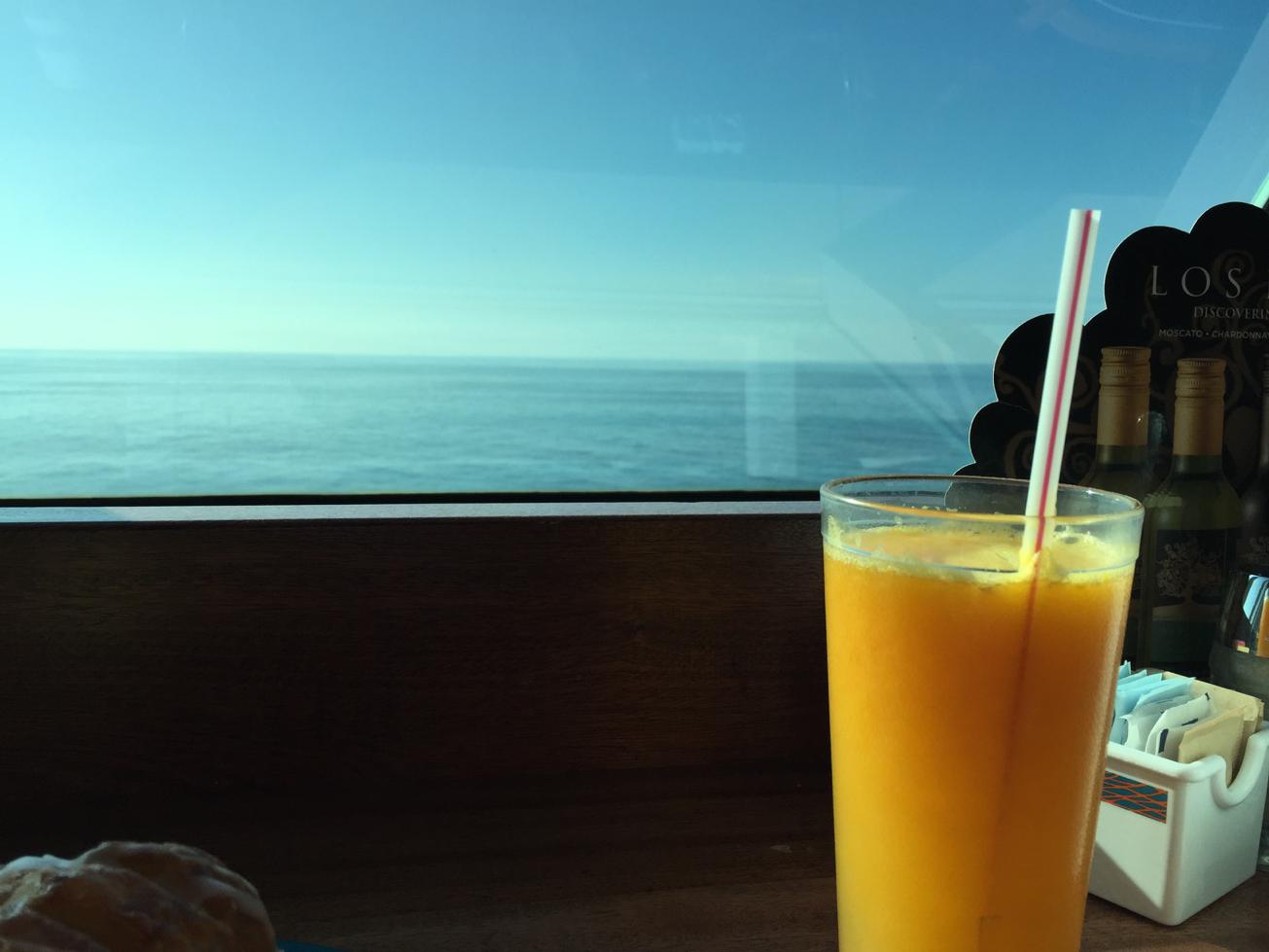 </a>
The food quality was fairly good for a buffet selection and they had an excellent range of healthier options too, including lots of fresh fruit and cereals. Knowing we probably wouldn't eat much until dinner, I stocked up on a fried breakfast!
They even had good, reliable waiter service in the buffet where drinks were brought to the table. I've been in buffets before where you need to play Where's Wally if you want to find a drinks waiter!
After breakfast Lesley fancied the 70s dance class that was held in Centrum (the atrium). I've never seen so many guests actually participate in a class, nor staff who encourage it as much as on this ship. Undoubtedly Royal is geared and appeals to the young and young-at-heart! The class only lasted half an hour and although I didn't join in I did enjoy watching and kind of wished I'd given it a go in the end!
</a>
Kotor, Montenegro
While sailing into Kotor Lesley and I got a space at the front of the ship and watched from there. It's a lovely place to sail in to and I'm glad we took the time to take it all in.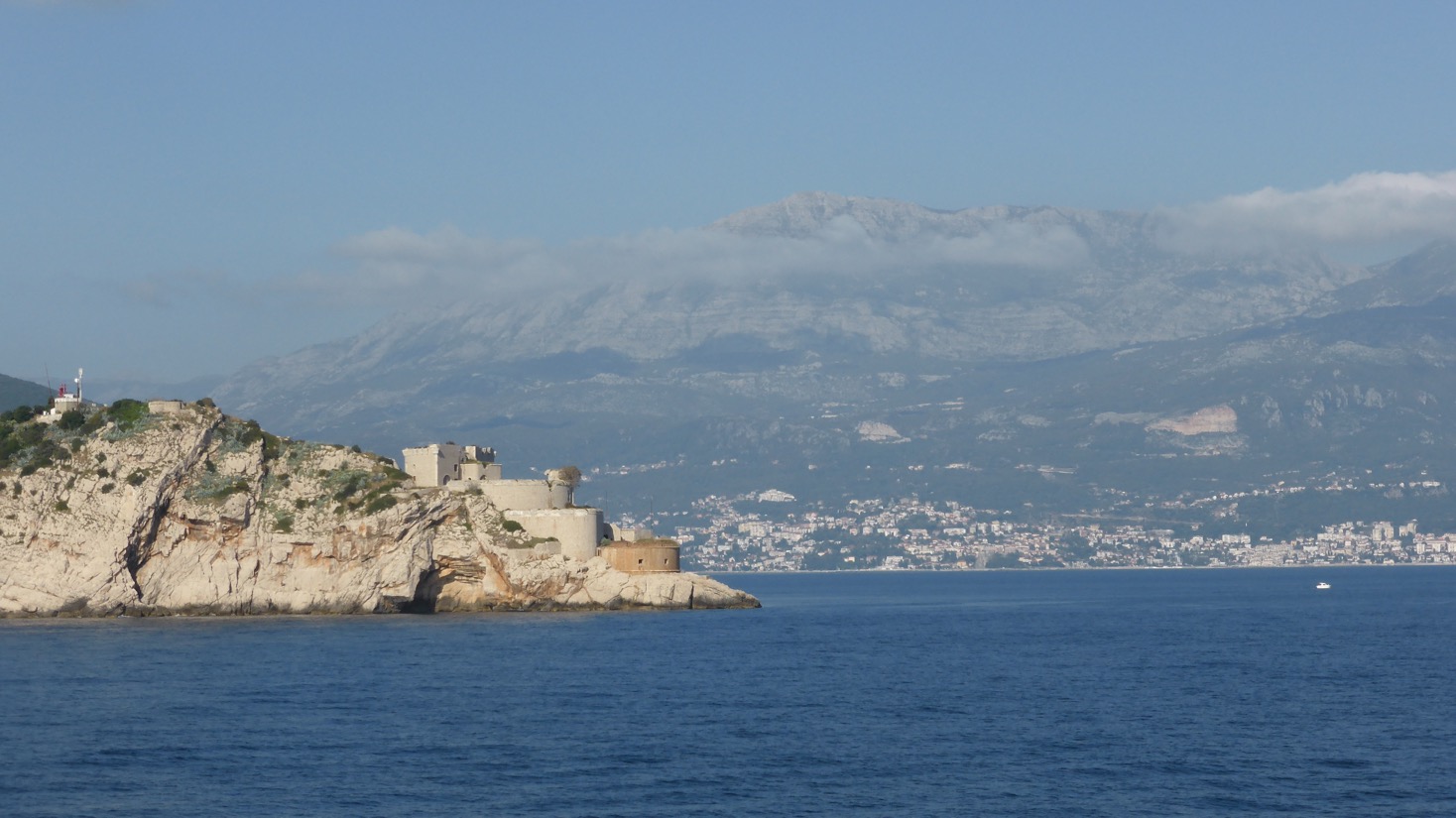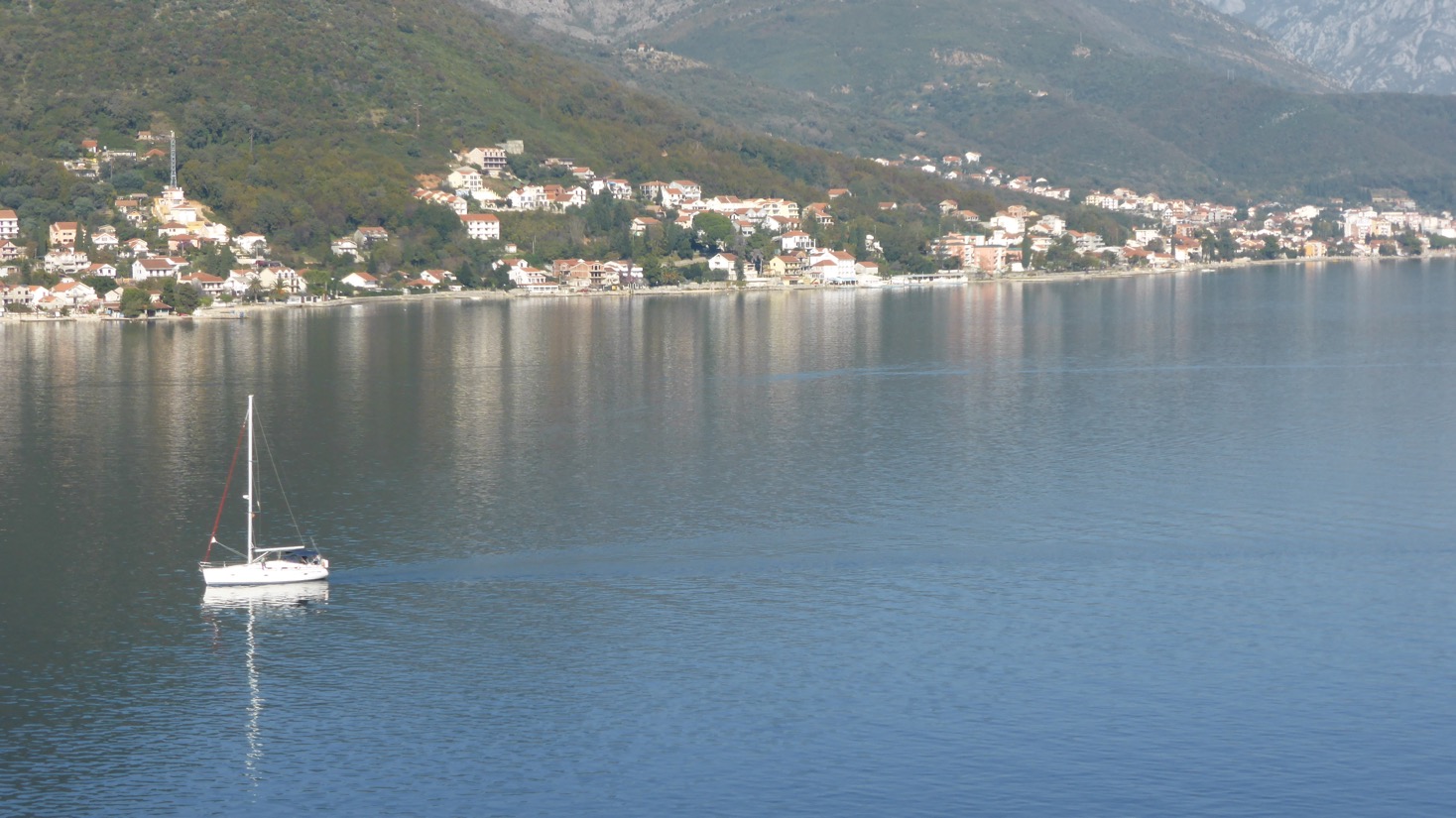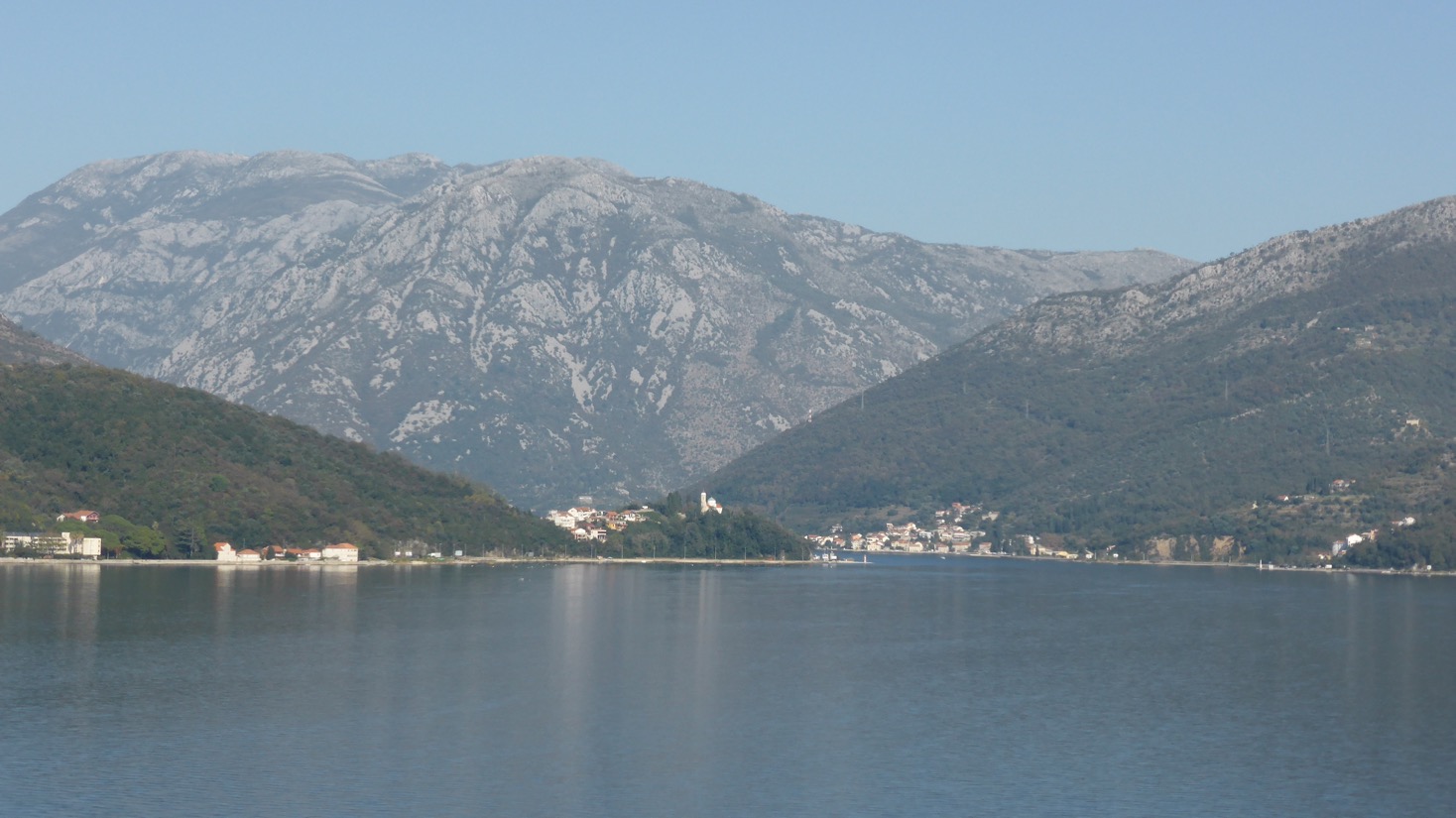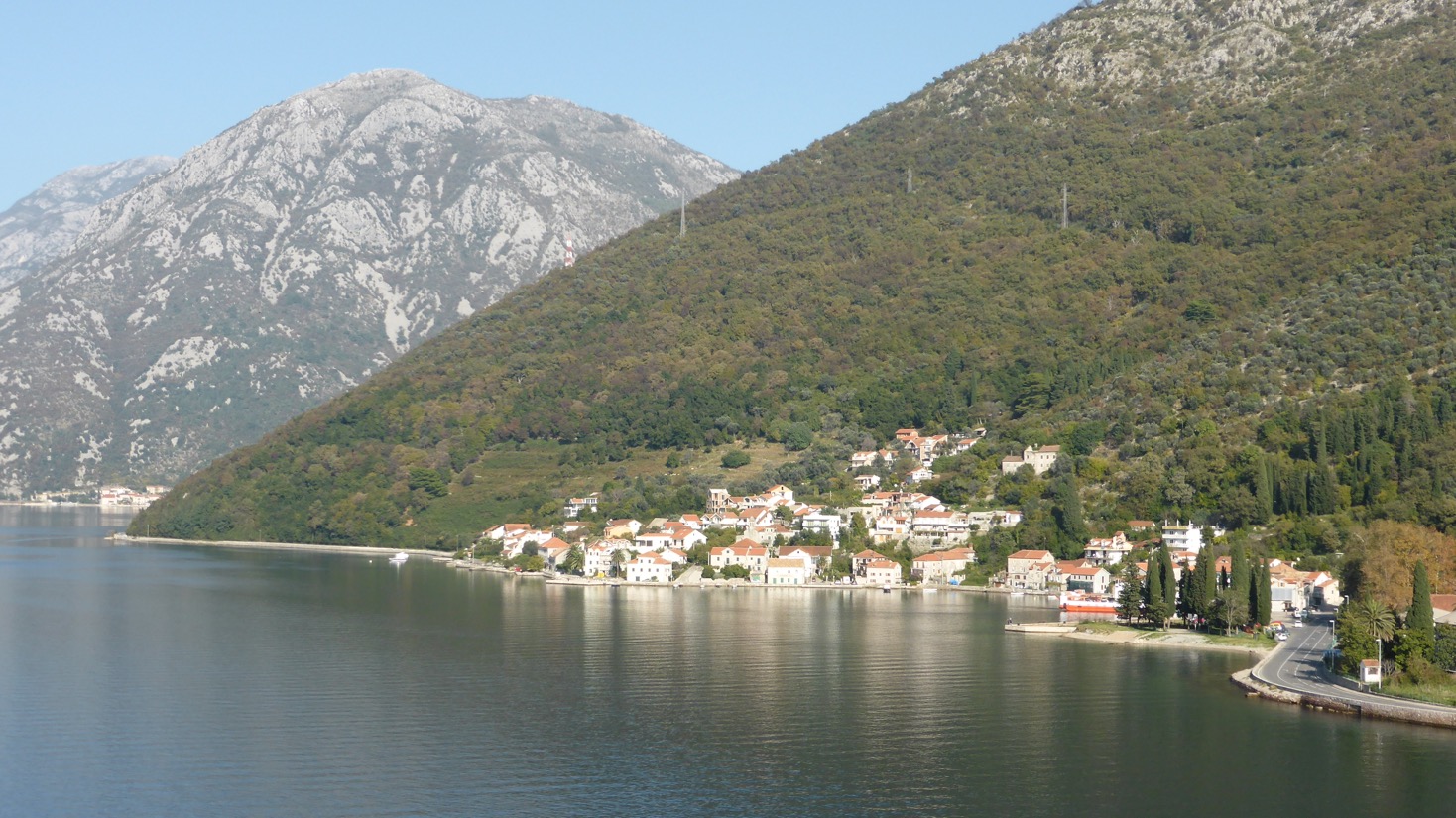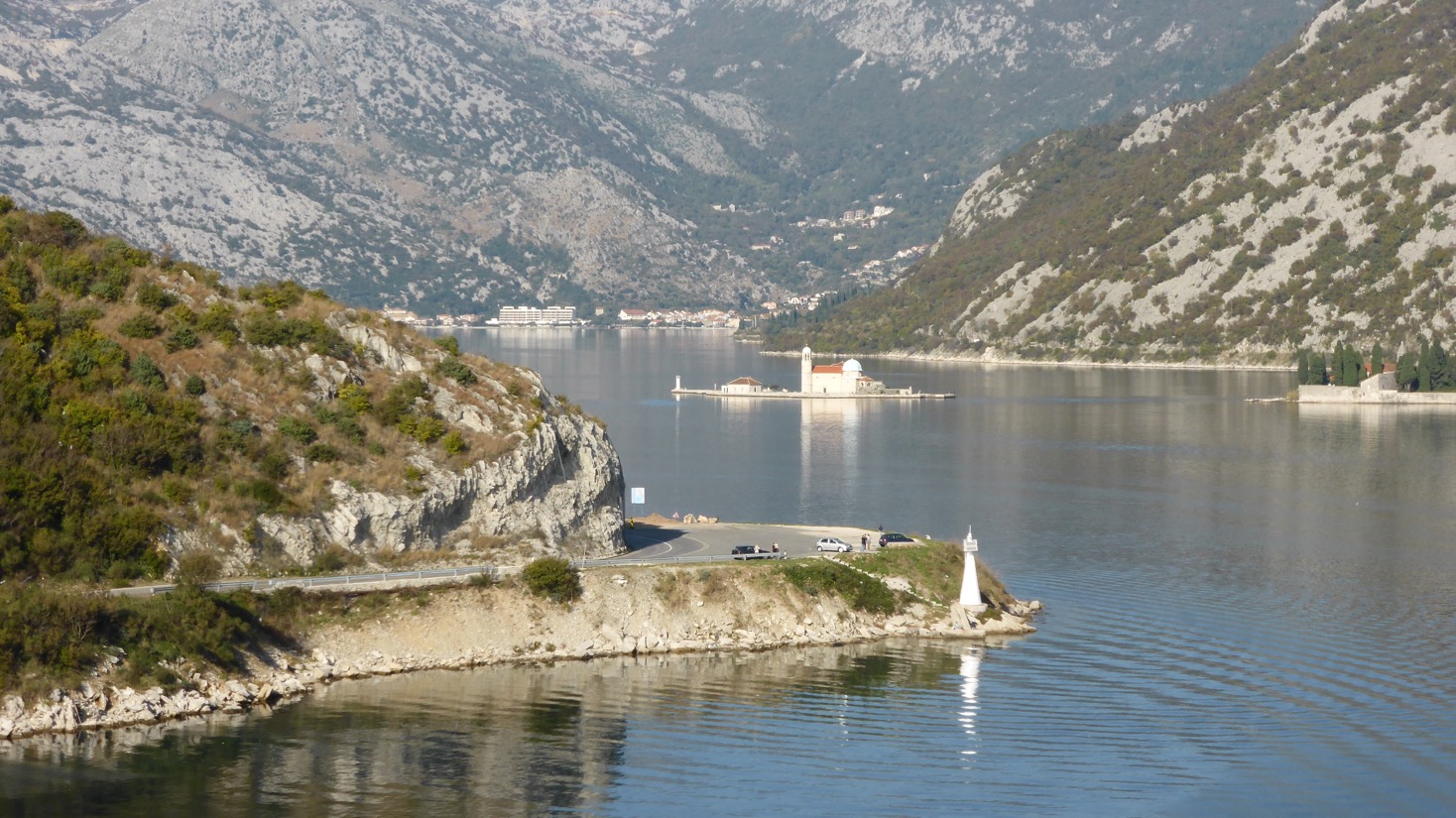 Kotor was a tender port, and tender tickets were available from 09:30 today. Lesley went out for them and described it as a bit chaotic, but managed to get ticket number 3 so we got off the ship quite quickly. Tender tickets were distributed until 11:30 (I think) and if you didn't have a ticket you just had to wait for open tendering.
Lesley and I had planned to take a walk up to The Church of Our Lady of Remedy on the slope of the St. John Mountain. Originally built in the early 16th century to serve as a church for the those working on the Castle of St. John, it's still used to this day with locals making the journey up the more than 500 rather uneven steps to reach it. I get the impression it's not used as a church as much any more, and serves as more of a shrine.
When we got to the church it seemed daft to not continue to the ruins of the castle at the top, so we did. My goodness were the views worth it! It's a long climb, quite uneven in places, and I can't imagine how bad it would be in the rain, but getting to the top felt pretty good and to see the views over Kotor made the climb worthwhile.
On the way between the church and the castle there are lots of little places you can explore around leftover walls. It's actually quite nice to pop your head through some of the walls (careful of the drop on the other side though) and see a whole different world which is suddenly quiet and quite tranquil compared to the hustle and bustle of the busy tourist trail to the top.
At the castle itself there was a very rickety bridge crossing a rather large drop to enter. I couldn't bring myself to cross this, despite watching many dozens of other tourists stroll across with no apparent assessment of the dangers involved! I was frozen stiff so the castle itself was explored by Lesley on her own.
For those who didn't bring water, there was a guy selling refreshments outside the church for a couple of Euros. I believe during busier summer months there are many more water sellers scattered up the path.
Other than the trek up to the castle, we didn't do a great deal other than walk round the very charming old town of Kotor. It's a walled city and the twisting narrow alleys reveal treasures on every turn, whether it's some gorgeous old building or church or some boutique shops and al fresco dining options.
You can get a free map from the tourist information office which is just outside the entrance to the old town, and just across from the tender port.
Weather today was warm (especially in the sun) with a very welcome breeze. I wore shorts and a short-sleeved shirt and was perfectly comfortable. The temperature was around 18ºC.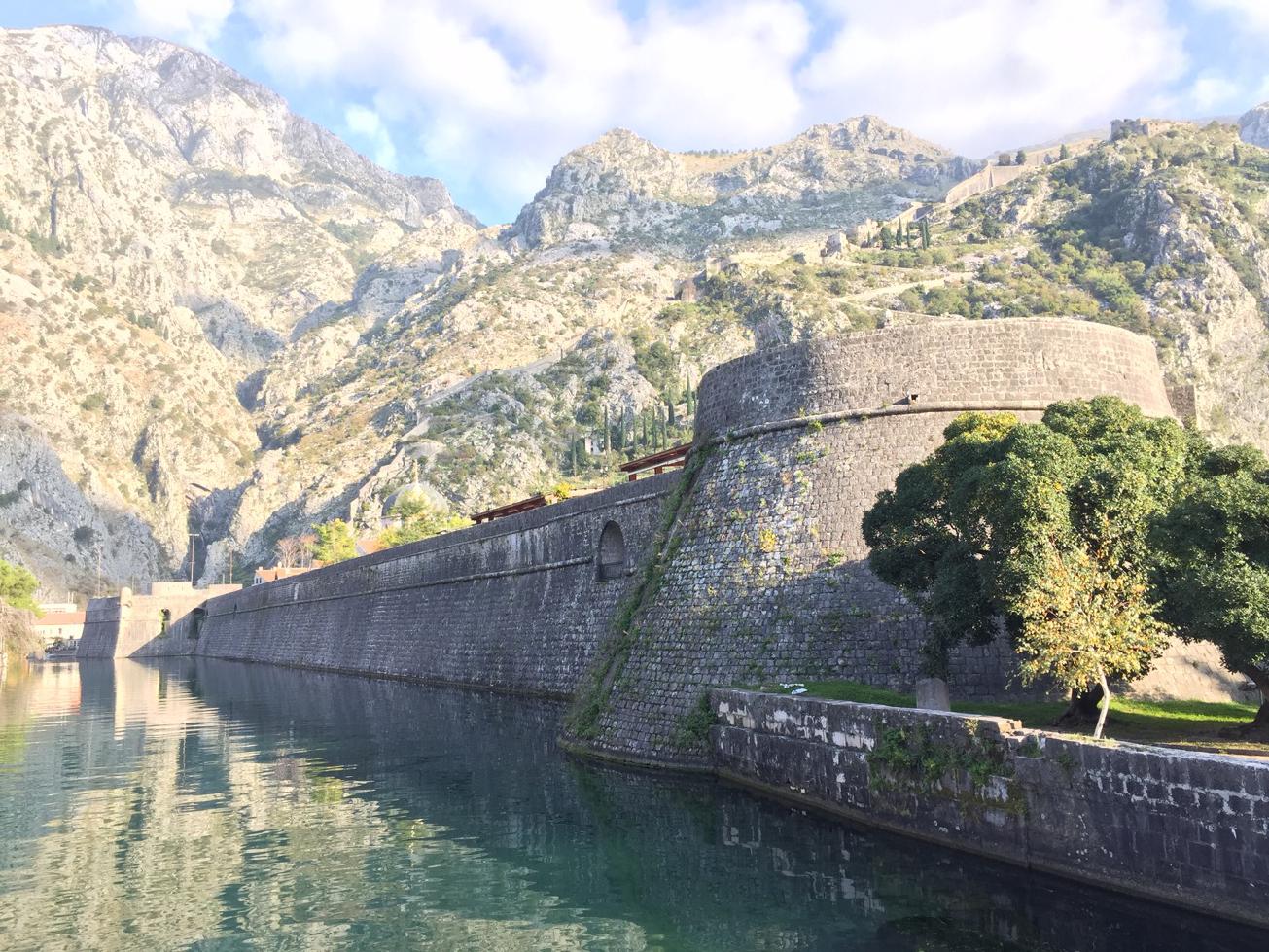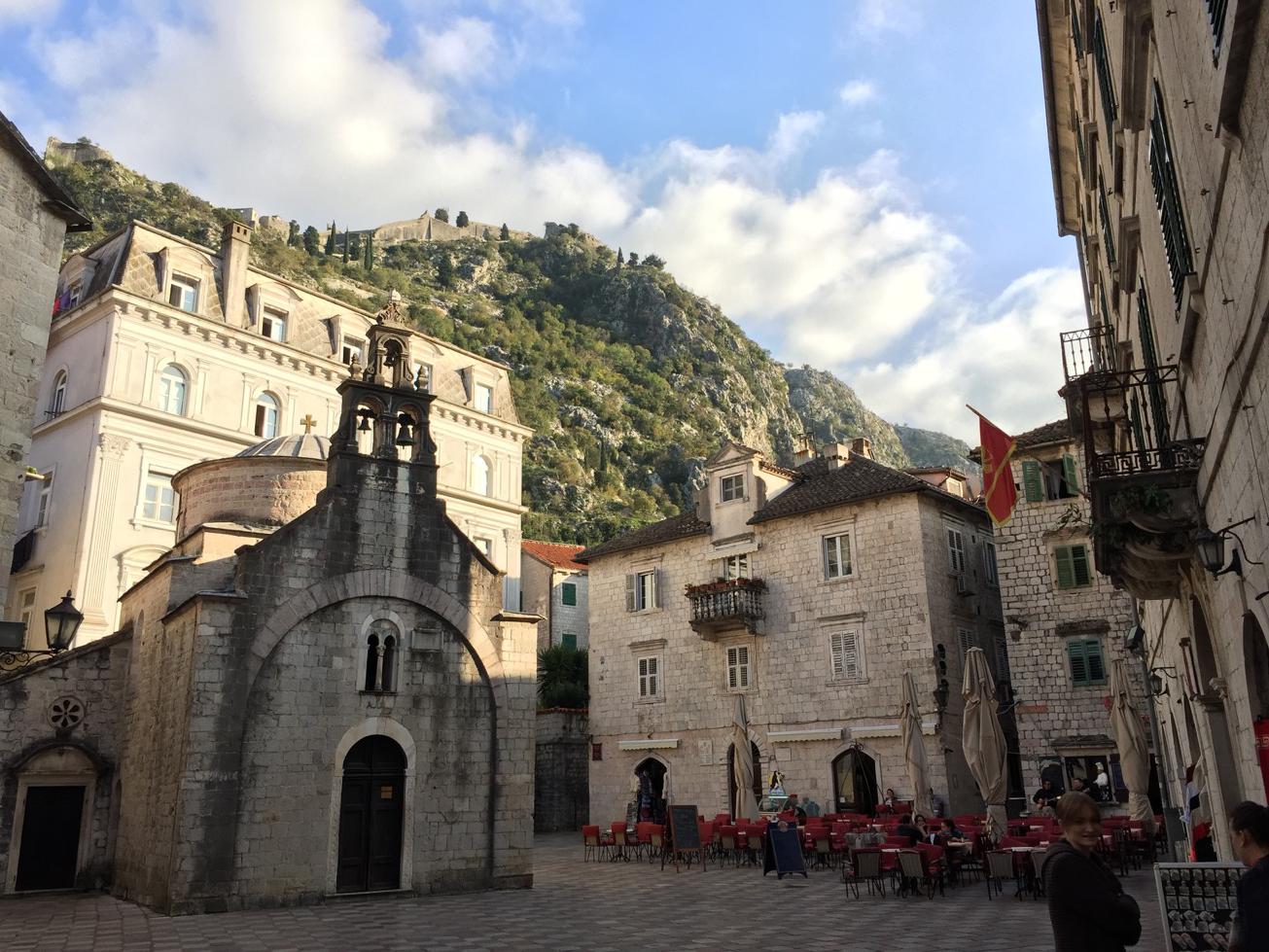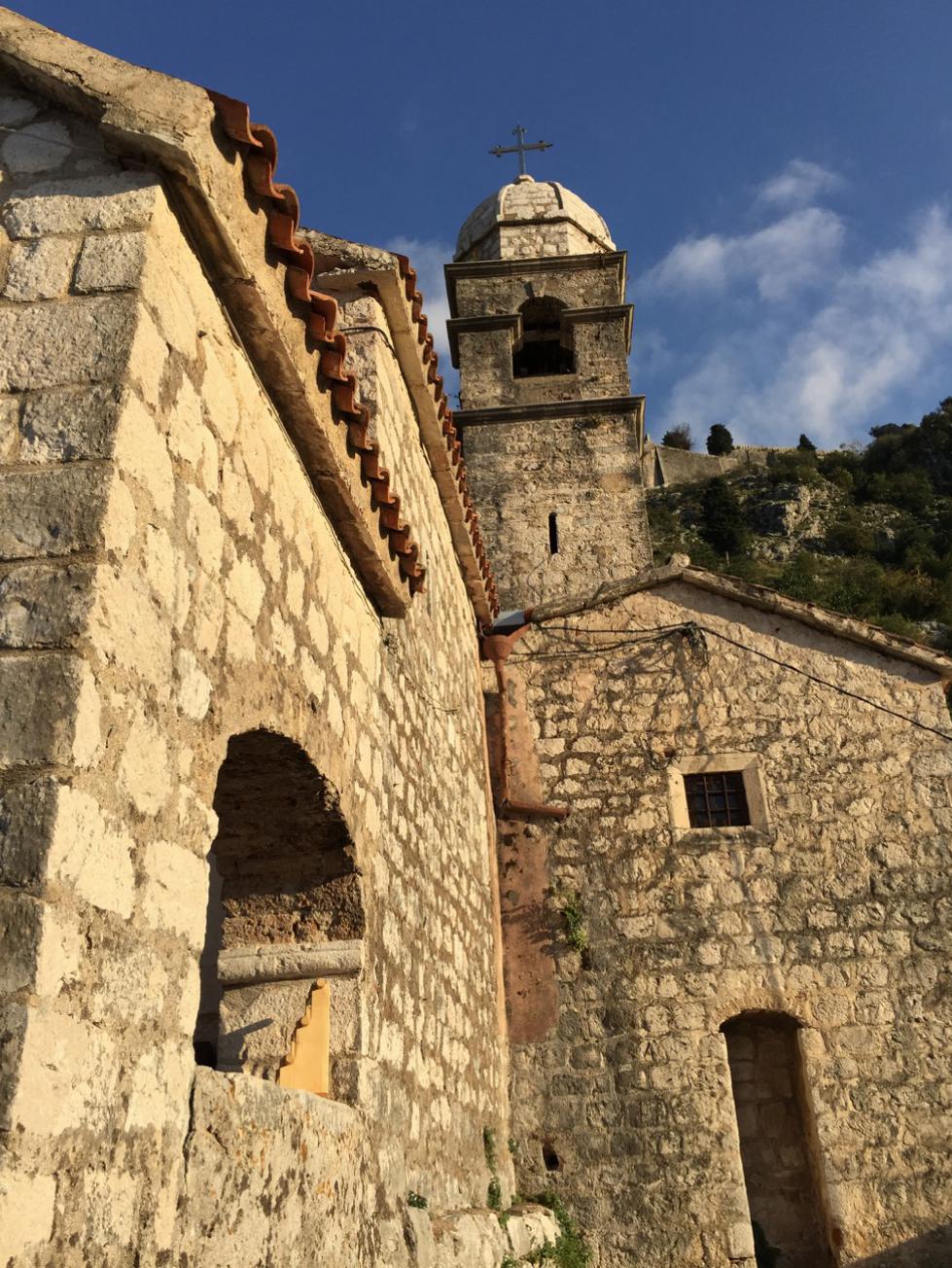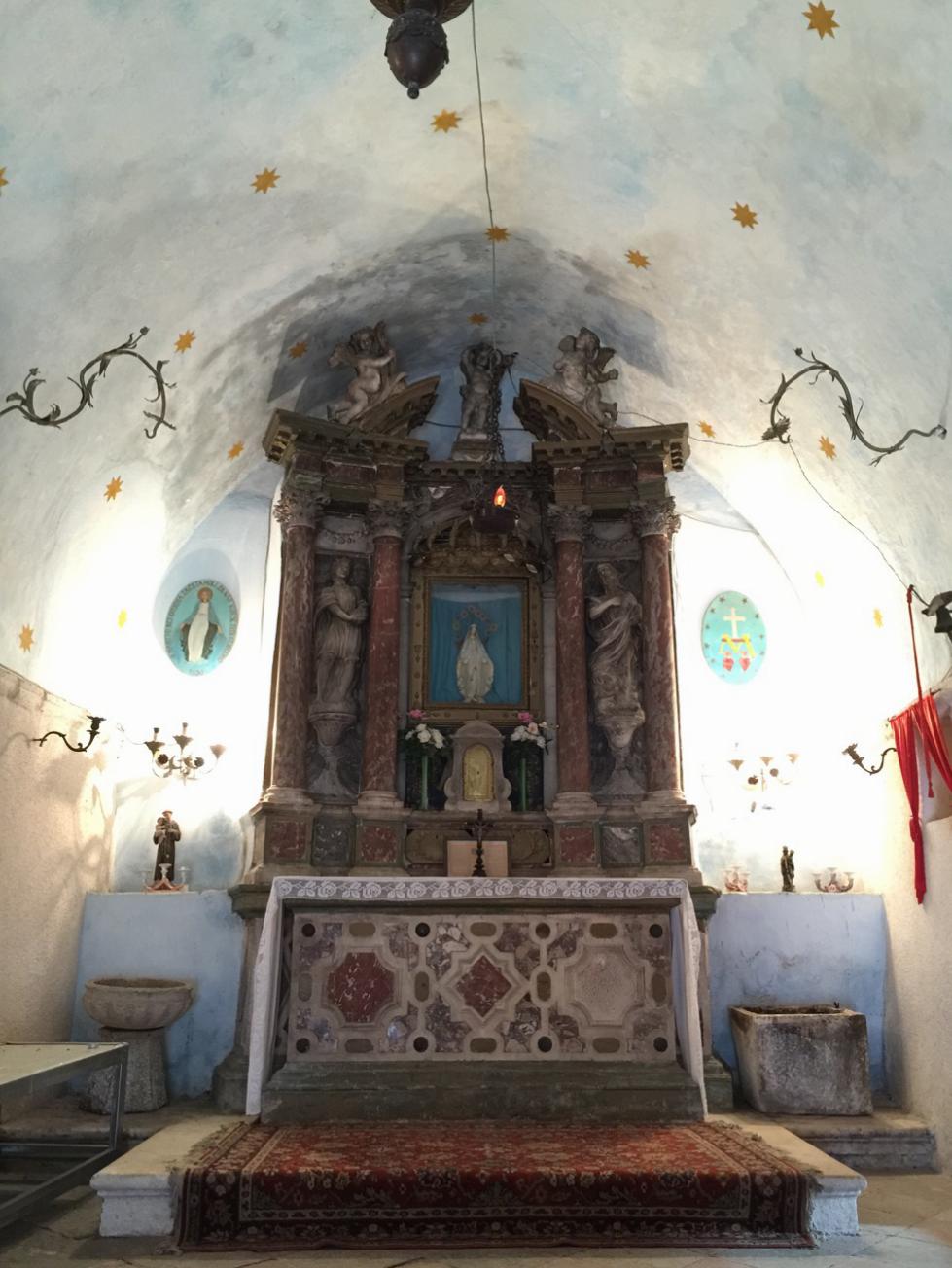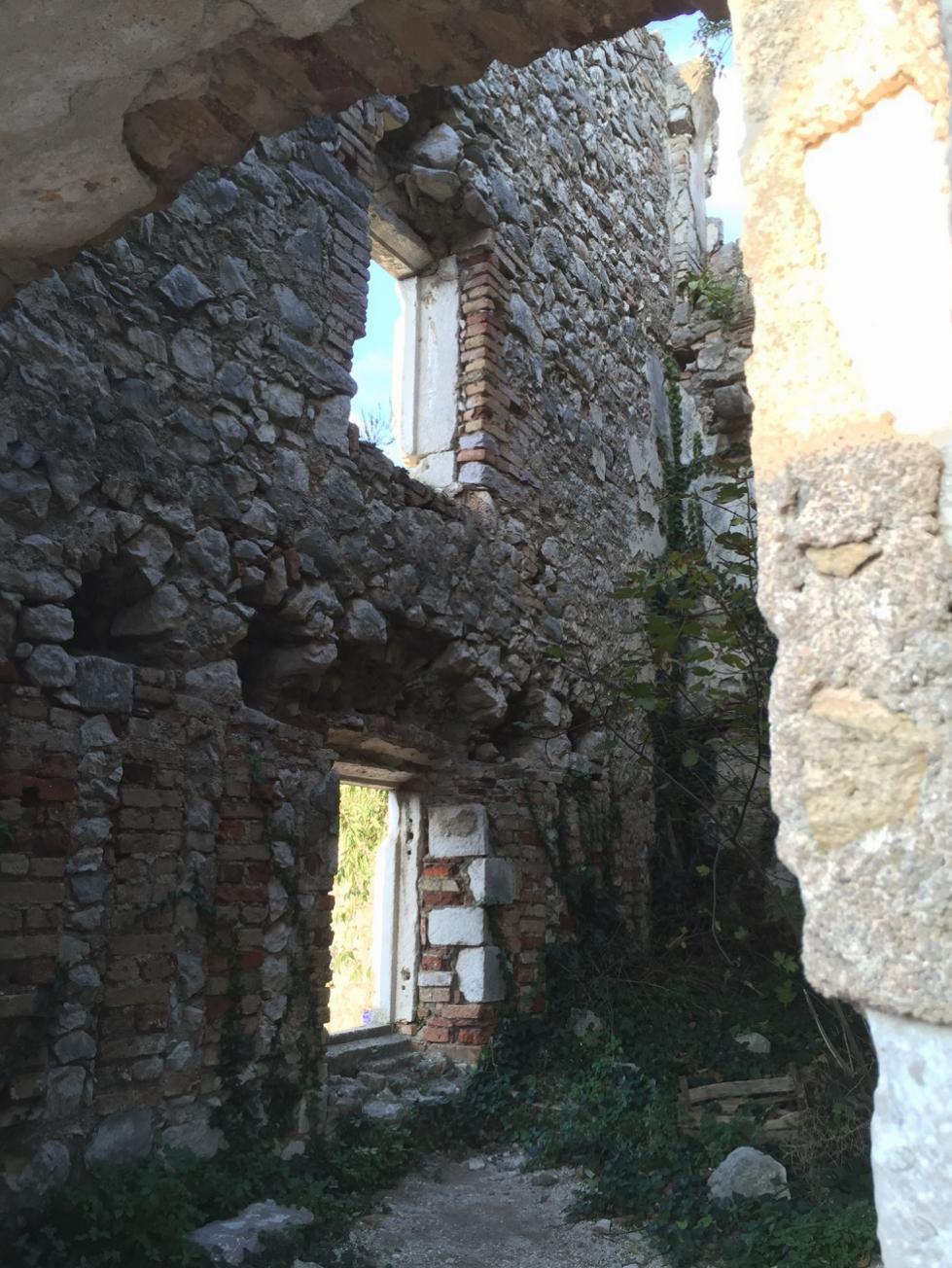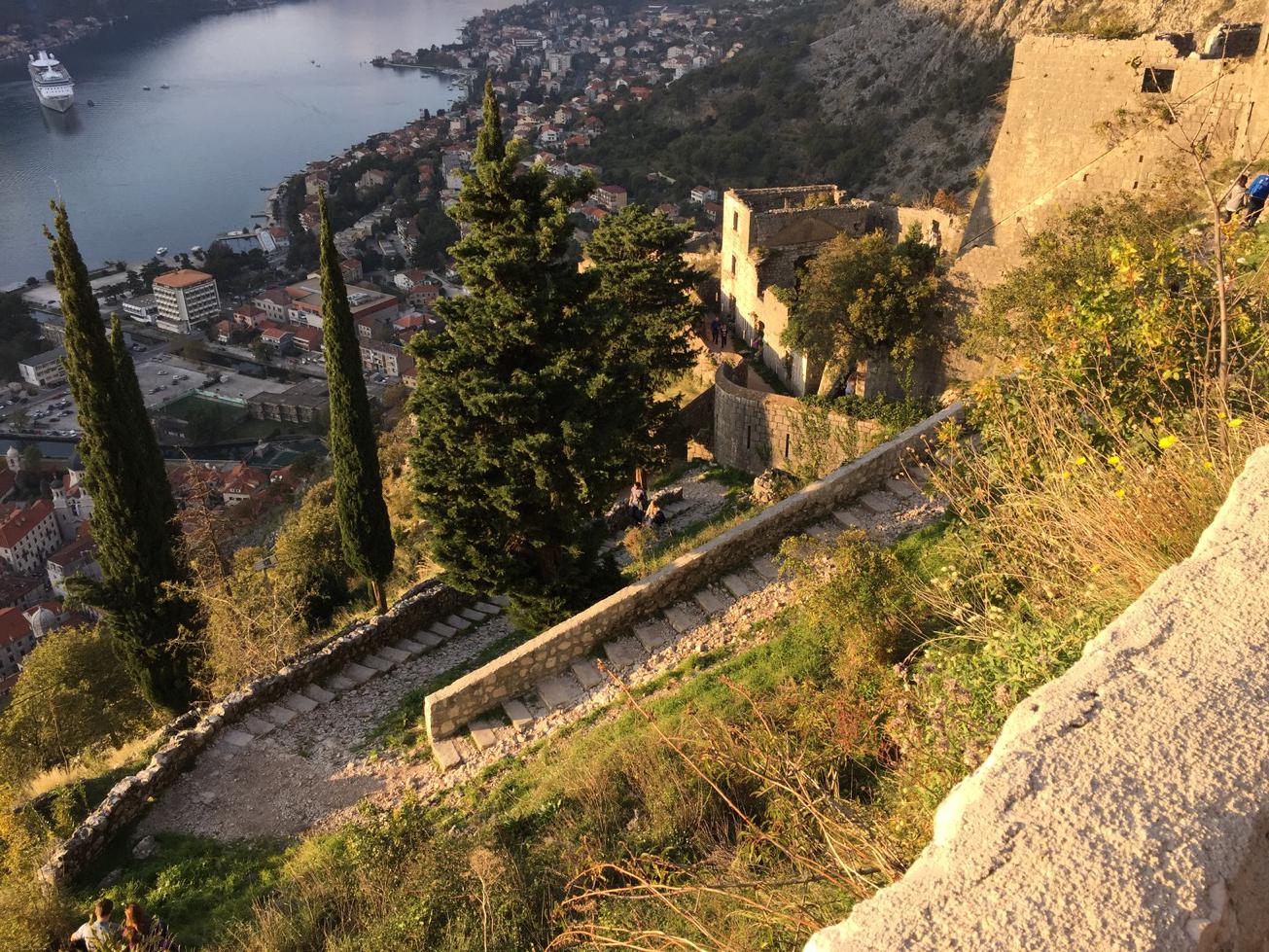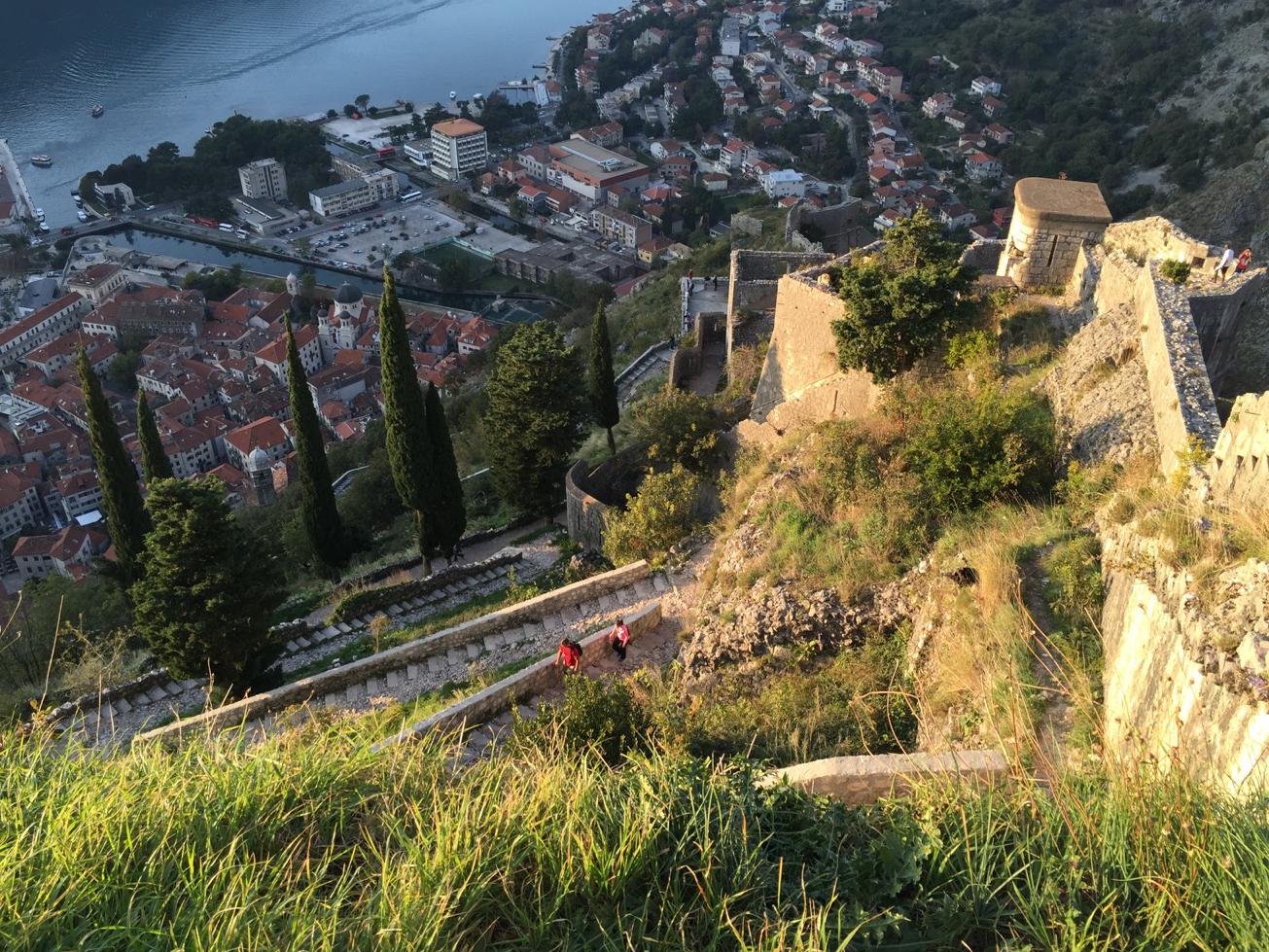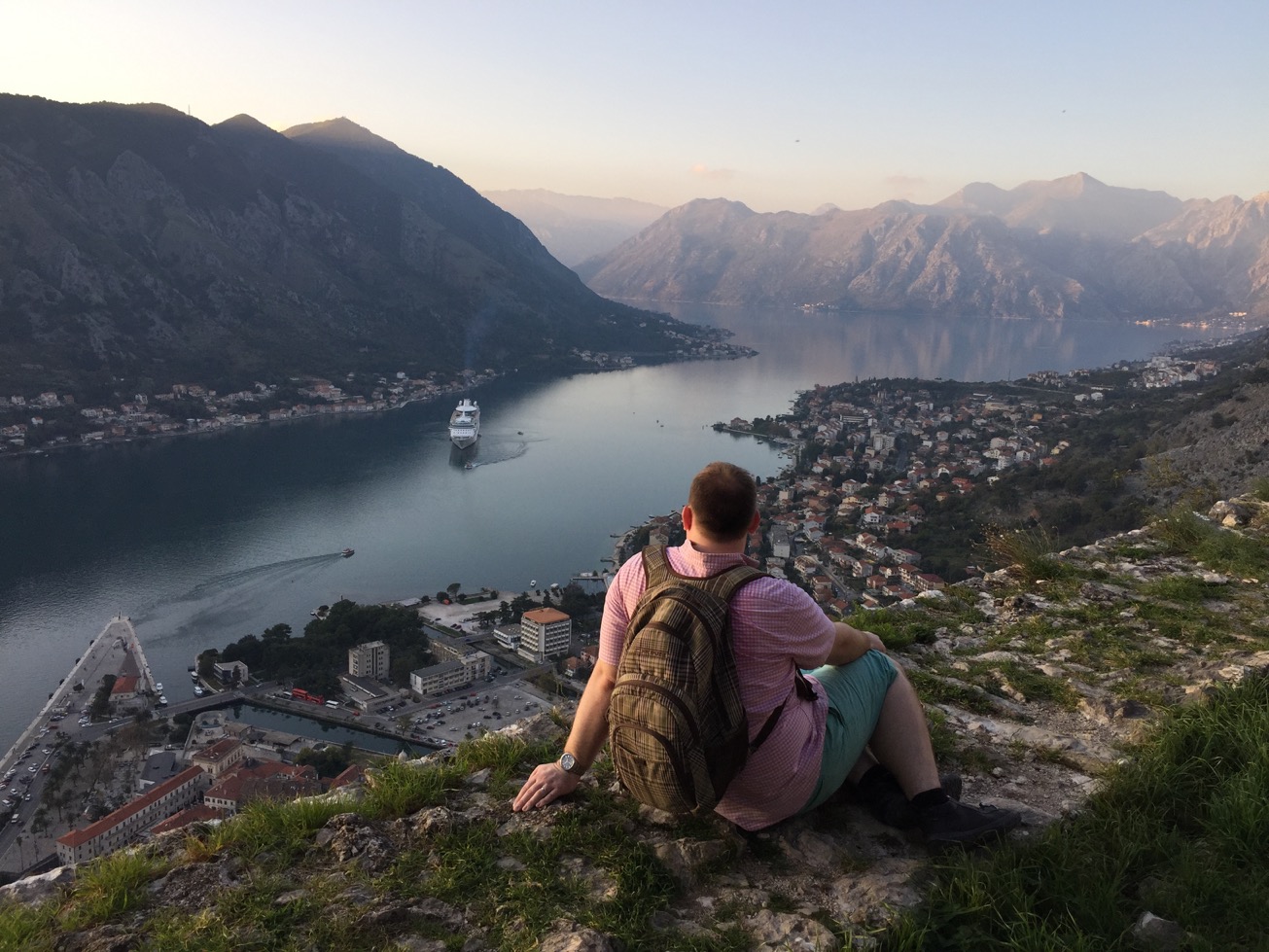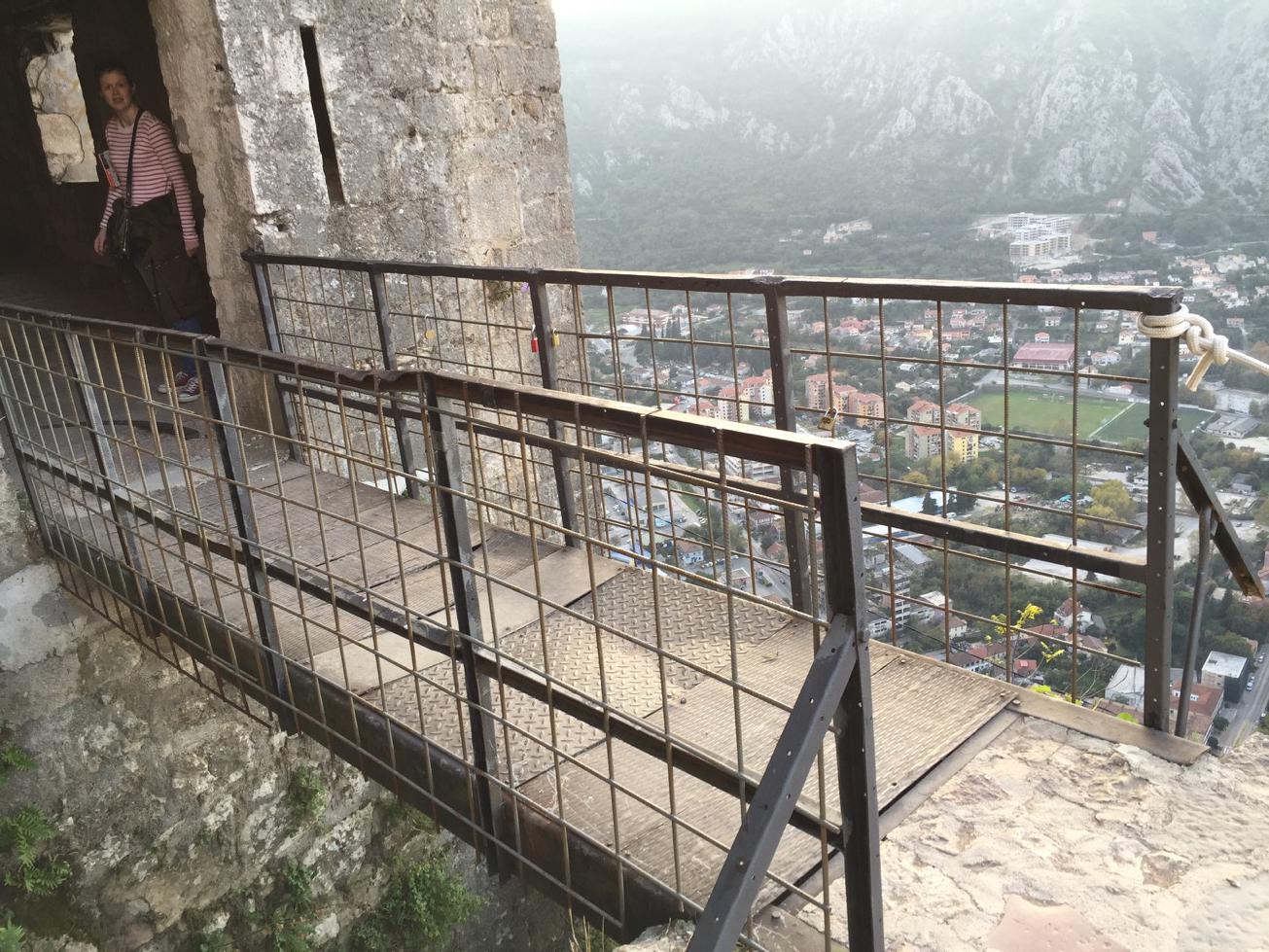 My Time Dining
After our very active day in Kotor we returned to the ship for a welcome drink (a Lava Flow, which I'd thoroughly recommend!) and to get ready for an early dinner. We hadn't had lunch and though breakfast wasn't exactly early there was no way we'd be dining at 9pm tonight!
We turned up at the desk at around 7pm and after a short queue was told there were no tables for 2 available tonight, but we could be seated with other guests which we were happy to do. It seems My Time is not great if you want choice over who you eat with and want a table for 2.
The meal was fairly good. I had escargot to start with, followed by a cheesy chicken breast (served with broccoli and carrots) and then a Bailey's crème brûlée. I couldn't really complain about any of the food (except maybe the crème brûlée which had the thickest crust I've ever seen), but as expected there's a clear difference in quality and presentation between what I've come to expect from Celebrity and what I had tonight on Royal Caribbean. Nonetheless I've had far, far worse meals in my life and I knew this wasn't going to be a cruise for foodies!
One thing that did surprise me is the relatively small number of wines available by the glass, and the general way the Premium package works for wine. On Celebrity's premium package you have a dollar value limit and anything over that you pay the difference for. You can use the package in all speciality restaurants too. Royal seem to work differently. First of all there's no ability to pay the difference and try a more expensive wine one night. This is a shame, but not the end of the world. A bigger issue for me arose last night in Chops Grille where I was presented with a wine list that had a few options I'd have tried, but when I tried to order from the package I was told that guests on a package can only have wines from the bar menu, regardless of the dollar value of the glass. I don't understand this at all, and it seems totally counter-intuitive to a package that is supposed to offer maximum flexibility.
Anyway, the company was wonderful and we enjoyed a lot of great conversation over dinner, so much so that we over-ran and missed the show which we were quite looking forward to! The show was called 'Dancing through the Movies' and sounded like a bit of fun. We did head along late to the theatre, but it was packed (there were people standing) and given our legs were already weak from Kotor, we just left.
To the delight of some readers there are no food photos in this entry in light of us dining with other people. The presentation didn't really warrant photos anyway, so there's no real loss here.
Evening Entertainment
I decided to try my hand in the casino tonight, and ended up with more than I bargained for! Lesley and I were playing some slots when they revealed that some lucky envelopes had been placed under stools in the slots area. It turns out I was sitting on one, and I won free entry into a roulette tournament.
The tournament involved 5 players each with $40, and the winner was whoever had the most chips lefts after 5 spins, with a minimum bet per spin of $5. On the rare occasion that I play roulette I like to bet (amongst other, random things) on 12 (which is Alex's birthday), 14 (which is mine), and just for luck the corner bet that includes them both! It just so happens that I put $2 on each and lucky number 12 came up, meaning I won the tournament.
The prizes weren't that exciting – a free drinks voucher, a ticket for the fleet-wide lottery, a keyring, and a t-shirt. I suppose in theory the lottery ticket could be worth almost $800,000, but I won't hold my breath!
After my fun in the casino we caught a little bit of Anselmo Boles in the Schooner Bar. Anselmo is a pianist and vocalist, and I think he also fancies himself as a bit of a comedian! I found him quite funny, though Lesley didn't seem so impressed with his comedic attempts. Maybe I just like to laugh!
We then stumbled into Centrum where a 70s dance party was raging, with the dancers from the ship giving it their all, and the hunky men in some very… non-existent clothing! Once again the staff had the whole area filled with guests dancing and the dancers were pulling people into a love train conga around the atrium. It was a lot of fun and the whole atrium comes to life with huge full-height video screens and lots of creative lighting. They also had balloons descending on the dance floor and the whole thing was very popular!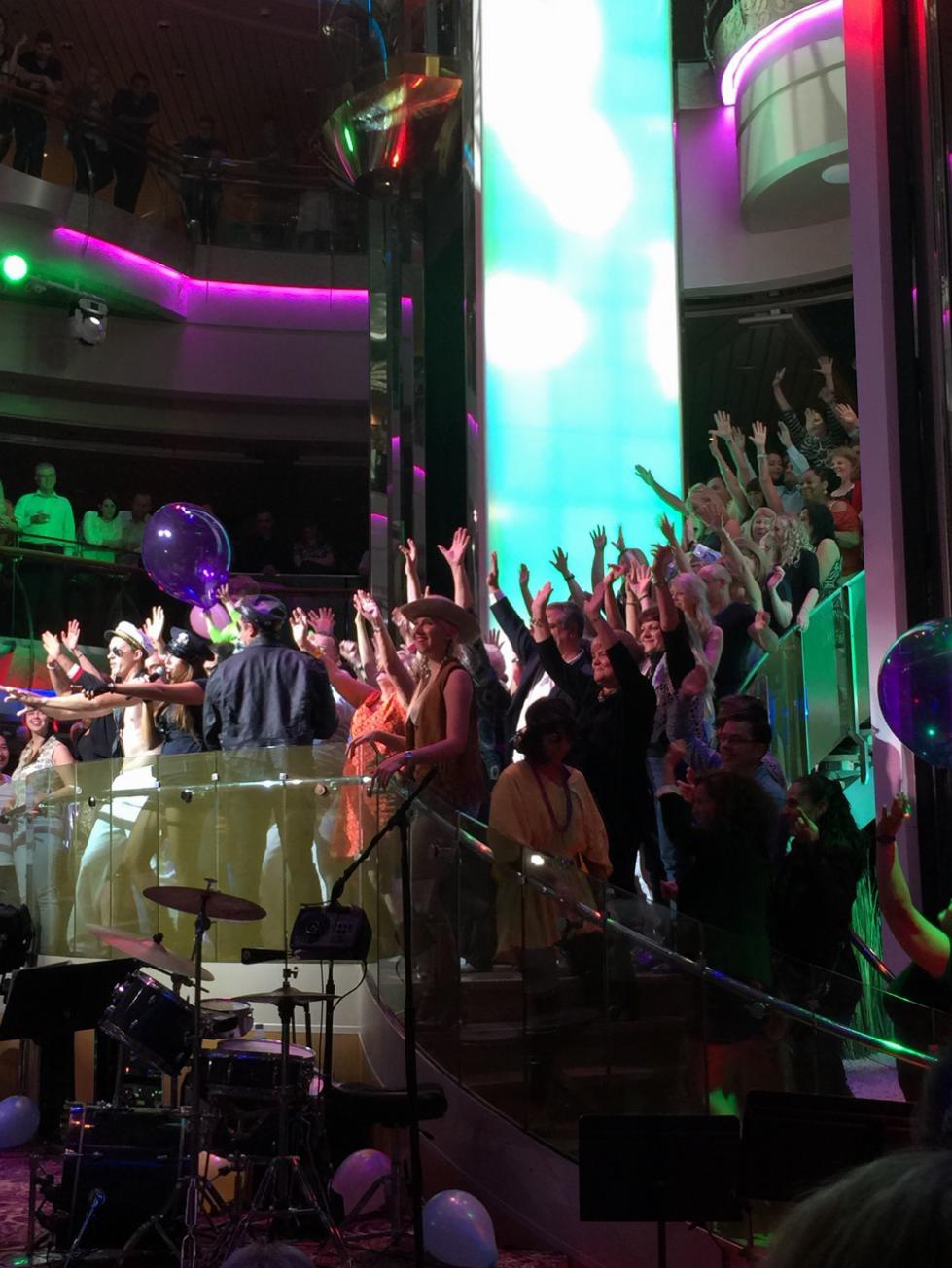 </a>
As I said, this is definitely a more lively ship than Celebrity!