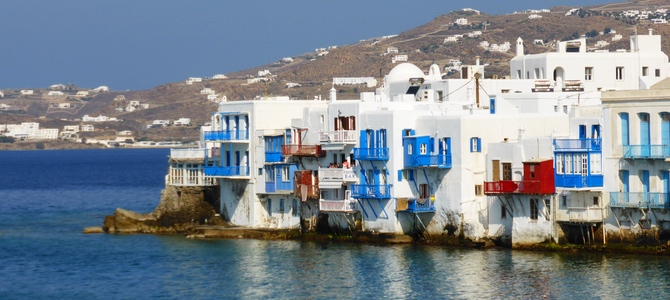 </a>
Today we enjoyed a lovely, relaxing day in beautiful Mykonos, tried our hand at Bingo on the ship, dined at Izumi, and had some fun with Splendour of the Seas evening entertainment! We also got some bad news last night…
Mykonos, Greece
Mykonos was the port of call where I had very little planned other than to wander around. I'm not a beach person, and everyone who goes to Mykonos seems to mainly visit for the beaches! Indeed TripAdvisor lists an overwhelming number of beaches in the top rankings for things to do in Mykonos. Despite not being optimistic about our visit here it turned out to be my favourite port of call!
Mykonos was another tender port, though speaking to another guest who has visited before this is not always the case. As we arrived early morning, there was no tender ticket distribution and it was a bit of a free-for-all. We planned a lie in again and ended up getting a tender at around 10am. At that time we were able to walk down to deck 1 and queue for only a very short time to get a tender. The whole process was very easy at this time, though I imagine it would have been a bit more hectic if you'd tried to go earlier.
Mykonos is immediately picturesque. The beautiful white building are what I would think of if someone asked me to describe a Mediterranean coastal town. When we were on the tender I didn't think there was much to see, but the beautiful narrow alleys seem to wind away for miles behind the seafront.
These little streets are lined with shops selling mainly jewellery (very expensive jewellery at that – many pieces over €10,000), art, and clothing. This seems to be the end of the tourist season and many shops were closing for the winter and offered huge discounts on their wares. At leat that's what they said. I saw an American couple looking at a flimsy looking gold bracelet that was 'better than half price' at about €700. I have my suspicions, but am no jewellery expert!
The clothing and art seemed more reasonable and I was very tempted by a small watercolour of the main port area where we docked which was down from €49 to €35 (specially for me, apparently…) €35 isn't a lot to pay for an original hand-painted watercolour, albeit one hastily produced en masse. Nonetheless I decided against it on the basis that I didn't want it to get damaged on the journey home.
SO what are your thought? Are the bargains what they appear to be, or are they (as I suspect) a bit of a con for tourists with fat wallets?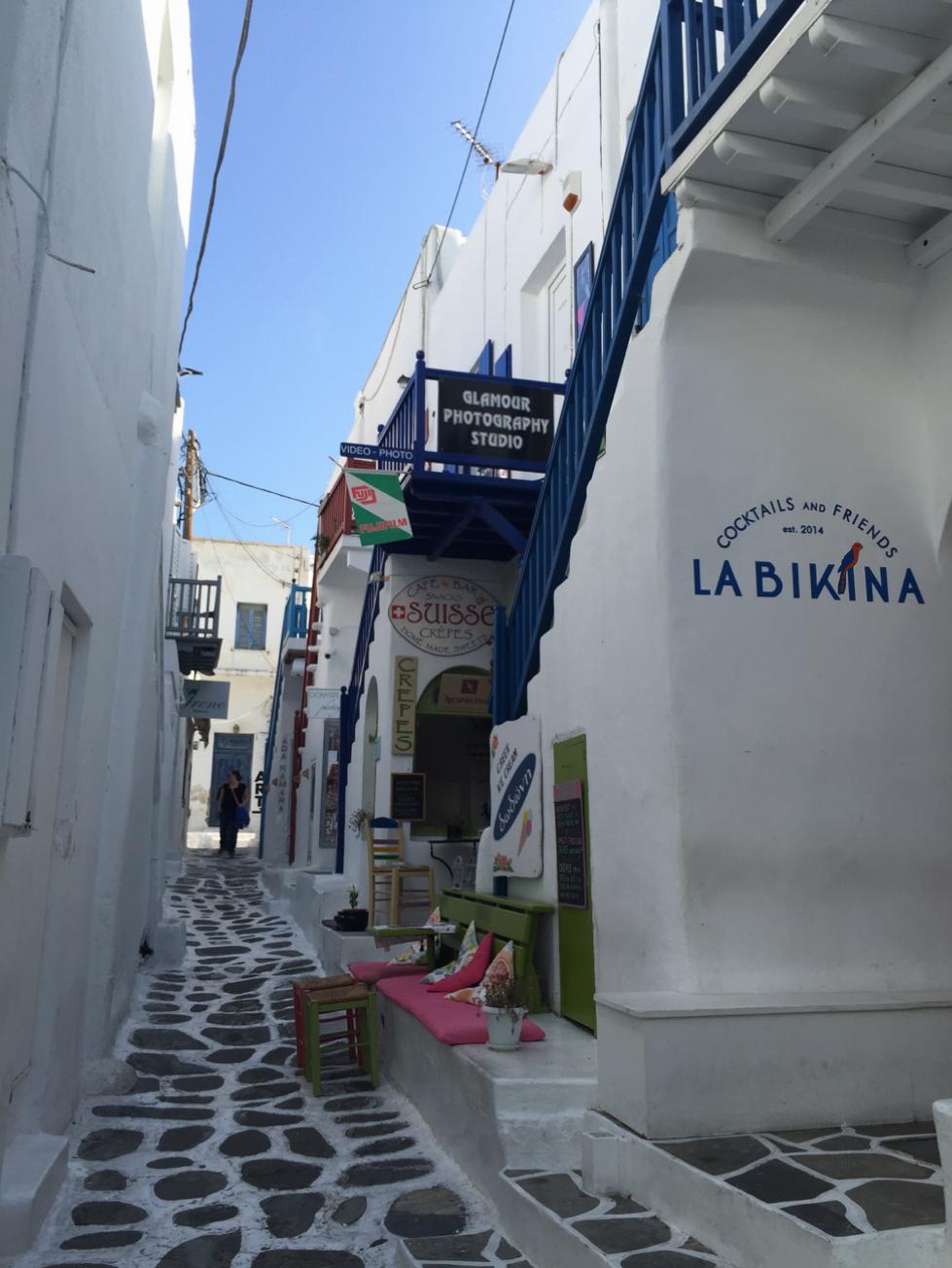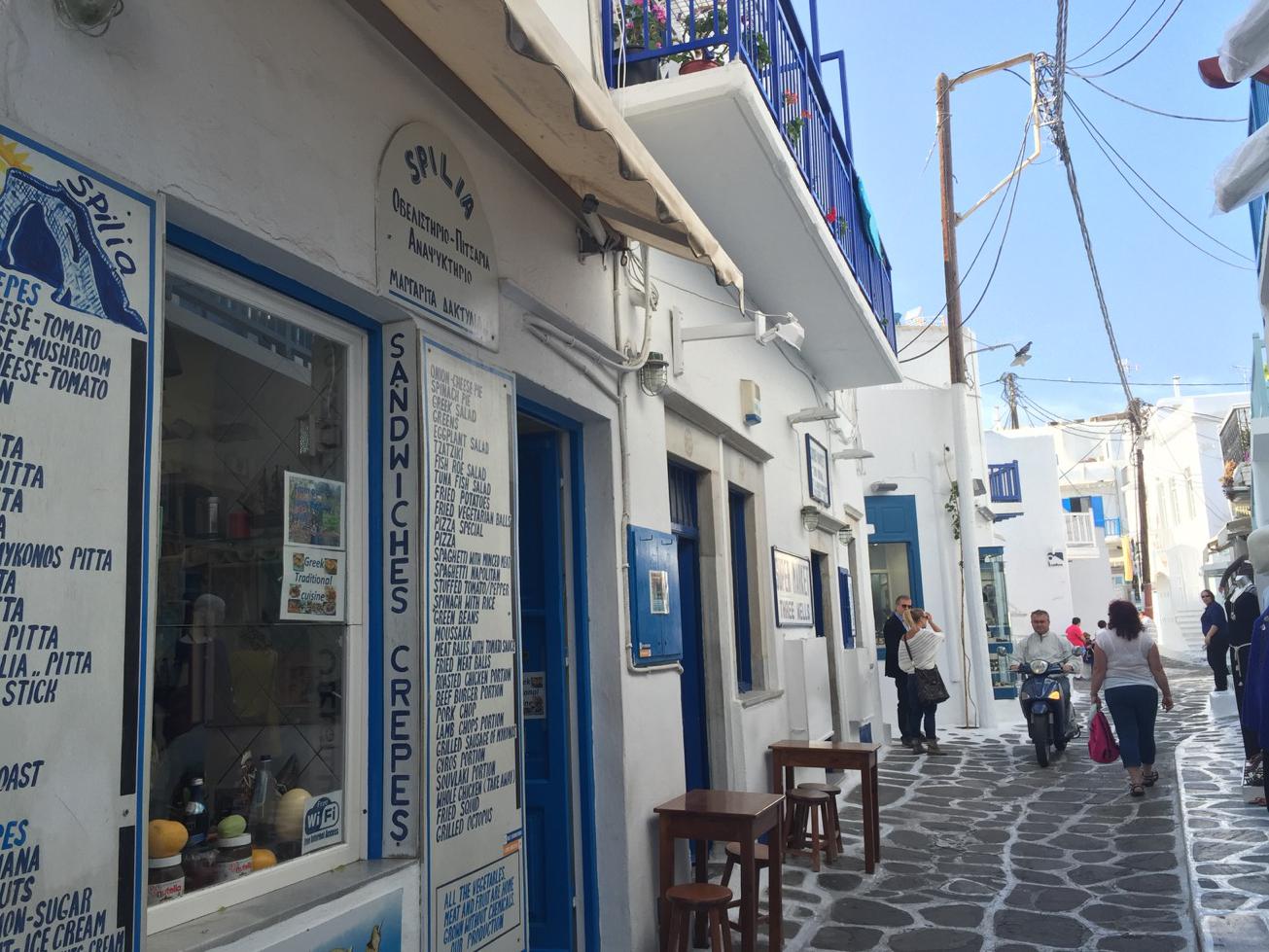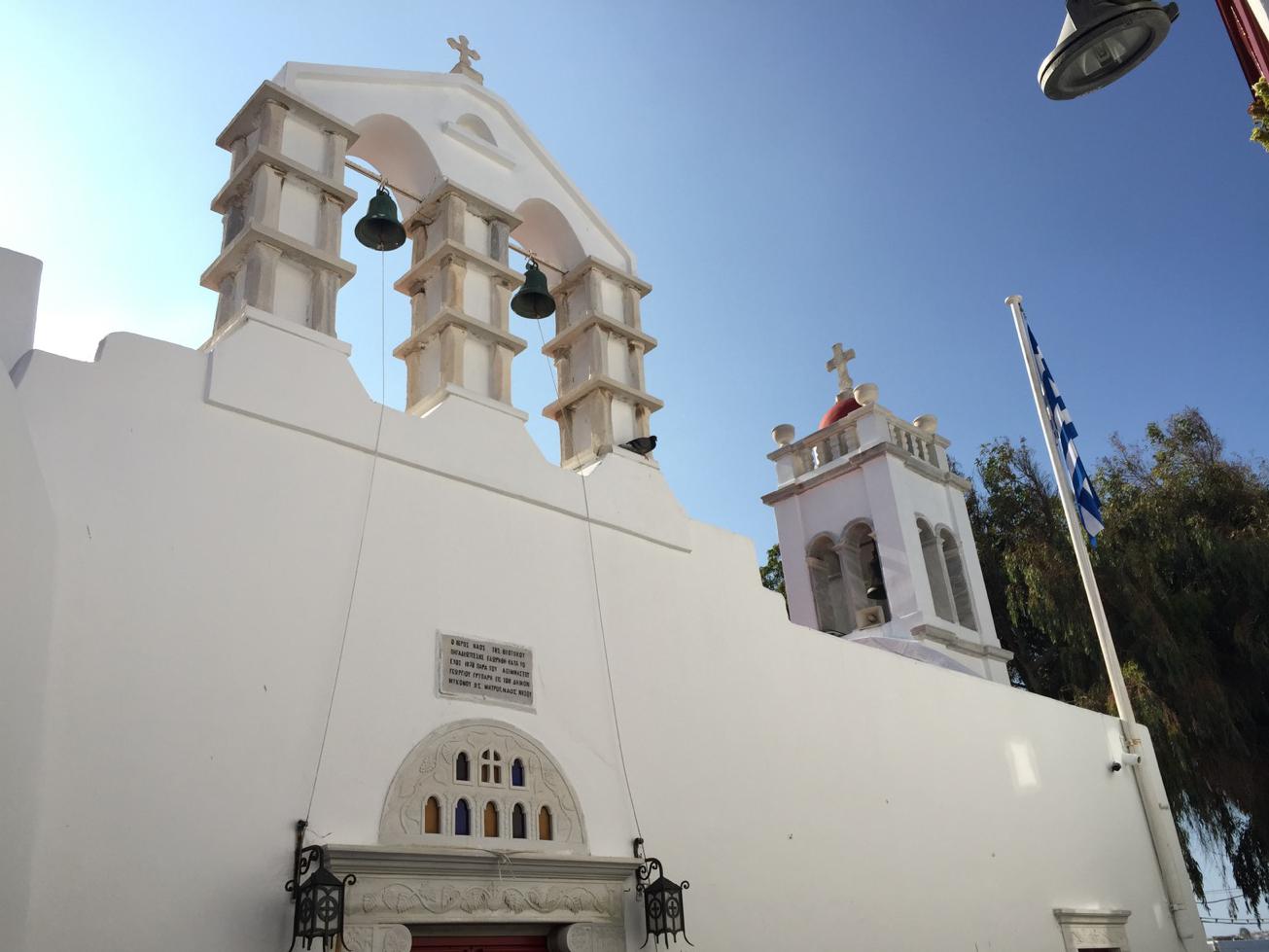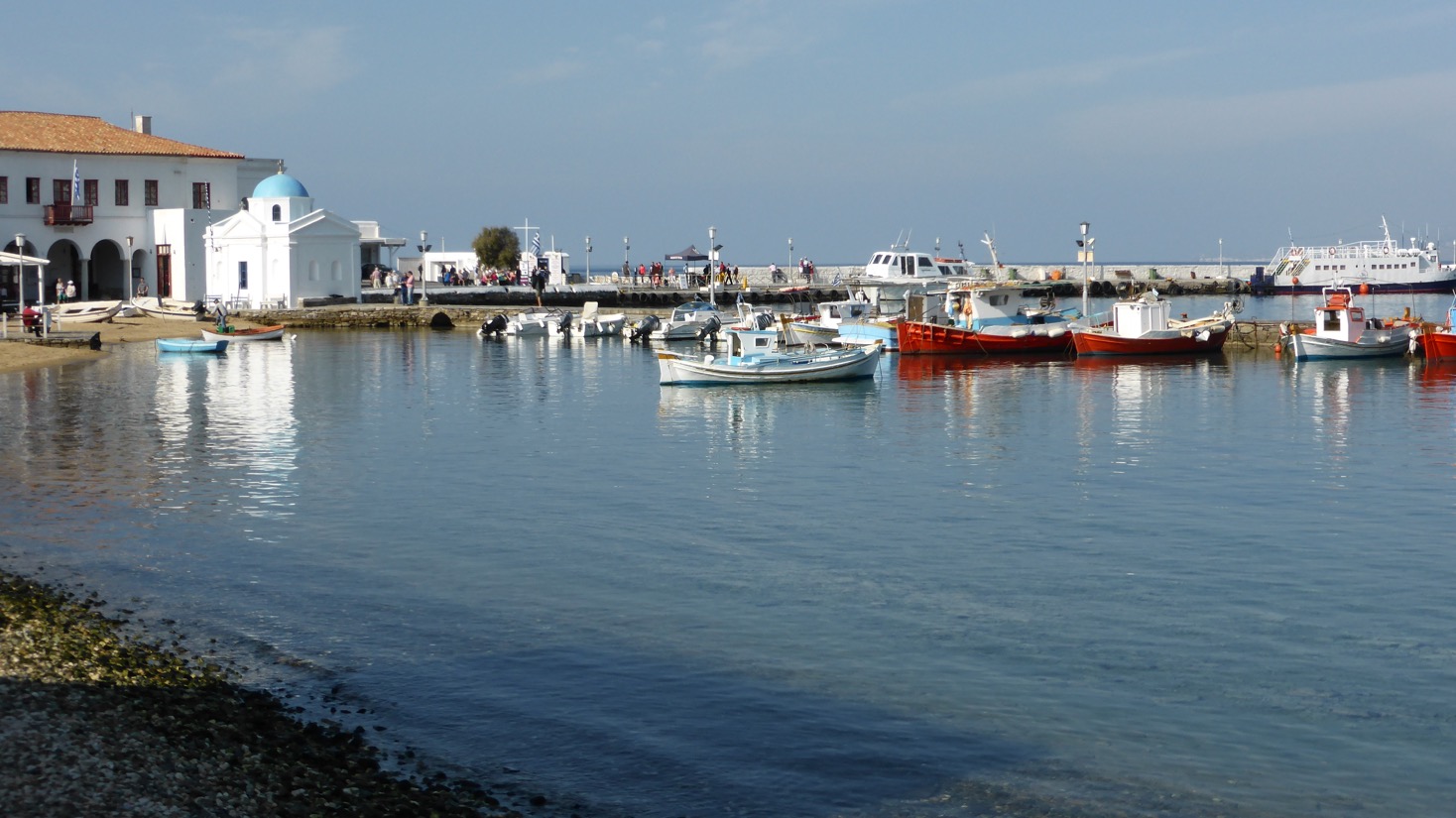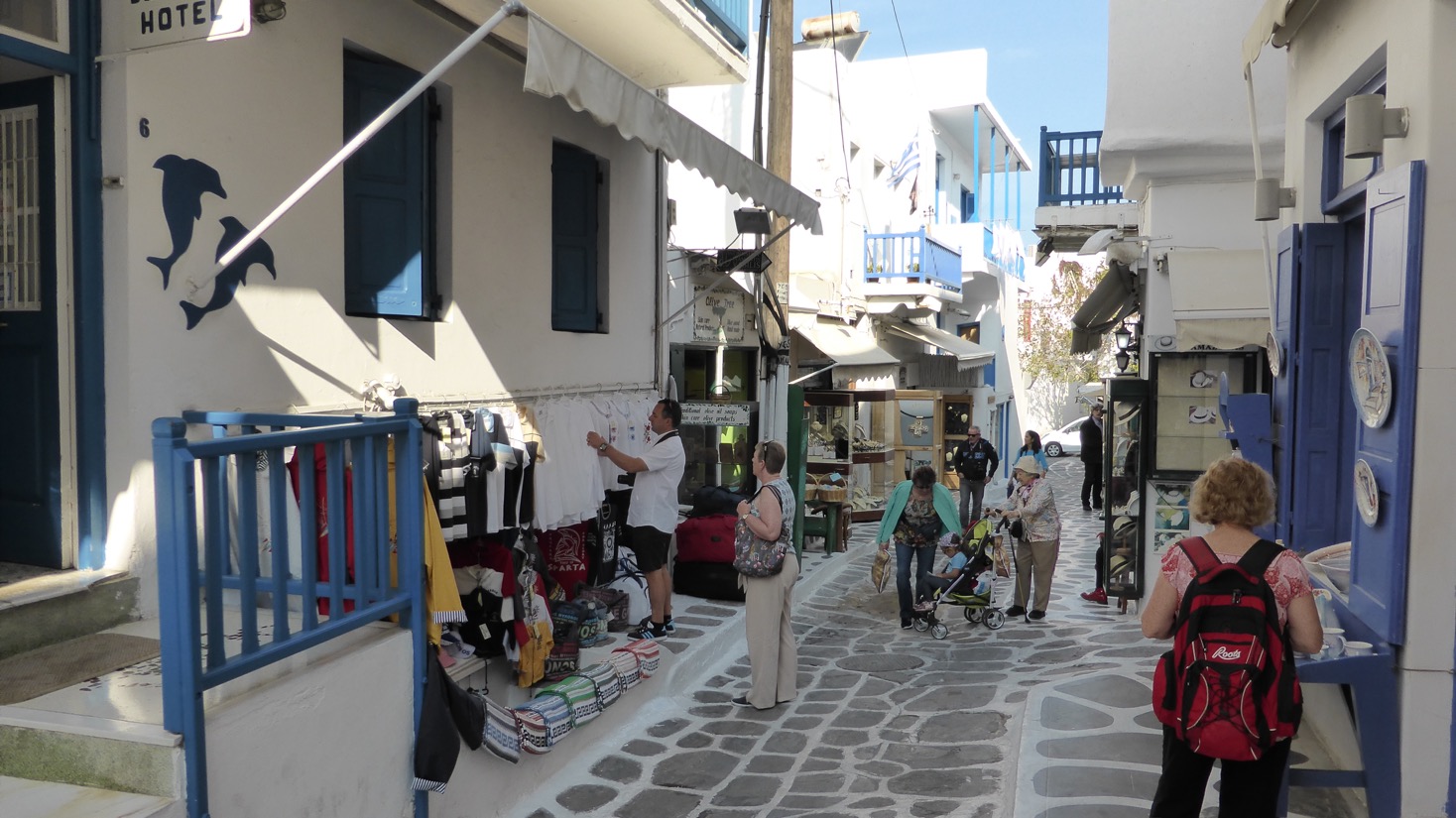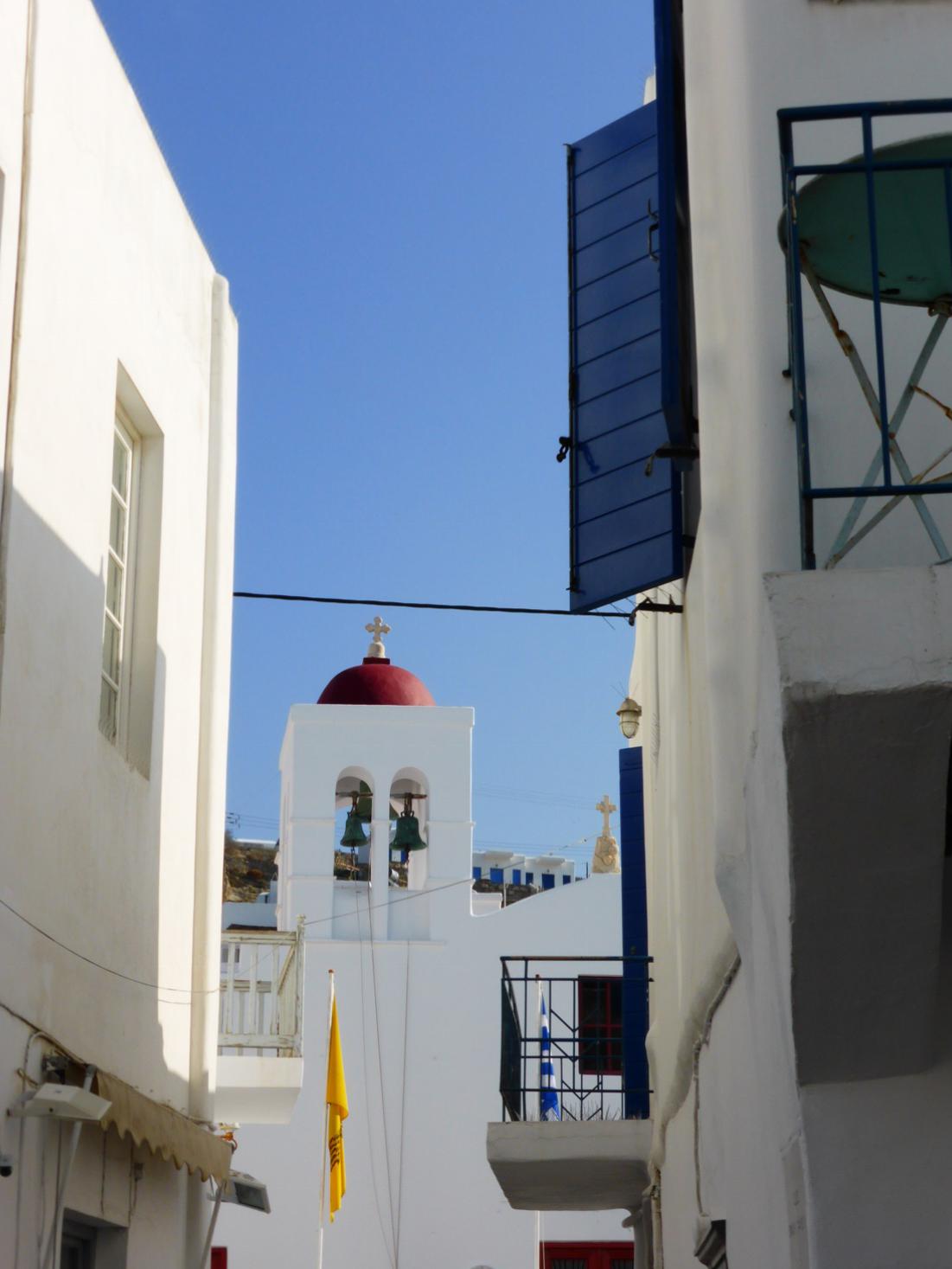 Another aspect of the narrow streets that gives it quite a busy feeling is the little, narrow cars and trucks that squeeze themselves through making deliveries and moving stuff about the town. They're actually quite cute!
From the quaint, narrow streets lined with shops we ventured up to the hill where we saw stunning views across Mykonos and the harbour, as well at the beautiful windmills and churches which are iconic on the island. These beautiful structures were mostly built in the 16th century by the Venetians where they were used to mill wheat. Their use declined over time, but they were still being used until the mid–20th century! One of these now houses a museum, while others are used as homes.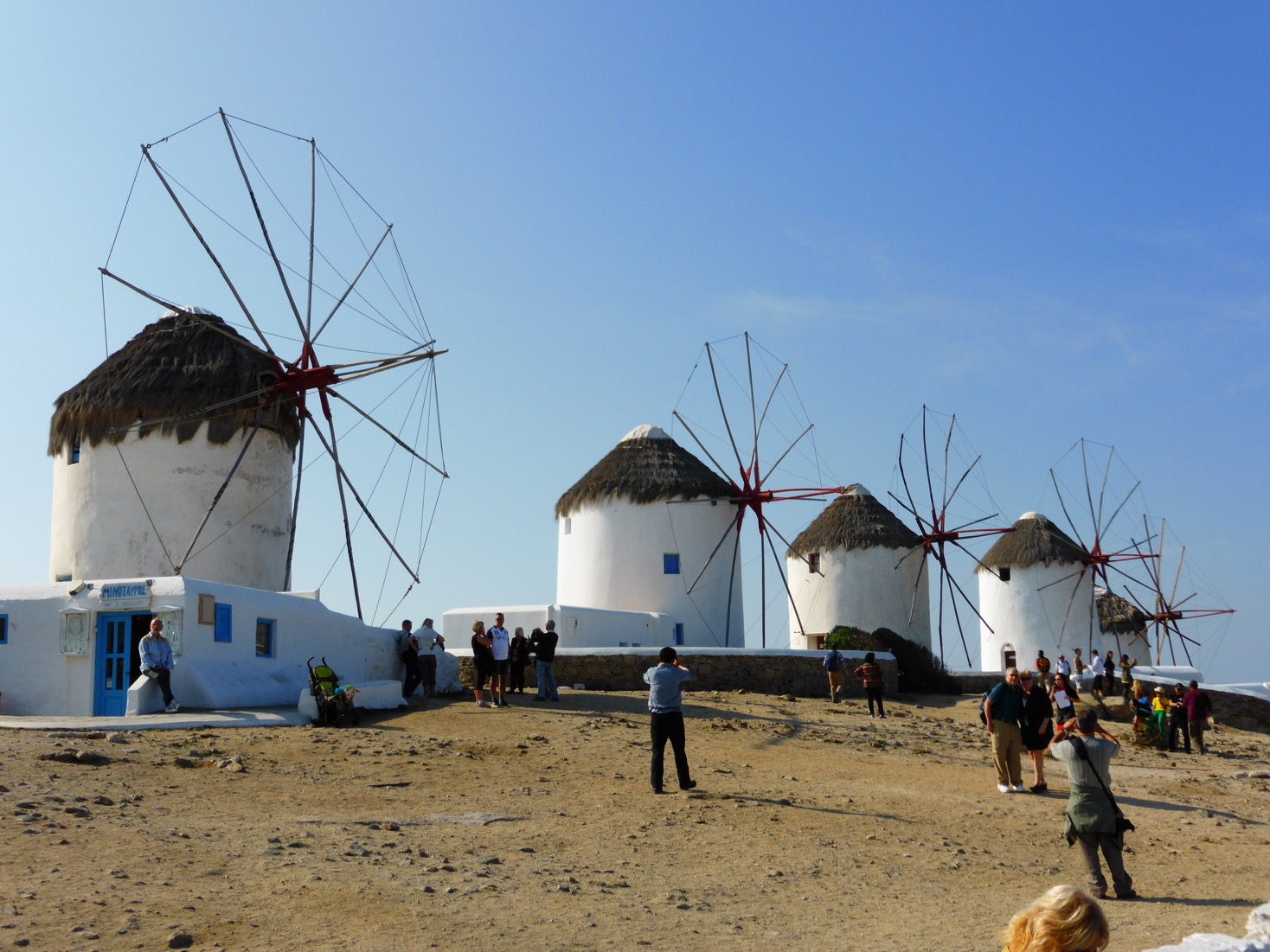 </a>
From the cliff upon which some of the windmills sit we made our way down to the beach that looks quite pretty, and mostly large rocks. It looked like some shallow pools had formed within smooth rocks that it might have been nice to paddle in, but we discovered these were filled with moss and other sea stuff I didn't fancy touching! While the whole beach area looks beautiful and idyllic from a distance, a closer inspection of some of the rocky areas uncovers the obviously wild nightlife that Mykonos houses in peak periods. We found condom packets, broken bottles, and other miscellaneous debris littering the front. This is quite a contrast to the streets and harbour area which is spotlessly clean.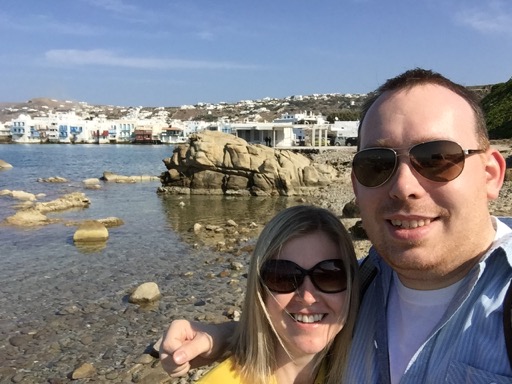 </a>
We found a little place to eat (Katerina's Bar & Restaurant) in an area of Mykonos called Little Venice which I assume gets it's name from the buildings that are directly exposes to the water and offer fabulous views of the bay from their balconies. We shared a delicious starter of pitta bread with some sort of sauce made with tomatoes and feta cheese, then I had a main course of pitta bread with lamb, salad, and tzatziki. This was quite nice and had we been able to get a table on the tiny balcony it would have been very picturesque too! Little Venice is not the cheapest place to eat, but very tasty. With a glass of wine, coffee, and a shared dessert of Baklava we paid €62,50.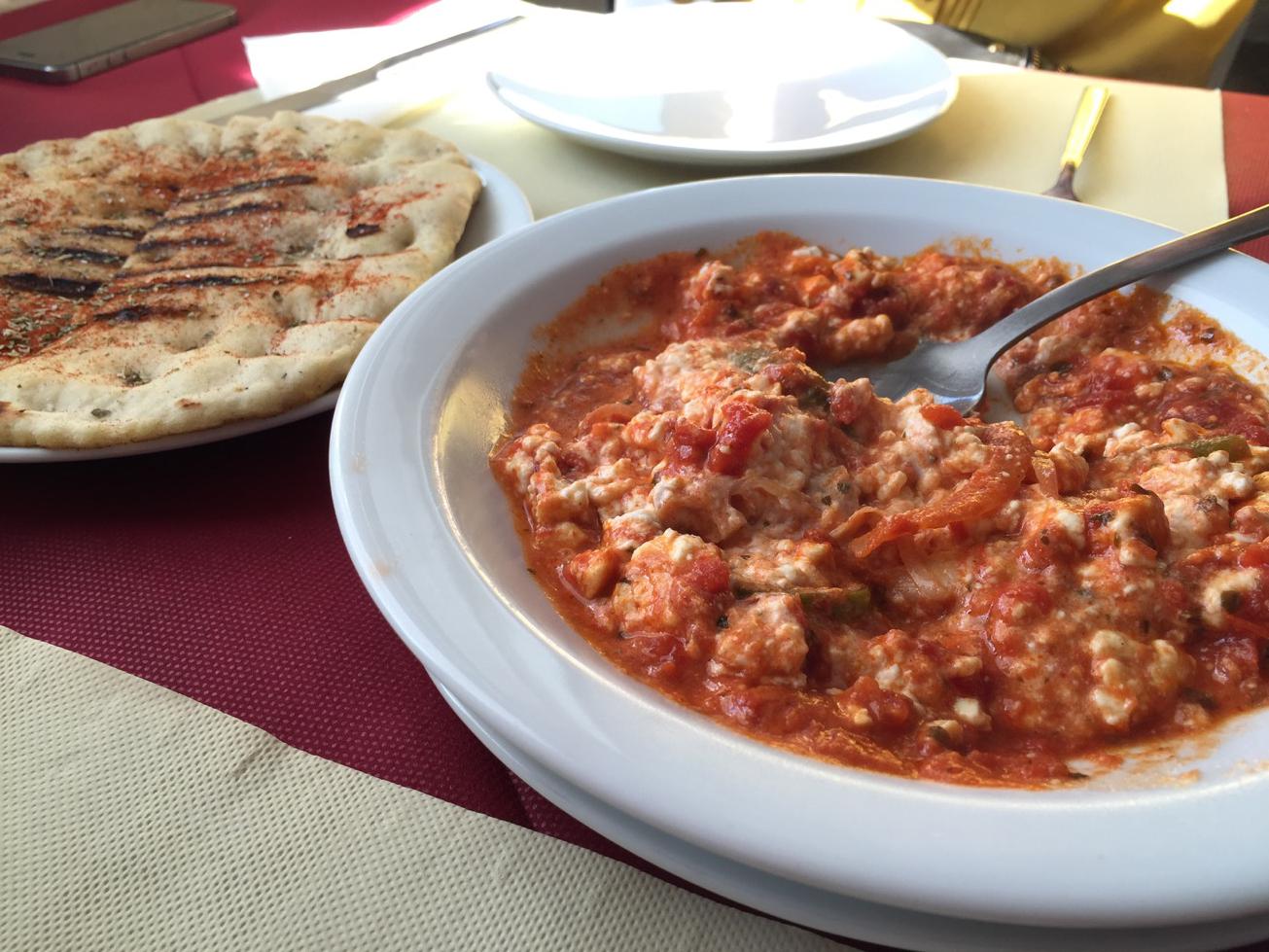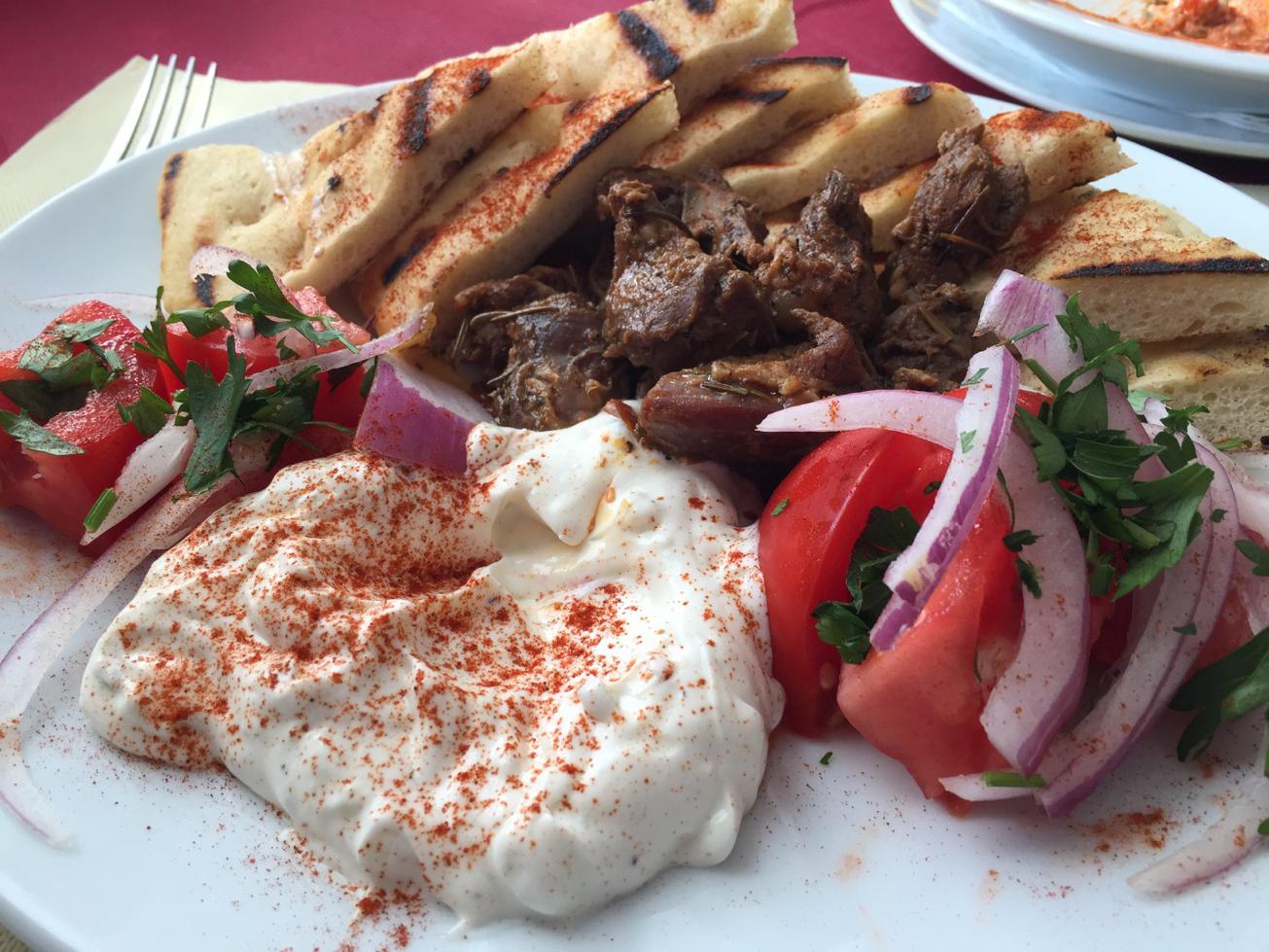 Weather in Mykonos was good, just under 20ºC and quite still so walking around in shorts and t-shirt was quite comfortable for this hardened Scot! We finished the day with a beer by the harbour where I spend a short while relaxing and blogging before getting the tender back to the ship, while Lesley took some time to contact her family.
Bingo, Bingo, Bingo!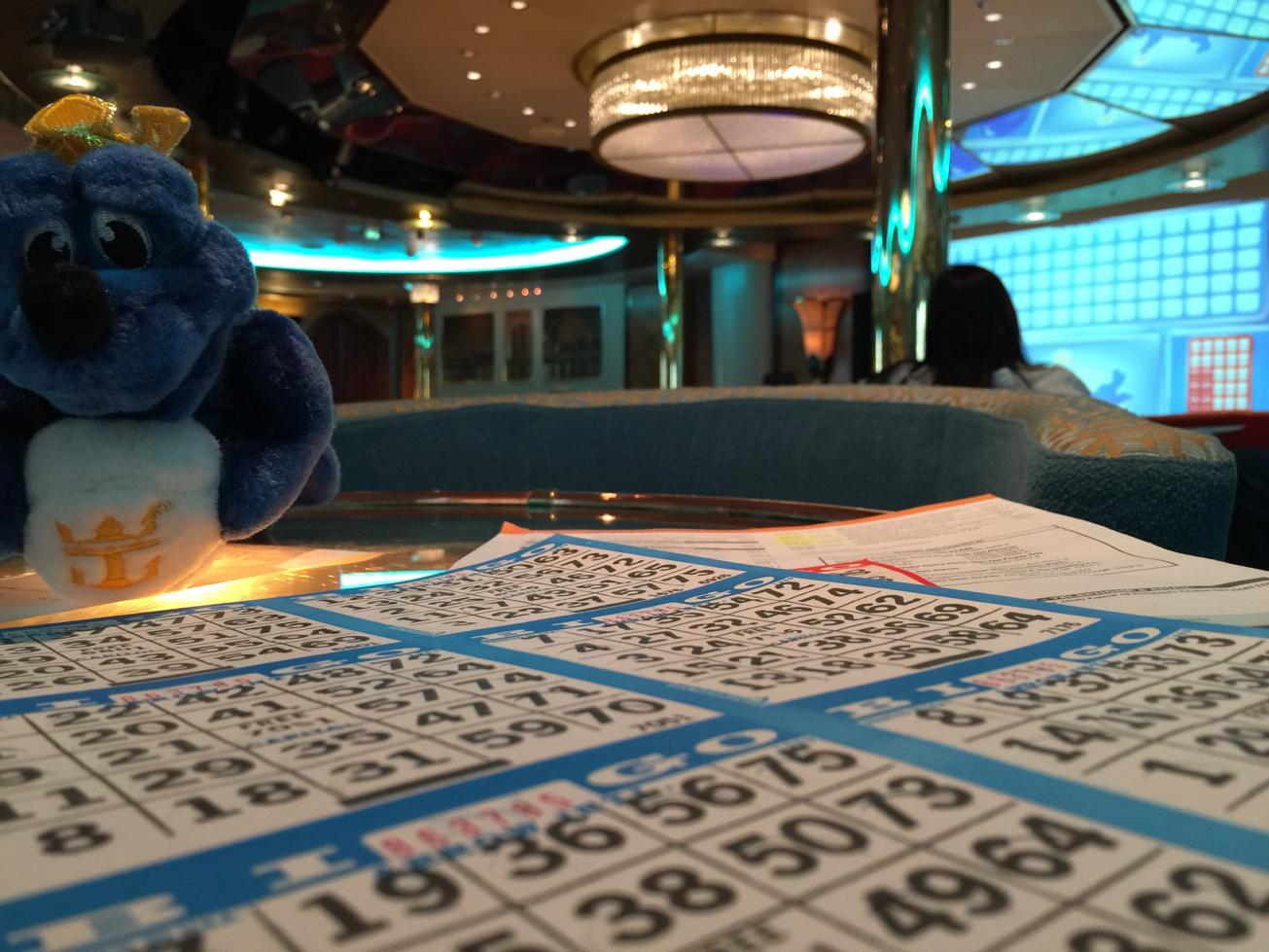 </a>
Back on board Lesley and I decided to try our hand at Bingo, as I had a free ticket from my superb singing attempts from yesterday! My bingo inexperience was obvious when I expected tickets to cost about $2 each, when in fact they were only available in sheets of 6 for $34 for one sheet, or $44 for two (with a free Bingo seal). Still, we'd come this far so we paid $44 and took one sheet each. I've never played bingo and it was fairly quite in the lounge and it was clear that some people take this very seriously! I can see why, as the excitement when you've only got a couple of numbers to go is almost unbearable! It was hosted by one of the activities staff, Orlando, who I think Lesley has developed quite a crush on…
The gentleman who won was clearly a bingo pro, as he arrived in a Royal Caribbean bingo t-shirt and clearly knew what he was doing. Still, given the prize was only $300, most people paid $44 to enter, and there were about 50 people in the lounge, I think it was Royal Caribbean who won on this particular activity!
Showtime: Eastcoast Boys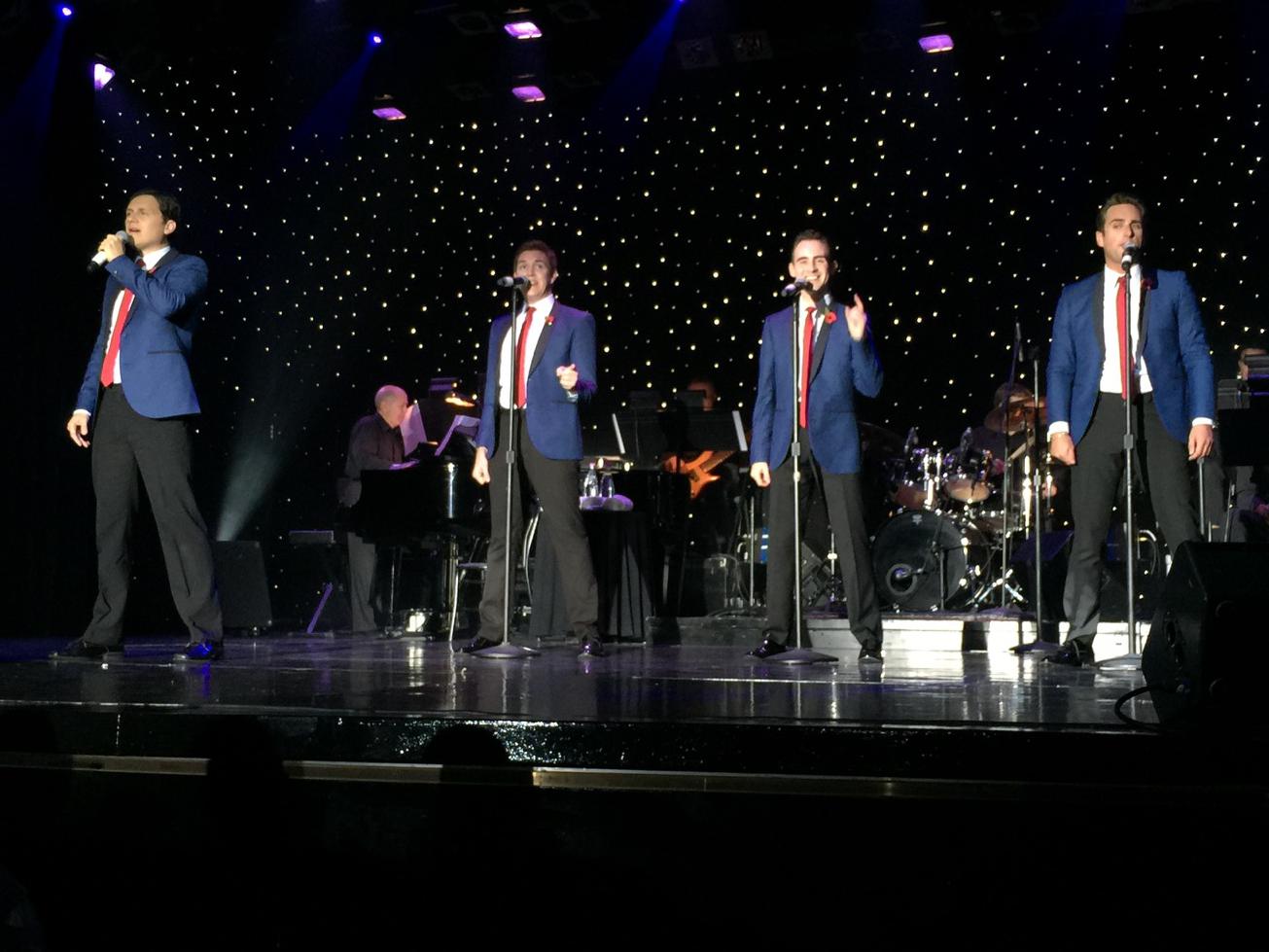 </a>
Tonight's evening entertainment was a guest act who were a tribute to Frankie Valli and The Four Seasons, who I'd never heard of, so it wasn't something I was especially excited about. The guys turned out to be very good and though I only knew a small number of the songs they had great voices and I'm now going to download some of the music! The only downside was that the choreography wasn't brilliant and some of them missed their dance cues, making it a bit awkward to watch at times. The did do a bit of cheesy stuff, serenading a girl from the audience on stage.
If you like that sort of music it's well worth a watch and they were good at getting the audience clapping along and waving their arms in time with the music!
Izumi – Speciality Dining
Last night we tried the other main speciality venue on the ship, which is an asian fusion restaurant offering mainly Japanese dishes and with a focus on sushi. Everything we ordered, we shared. Lesley has decided she definitely doesn't like sushi, so it was a bit of a shame from that perspective!
The service was very good, with our waiter very attentive and with my wine glass constantly topped up, as well as water. I've reluctantly switched to mineral water as the tap water is so foul-tasting on this ship. I normally don't bother as I find the tap water perfectly acceptable and it doesn't have the same environmental footprint as bottled water, but on this ship I've given in!
The food here was OK, but perhaps I've been spoiled by the many outstanding Japanese restaurants in Edinburgh. There was nothing here to rave about (besides the service). Our server brought us complimentary edamame beans when we were seated, which were downright awful – dry and lifeless! The other complimentary item on the menu is miso soup which was lovely. All other items are charged individually.
We ordered some chicken with sweet chilli dip; vegetable tempura; cream cheese and salmon rolls; spicy crispy shrimp rolls; and firecracker shrimp spring rolls. For dessert we both had a caramelised banana pancake.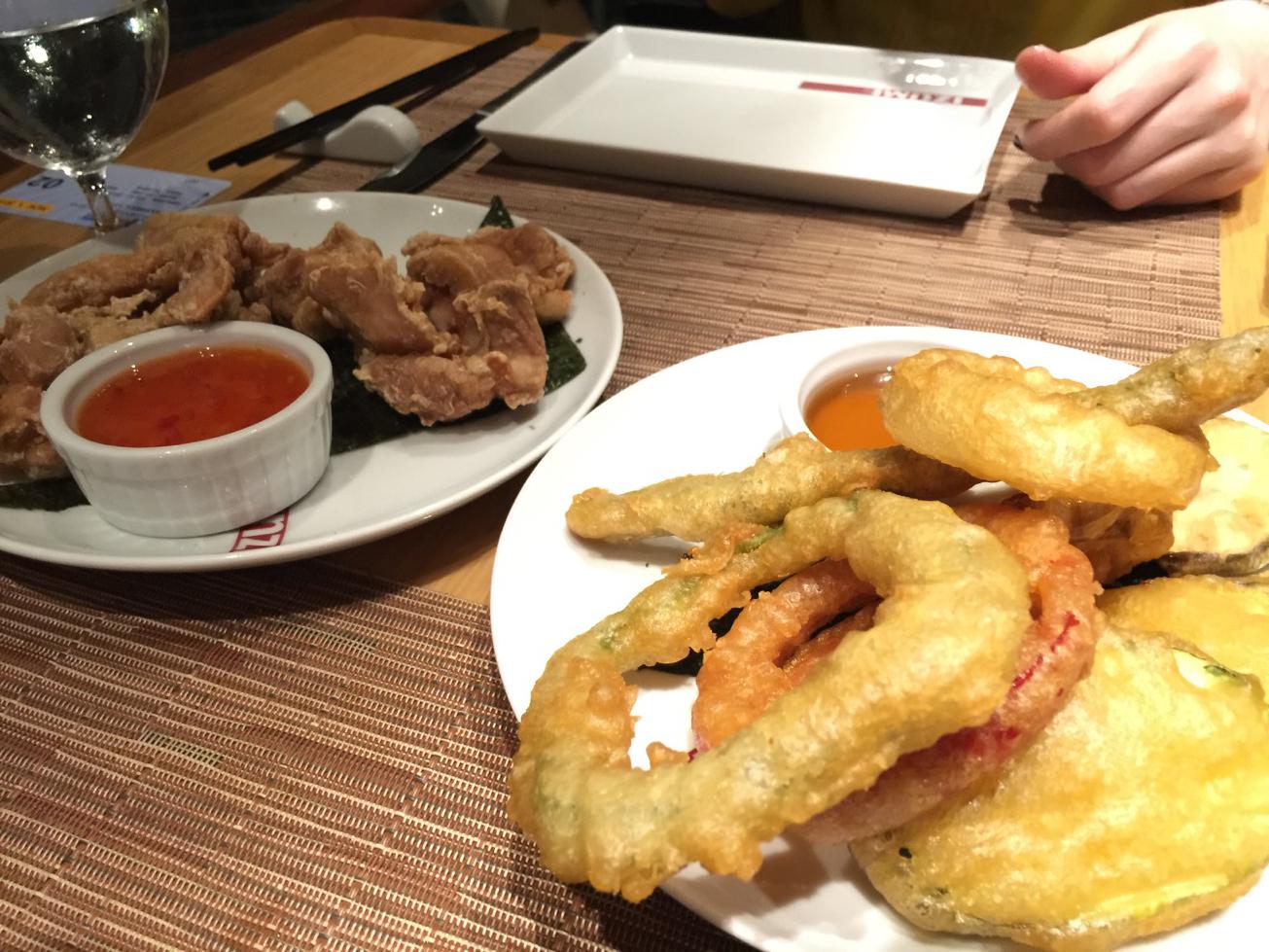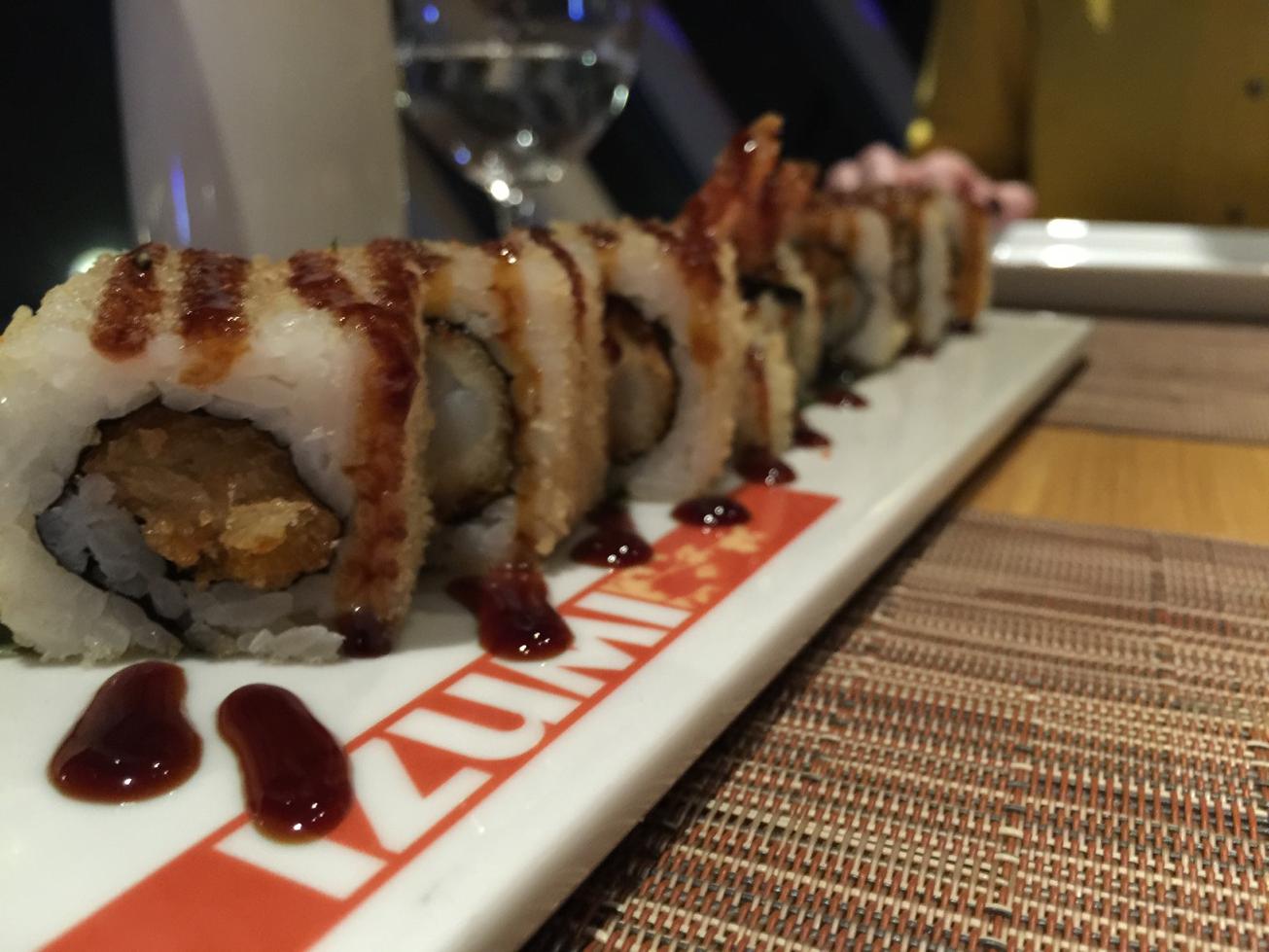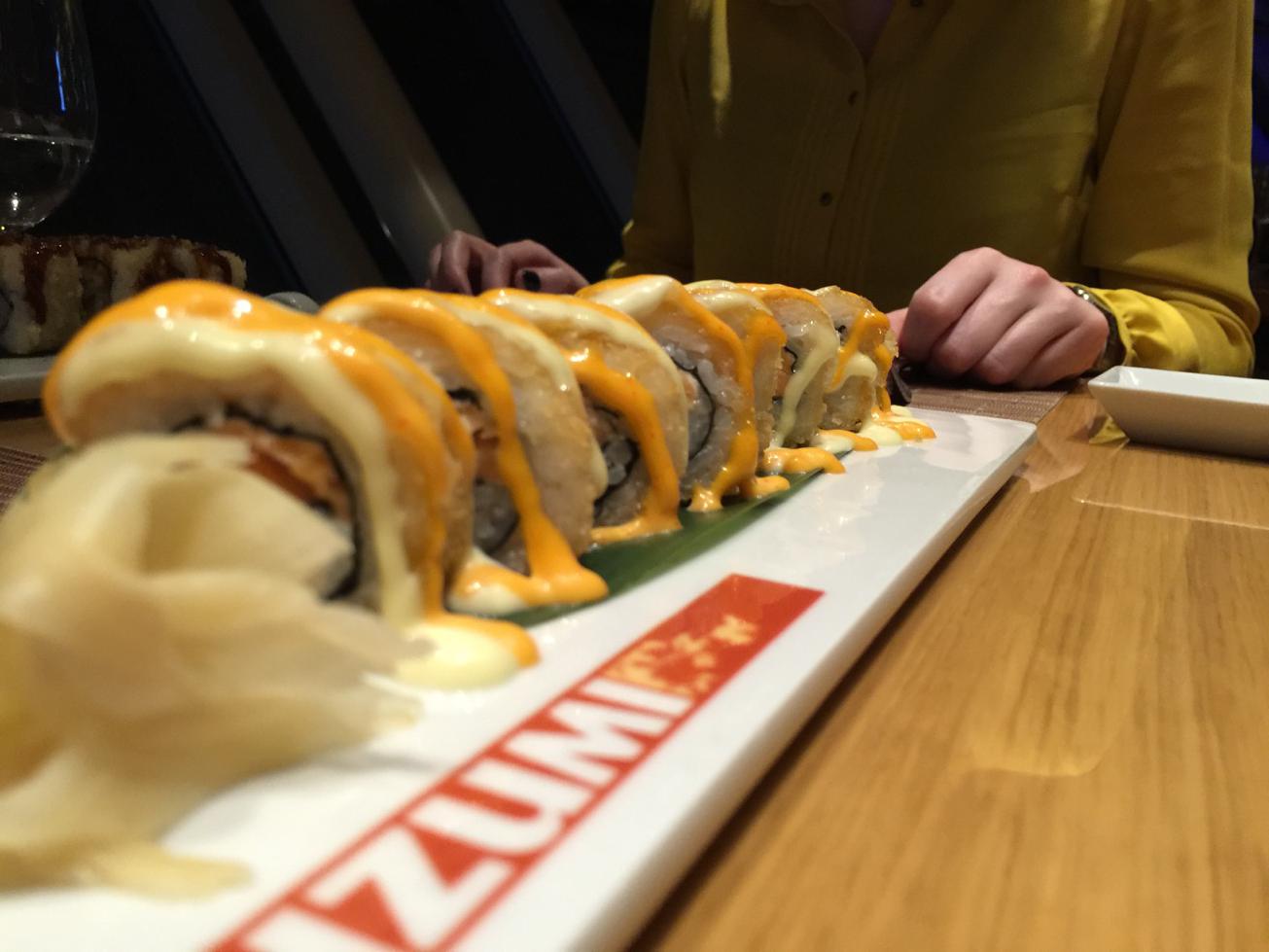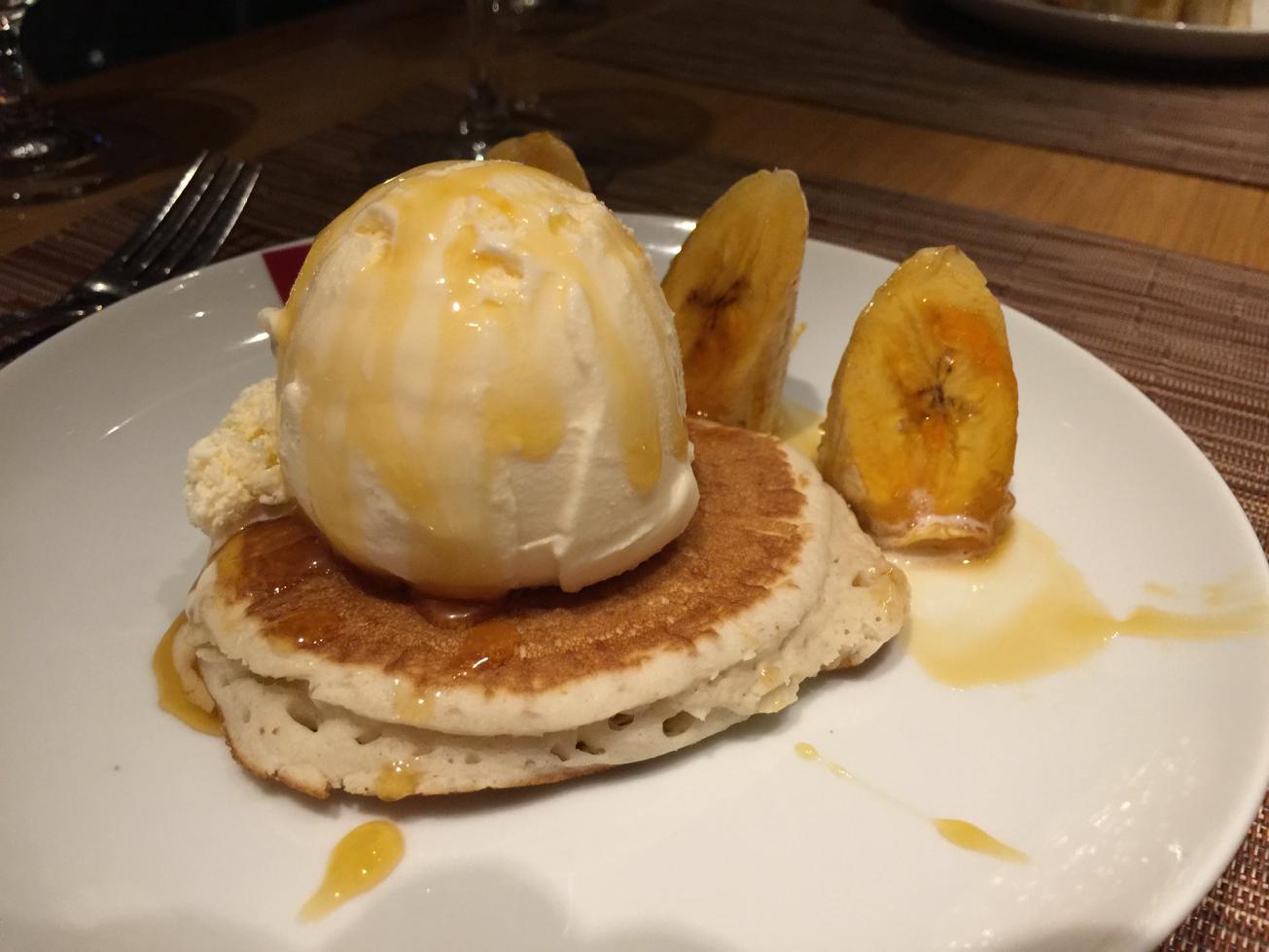 The chicken with dip was quite nice, but the coating could have been crispier and the chicken more tender. The tempura was delicious, with a lovely light batter and the typical tempura dipping sauce. Both of the rolls were OK – certainly tasty but lacking the quality of other sushi I've had in the past. The spring rolls were nice and crispy. The dessert was quite dull and I'd like to have seen more asian-inspired desserts on the menu – they were all fairly uninteresting.
On the table were chopsticks (cutlery available on request) and soy sauce, with a little dish each to decant it into. The rolls were served with wasabi and pickled ginger.
The whole mean came to $40 after a mysterious 20% discount that I didn't question but also wasn't aware of!
Dancing with the Stripes
The late-night entertainment last night was again found in Centrum and was the Dancing with the Stripes game show, and opportunity for budding dancers to partner with a ship's officer and compete for dance champion! I believe anyone could enter and the standard we observed was quite high. They had to do various dances (from traditional waltz to high-energy salsa to modern Gangnam Style) and were judged by our wonderful Cruise Director along with the members of the Eastcoast Boys (who, despite their accents on stage, turned out to be British).
It was such a laugh to watch and the officers and participants were really up for it and looked like they were having a ball! Once again the atrium was stuffed full of excited guests all having great fun watching what was going on. It's yet another demonstration of how fun this ship is, and how up for it the average guests are, whether young or old, and whatever the nationality.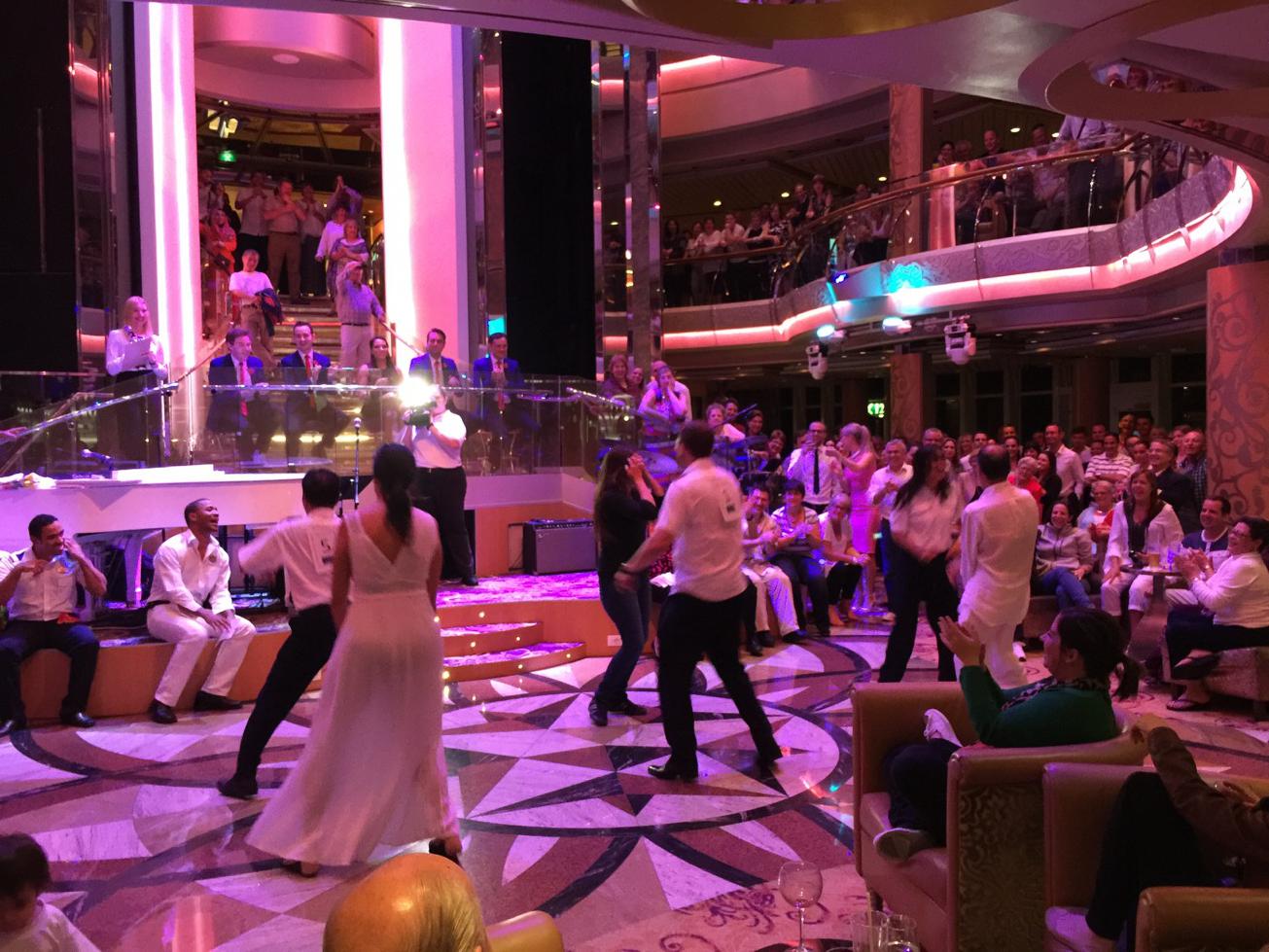 </a>
Lesley and finished the evening (rather drunkenly) in the casino where we did not do particularly well! We then stumbled to bed and were both out like a light – the sign of a great day!
Tomorrow
We were due to visit Argostoli tomorrow but an announcement tonight from the captain told us he was unsure we'd make it due to a storm that was predicted in the area. As I'm now writing this on the 6th of November, I wont keep you in suspense but will tell you that we have not docked and are having a sea day instead. The captain has informed us we'll be visiting Dubrovnik tomorrow (as in Friday) instead. We had an excursion booked for Argostoli which has been refunded, but plan to do Dubrovnik on our own. If anyone has any suggestions, please let me know in the comments!