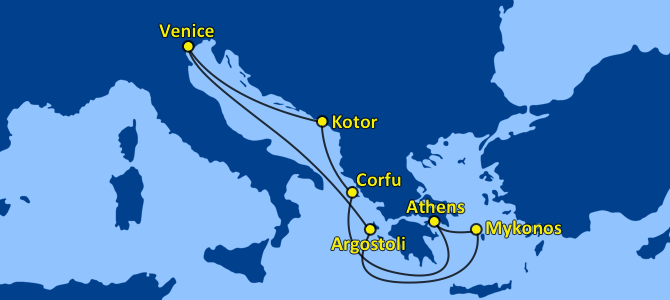 My next cruise is fast approaching and I've yet to announce anything about it! This one should be quite different from the previous three I've live blogged, and I can't wait to experience all this action packed cruise has to offer and of course you can sail along as usual on this blog.
What's the Plan?
A lot is different about this trip.  I'm not travelling with my fiancé this time but sailing with Lesley, a good friend of mine who has never sailed before – this should be a great experience for her and she's very excited having listened and read about my previous cruises.  Last year Lesley and I spend a few days in Dublin, so it won't be the first time we've travelled together.
The ship is new, as is the cruise line.  We're sailing on Royal Caribbean's Splendour of the Seas. Not only is this the smallest and oldest ship I'll have ever sailed on, we've also booked an inside cabin so it will be interesting to see how I cope with that!  Hopefully we won't be spending too much time there.
We'll be using Royal Caribbean's My Time dining which is a first for me.  This means we have no set table, no pre-defined dining times, and no fixed table companions.  I've strongly considered this when sailing with Celebrity in the past, but my hand was forced as it was the only dining style available when I booked this cruise.
I'll also be experiencing my first fly-cruise, with all previous trips sailing from the UK.  I've got a week to work out how I'm going to fit everything into the luggage allowance we have – wish me luck!
The Itinerary
We'll be calling at the following ports:
Kotor, Montenegro
Corfu, Greece
Athens, Greece
Mykonos, Greece
Argostoli, Greece
We fly to Venice on Saturday 1st November from Manchester which is the same day we board the ship, so hopefully we'll have no flight trouble.  We have one day at sea at the end of the itinerary, so this is going to be action packed and I suspect we'll be ready for another holiday when we get back!  I only hope it doesn't detract too much from my ability to fully explore the ship.
We sail back to Venice in the morning of Saturday 8th November where we will either sleep or enjoy a nice day in Venice before flying home on Sunday morning.
Preparations
A day in Starbucks gave Lesley and I the opportunity to look at the itinerary and try to work out what we wanted to do.  We have booked some City Sightseeing busses (which regular readers will know I'm a fan of) as well as a Royal Caribbean shore excursion.  You'll have to wait to find out more!
Royal Caribbean do allow My Time dining guests to reserve tables in all of the restaurants before leaving through the online cruise planner.  We haven't done this yet, but may do so at some point during the week.
The Cruise Planner is very good actually – probably better than that used by Celebrity.  I have booked Royal Caribbean's Ultimate Beverage package which should let me try almost anything I want while on board.  I said I'd give my review of the drinks package on Celebrity in May, but I think I'll now wait until after this cruise to do that.  For now though, the fact I've booked another one should give you a sense of how I felt about it…
On Friday morning we'll set off on the short drive from Central Scotland to Manchester where we'll have lunch and try to get an early night for our 07:00 flight on Saturday morning.
As always, if you aren't currently following my blog you can do so by clicking the follow button at the bottom of this page.  You'll then be notified every time a make a new post!