</a>
Today was a surprise sea day, in lieu of our visit to Argostoli. We did very little during the day, but had quite an action packed evening, including the second formal night!
Sea Day
It was confirmed to us in the morning that we would not be stopping in Argostoli, and later that we would dock on Friday in Dubrovnik in Croatia. This was a shame as we had an excursion booked that I was looking forward to to Melissani Cave & Agios Andreas Monastery. Still, this was promptly and automatically refunded onto our on board account as soon as the announcement was made. Interestingly, although we paid for the excursion in GBP before we sailed (£35.25) we were refunded in USD to the onboard account (I think $60) – I haven't done the calculation to work out who won out on that one yet!
We decided to have a really lazy day given our quite intensive few days of ports, and plopped ourselves (with coffee and pastries) in the Viking Crown Lounge to enjoy the views of the sea. It didn't look particularly rough in the open water, but I understand the conditions in the port were significantly worse, and I suppose strong gusting winds are more dangerous when you have stuff like land to avoid.
I think I said before, but I like the Viking Crown Lounge. It's the smallest of the observation lounges that I've used on a ship, and I get the impression that it used to be much larger but was split to make room for Izumi and Chops Grille. It's a shame, but the variety of speciality dining venues may be more popular with Royal's customers, and certainly more profitable for the company!
We sat here for several hours until mid-afternoon when Lesley decided it would be fun to get her hair done for the formal night. She fancied something different than straight hair and didn't feel comfortable doing it herself (especially after the disaster from the previous night!) We went to the salon at 14:30 and she got an appointment for 15:00.
While Lesley was in the salon, I went to the room and I think I must have dozed off because the next thing I know Lesley is back with her hair expertly done and we started making plans for our evening. Dinner was going to have to be early, as the itinerary for the evening was action packed from about 5pm.
We decided to grab a quite bite to keep us going, so Lesley got some soup from the little Café in the Solarium and I got a hot dog from the usual place. They're striking out on the dogs unfortunately – the buns are quite chewy and stale so far – there's a few more on the menu so I might try another tomorrow! I think I'm a glutton for punishment!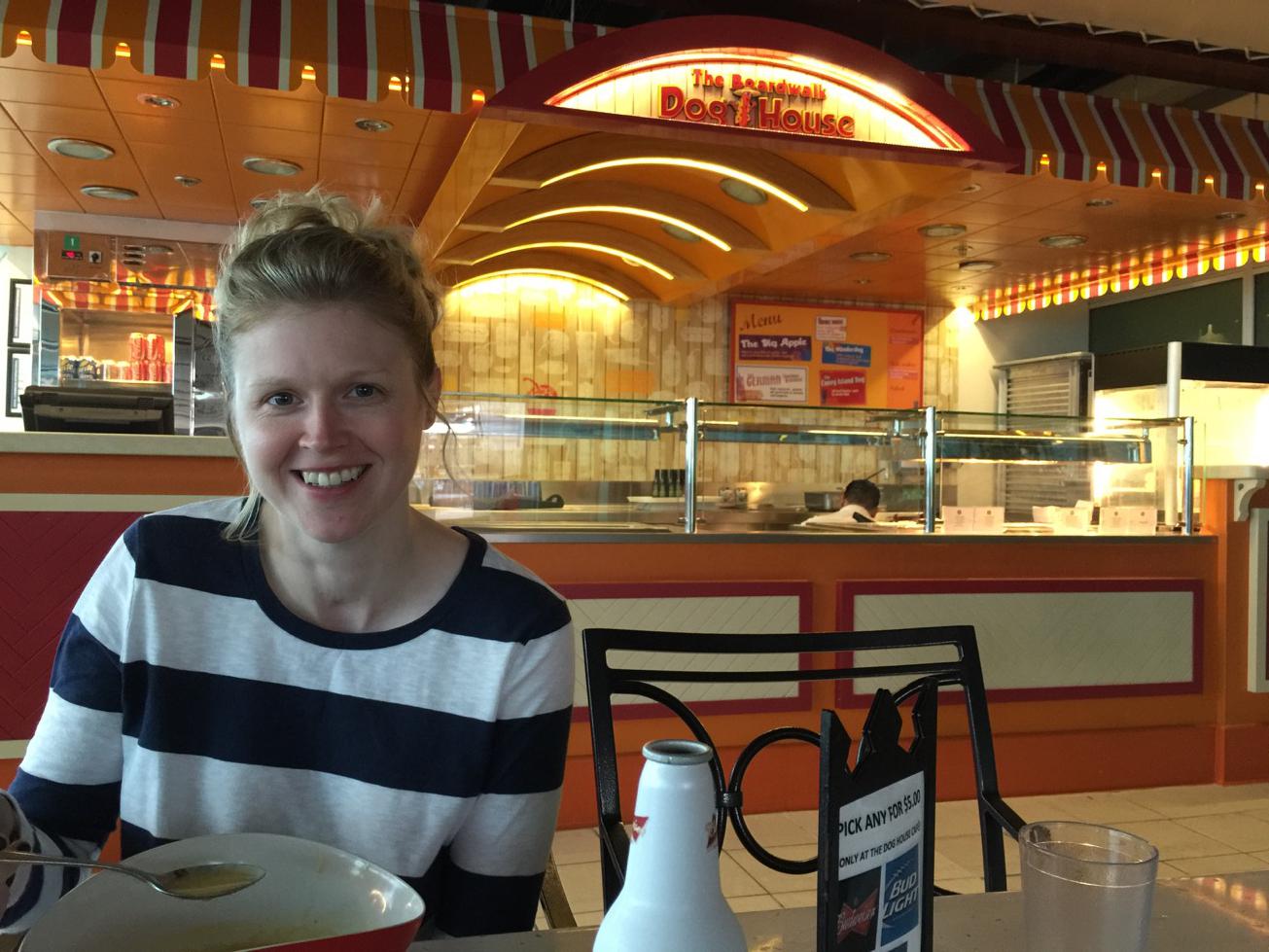 </a>
We got ready for the evening and went promptly to the Schooner bar where an Abba 'name that tune' trivia was taking place. I thought we might win this one, but alas 16/19 was not enough and we were beaten by a single point! I've never tried trivia on a cruise ship before, but I think I will do more of it in future as it's quite a lot of fun!
Dinner in the MDR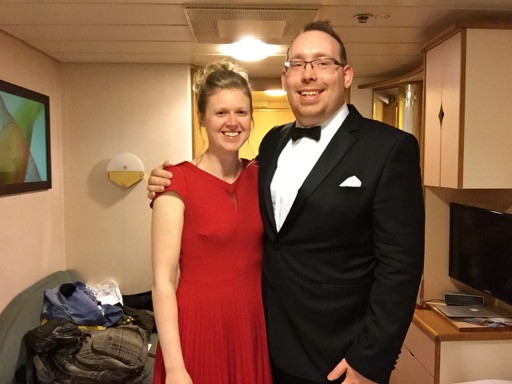 </a>
Tonight we asked to be seated straight away when the restaurant opened at 6pm, and we were seated at a table of 10 with three American couples and one English mother/daughter duo. The conversation was a little less flowing with the Americans than it was the previous night, but I had a good chat with the English lady and her daughter who, like Lesley, was enjoying her first cruise very much.
The food was of a similar standard to previous nights and again there are no photos as we were dining with other people. I had a duck and port terrine to start, giant grilled shrimp for a main, and the crème brûlée for dessert again. There were four shrimp on the plate with shells on sticking out of a bed of mashed potato. I'd just finished shelling the shrimp when our waiter plopped another portion of shrimp on the plate! Clearly he thinks I need a good feed. The last formal night I commented on one dish sounding nice and I got the response "This dish is great for the ladies, but for a man I bring you two portions" – a bit sexist I thought but fair enough!
Showtime: Ballroom Fever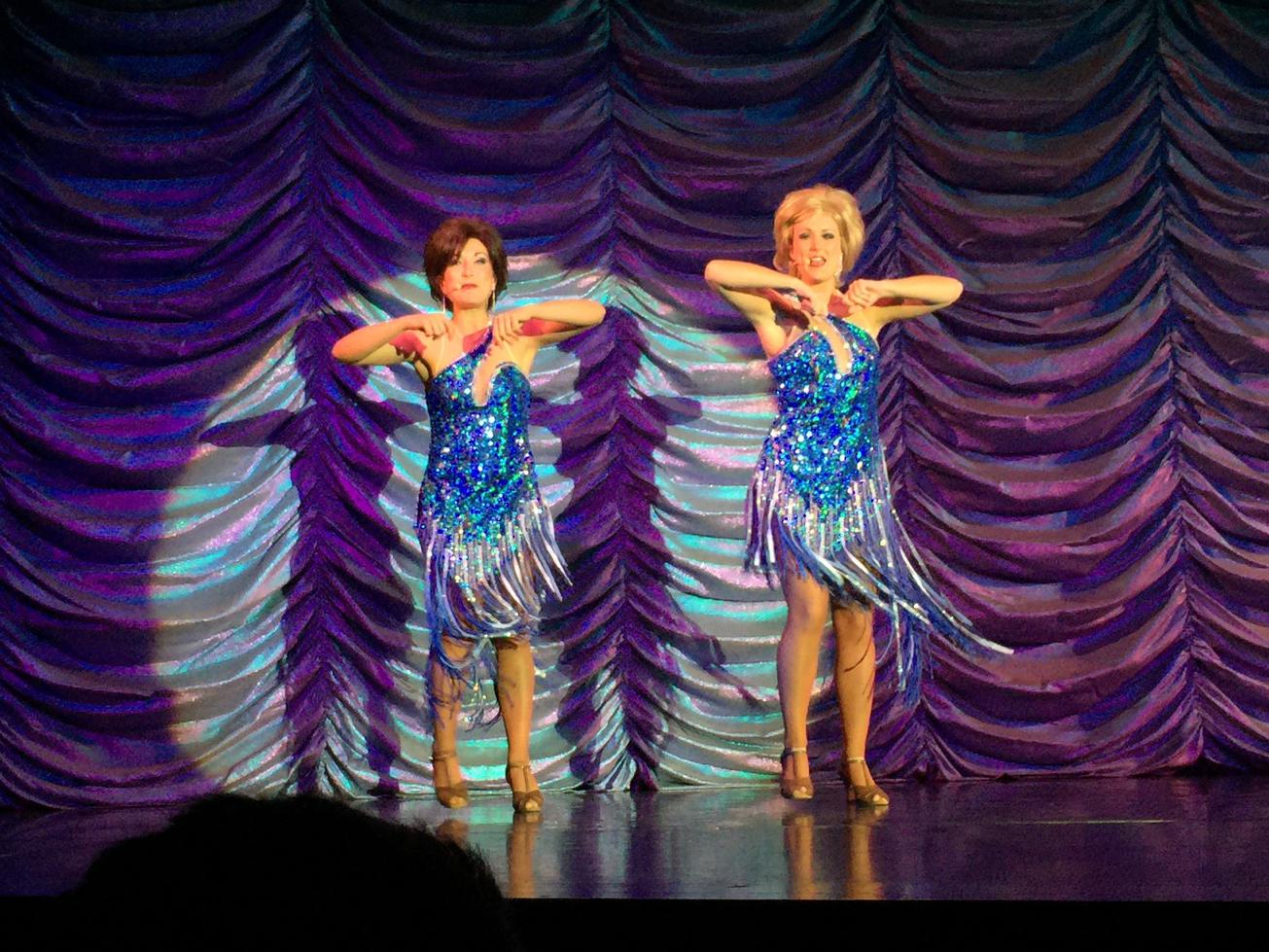 </a>
We had three shows in a row to attend tonight. The first was the singers and dancers of the ship performing a production show called Ballroom Fever. I wasn't looking forward to this because I thought it would be quite boring, but the content of the show was quite good – the music was fun and there was a lot of energy.
Unfortunately the execution was fairly poor. Some of the choreography and dancing was unimaginative (except the couple who were champion ballroom dancers – they were excellent) and parts of the set looked like someone had hung up bed sheets! It was very reminiscent of something my high school might have produced and, to be fair, we'd have been very proud of it! But this isn't our high school theatre.
Thankfully I'm not alone in my thoughts. Lesley, for whom the show was greatly appealing, found it lacking in the same areas I did. Another guest we were chatting to commented that they thought the costumes were thrown together by the cast themselves!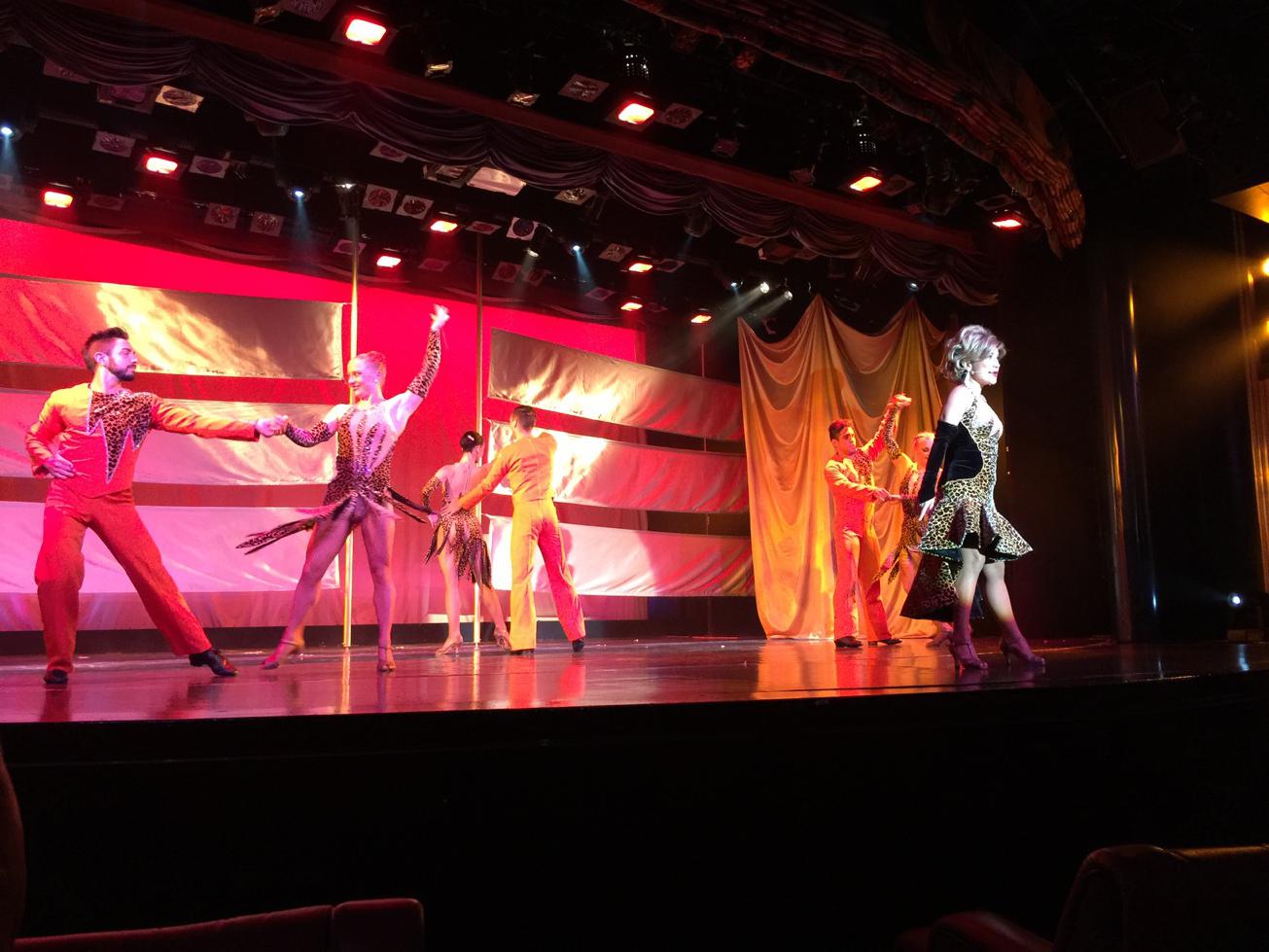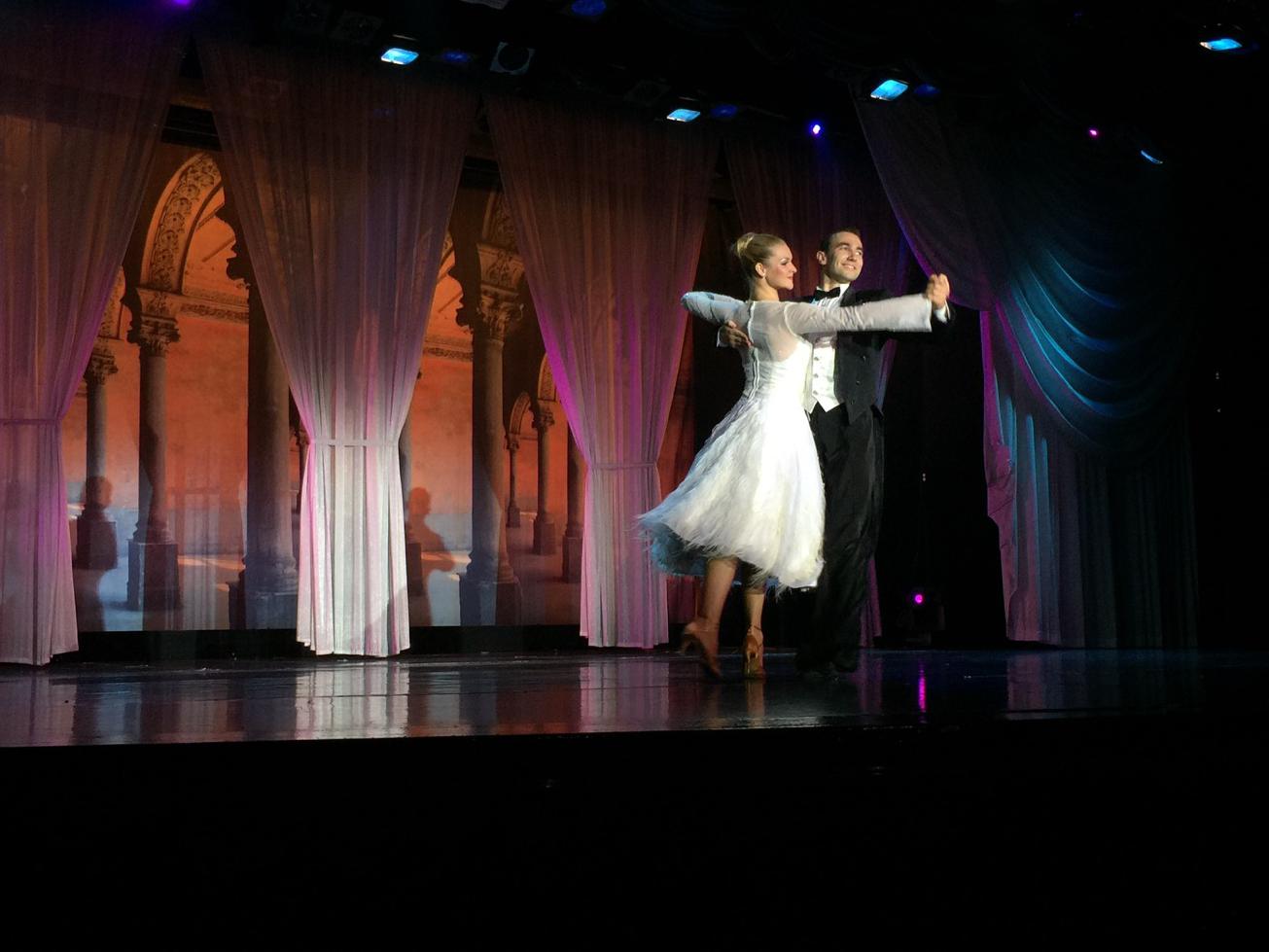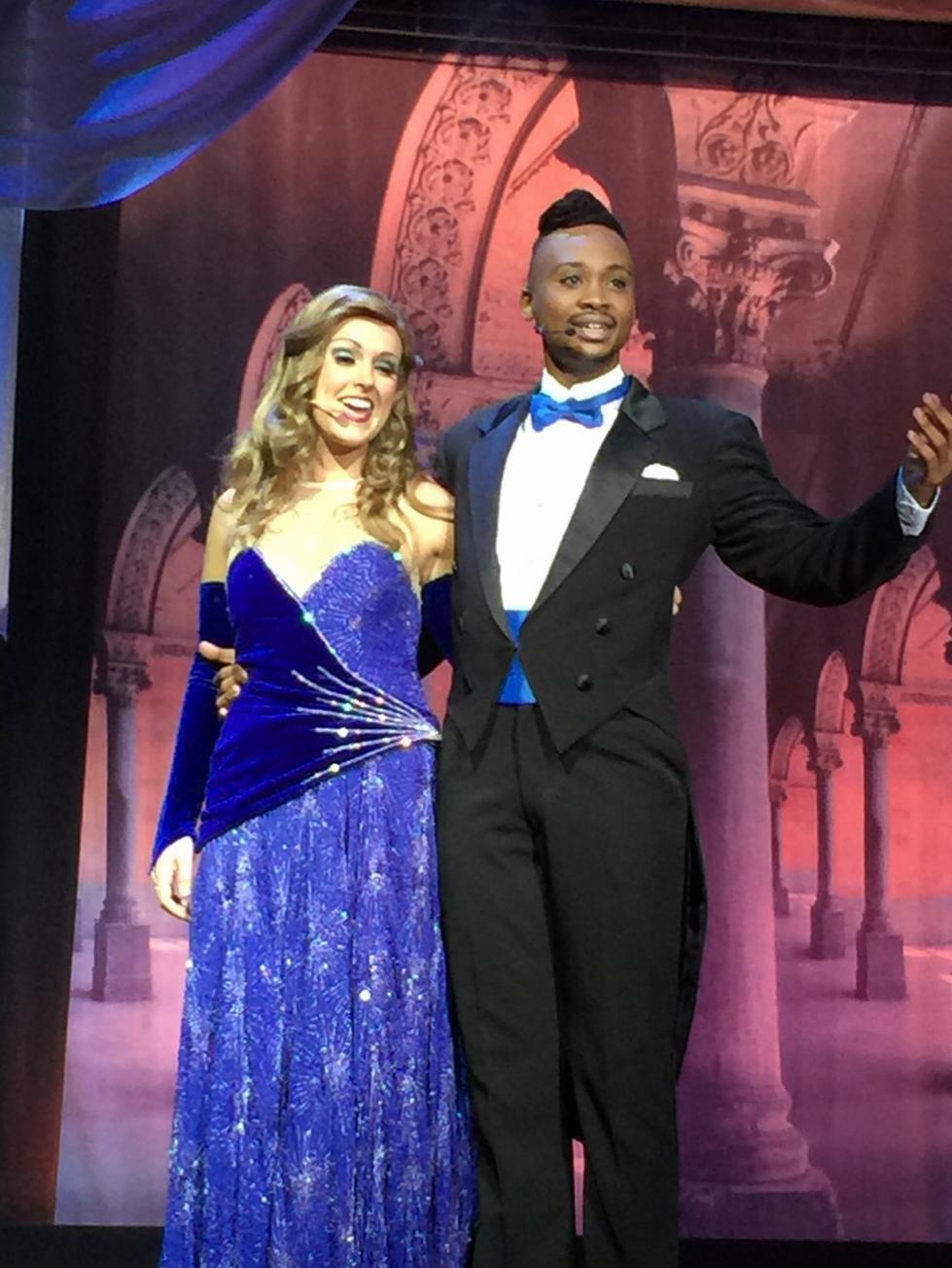 Top Hat Lounge
The final two events tonight were in the Top-Hat lounge, which is a round show lounge upstairs from the main theatre. The first show was called Battle of the Sexes and pitted two teams of 5 agains each other.
Lesley was pulled up on stage to compete for the ladies, and it involved things like paper aeroplane making (and flying), various strange acts with balloons (that were a little R-rated) and collecting as many shoes as possible from audience members who were the same sex as they were.
It was all a bit of fun, and felt like a warm-up for the depravity that came after…
The Quest
</a>
I've heard several comments on forums telling me not to miss this particular event and, frankly, I had no idea what to expect. It's well worth attending this show, though it's definitely R-rated, and not for anyone easily offended!
The round show lounge was split into 12 teams, which were formed from wedges of the audience around the side. Each team had two team leaders. The basic idea was that team leaders had to bring something to our host (the wonderful cruise director) and show their team number (on a printed piece of card) until the cruise director shouted out the number. There were bonus points for everyone in the team standing and doing certain dances, but mostly it involved this collection activity.
We started with simple objects like a copy of today's Cruise Compass (which I provided for my team) and moved on to much wilder things such as 'a man with three woman's bras on his head' (Lesley lost her bra during this quest); 'the biggest or tallest guy and the skinniest or smallest guy' who then had to dirty dance with each other (that was me and some old Spanish guy). In fact the Spanish guy and I ended up being chosen for many of the tasks, given we were two of the only 'up for it' guys in the audience. We did the can-can together, and skipped round the theatre holding hands!
The gameshow ended with 'You have three minutes – bring me a guy with no shirt, no pants (trousers – this confused me at first), wearing a woman's bra, makeup, and handbag. It was totally hilarious, though there were a few of them (those that involved undressing) that I wasn't personally comfortable participating in, but was quite happy to watch!
Needless to say this was a popular game show and I can quite understand why it was so highly recommended! If it's on your cruise, and you're up for a laugh, you simply have to attend this! Unfortunately there aren't any good photos and, frankly, that's probably for the best!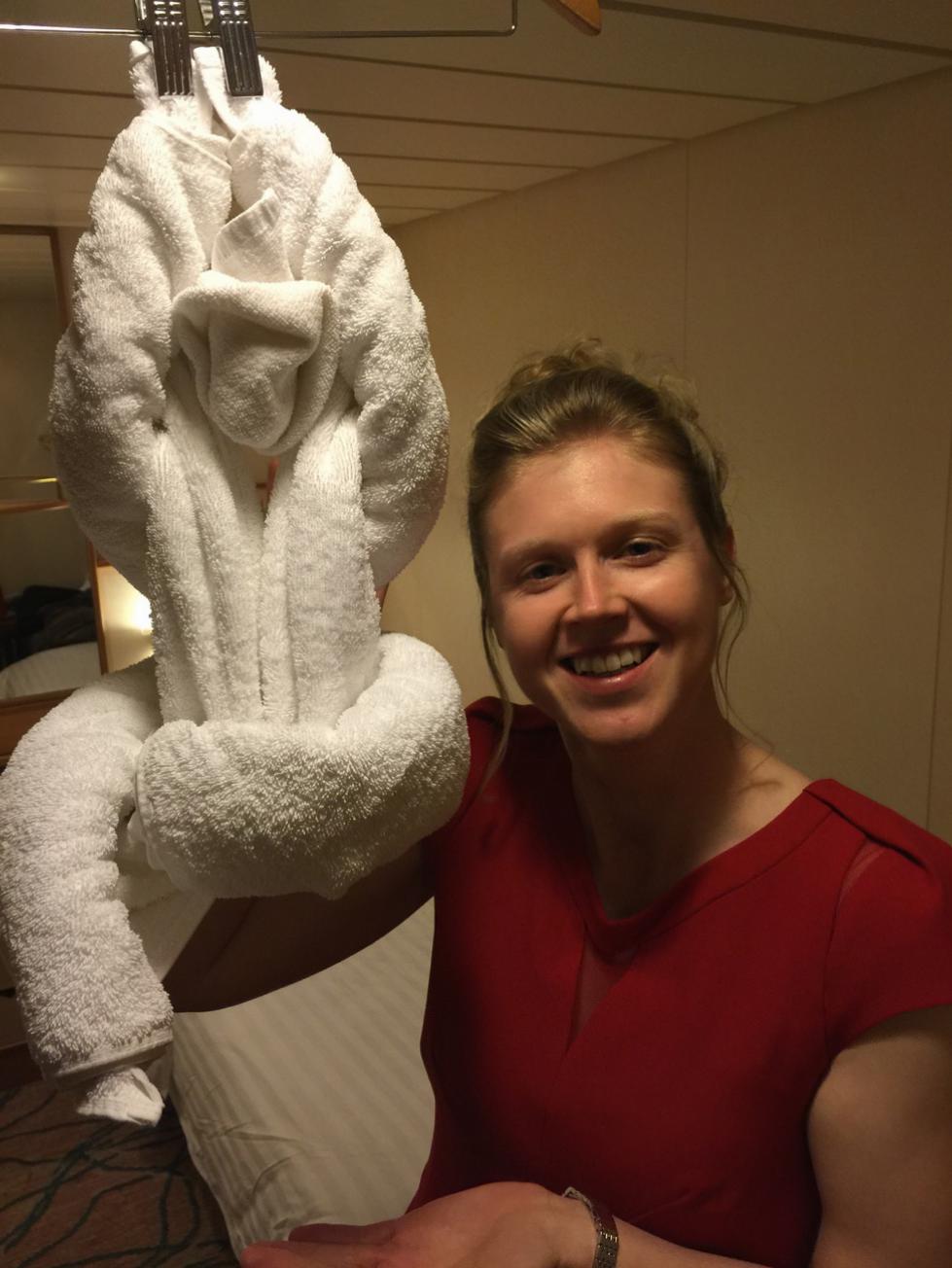 </a>
Needless to say we went straight to bed after this, although the party continued up in the Viking Crown Lounge until the wee hours. We were far too sensible and knowing our alarm was set for 5:50 decided to call it a night, though I almost had a heart attack when we returned to the stateroom to see a towel monkey hanging from the ceiling!