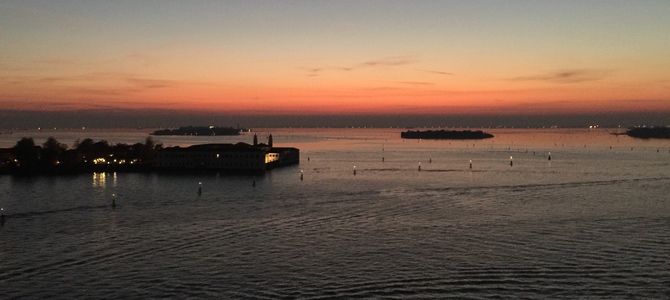 </a>
This blog may be incoherent as I've been up since 03:30 and have made good use of my drinks package today. Nonetheless I'll attempt to give my first impressions of Splendour and tell you a bit about our day, including dinner in the Chops Grille.
Travelling
On Friday morning Lesley and I set off early for Manchester which was a quick, uneventful journey. We had a day of shopping at the Trafford Centre before a much too short sleep in the Premier Inn at Manchester Airport (Heald Green). This was a fairly typical, great value Premier Inn property which needs no real description – I do love those hotels though!
Our rest was short-lived as we woke at 03:30 for an early flight to Venice. We flew with Jet2 (a new experience for me) who turned out to do what they do very well. It was a basic, no-frills experience but on a modern aircraft with a friendly crew. I paid for emergency exit row seats to give plenty of leg room and this was well worth the small additional cost. The flight was on time and very smooth, and we got some fantastic views of the Alps towards the end of the flight.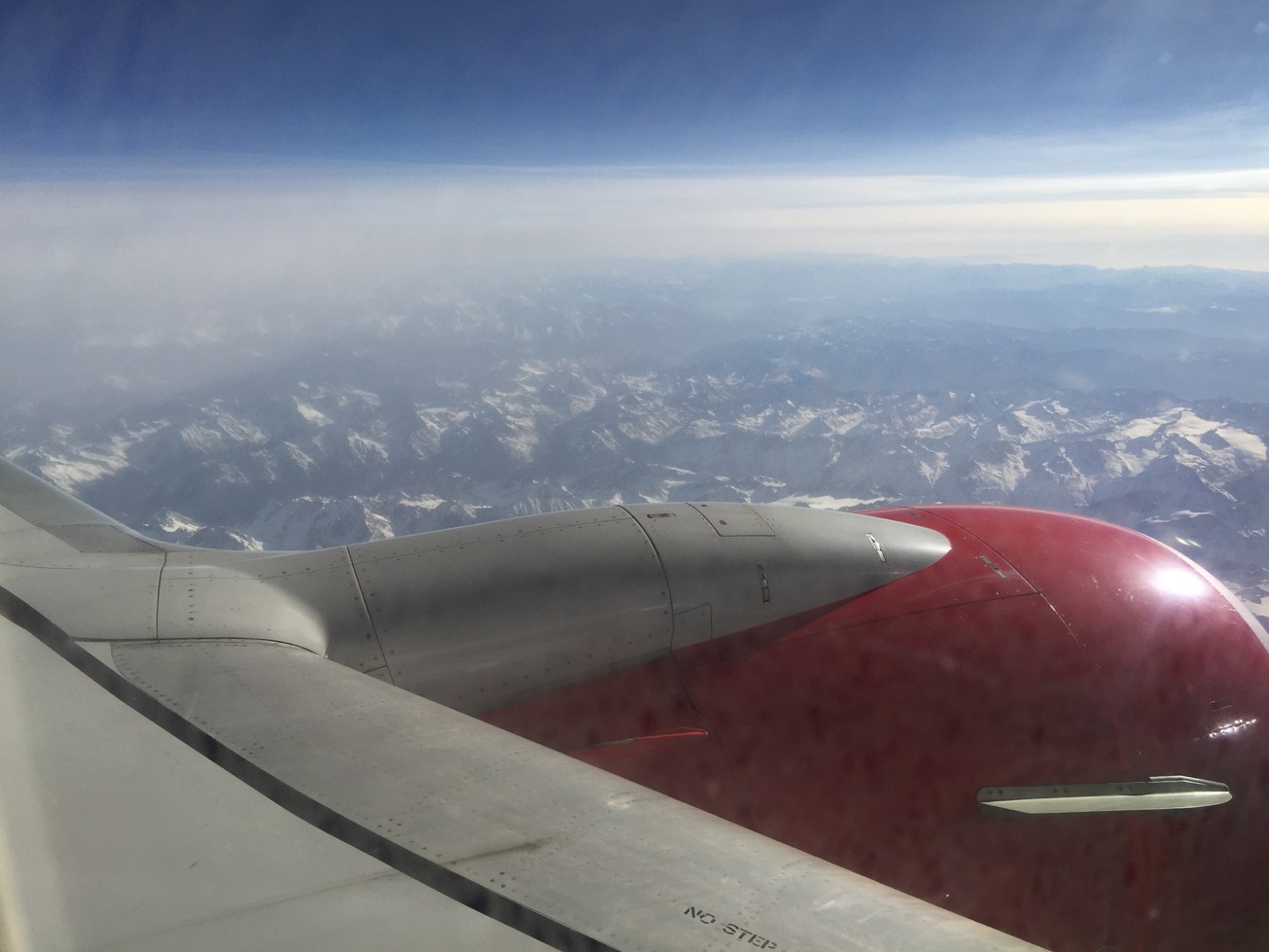 </a>
We had booked private car transfers from the airport to the cruise terminal and this worked smoothly, with our driver meeting us at the airport with my name on a sign. I've always fancied being met at the airport by someone holding a sign with my name, so I suppose I've checked that off my bucket list!
In hindsight I believe you can get a private water taxi from the airport to the cruise terminal. This costs quite a bit more, but I think it would have been worth it. Next time, maybe.
Embarkation
Boarding in Venice was quick and painless, and much like embarkation from Southampton. We arrived at the cruise terminal just after 11:00, and were on board not long after that. We dropped our bags, checked in and were ushered immediately through security and onto the ship. As is common, the queue for security was the longest part of the process, and Lesley & I seemed to pick the queue that moved the slowest.
First Impressions
I'm going to write a bit more about our inside stateroom tomorrow, as in my current state I'd much rather sleep in the stateroom than write about it. However the ship generally seems nice. She's certainly the smallest ship I've sailed on, and her age is revealed by the decor in many areas, but with her recent refit she's looking rather splendid! The carpets all look fresh and from what I've seen so far the ship has been well maintained and is in good condition. It's hard to believe this ship was launched in 1995!
The staff seem very upbeat and enthusiastic, and seem much more capable of drawing some life out of the passengers than I've seen on other ships. This is certainly partly to do with the demographic, which on the whole seems a little more upbeat than on previous cruises, but the staff have something to do with it too.
Lesley and I tried a movie song trivia quiz where we had to name the movie from the song. This was a riot and the activities host "Mel B" really got the crowd going. This was helped endlessly by the hilarious group of well-watered Irish women sitting directly behind us. I hope we encounter them again!
The evening show tonight was better than some 'get to know the crew' shows that Celebrity put on for the first night. There were little segments from some of the ship's singers, dancers, and the band. All of these were pretty talented. We then had a sort of comedy duo doing quick change illusion and comedy dance stuff. It was hard to describe and really strange in places but quite fun! My only concern about entertainment is that the diversity of passengers (I've seen the figures – there are 50 nationalities represented on board) means that entertainment has to be fairly universal and not dependent on language. Hopefully that doesn't hold back the entertainment team and they can still put on a great show!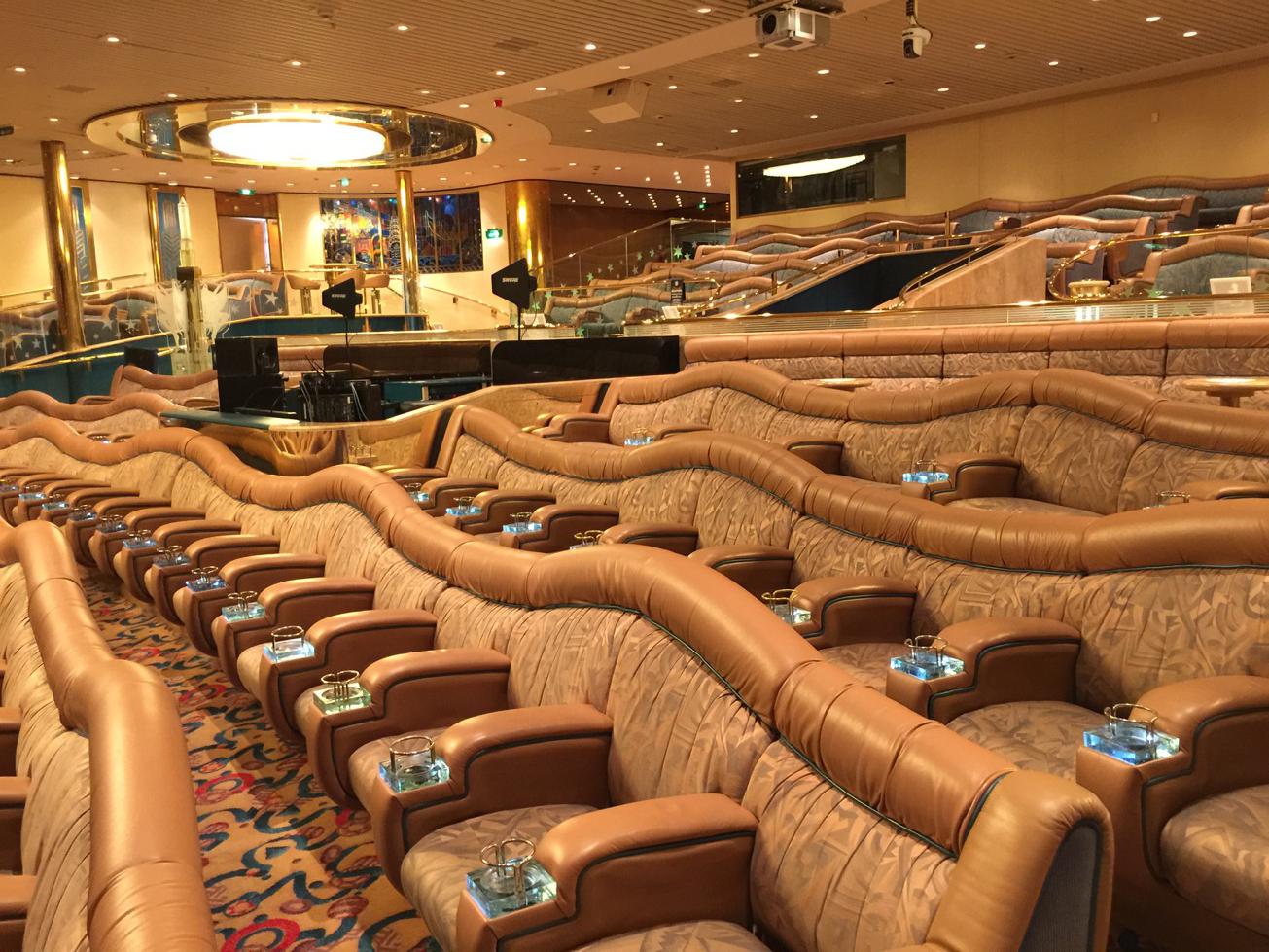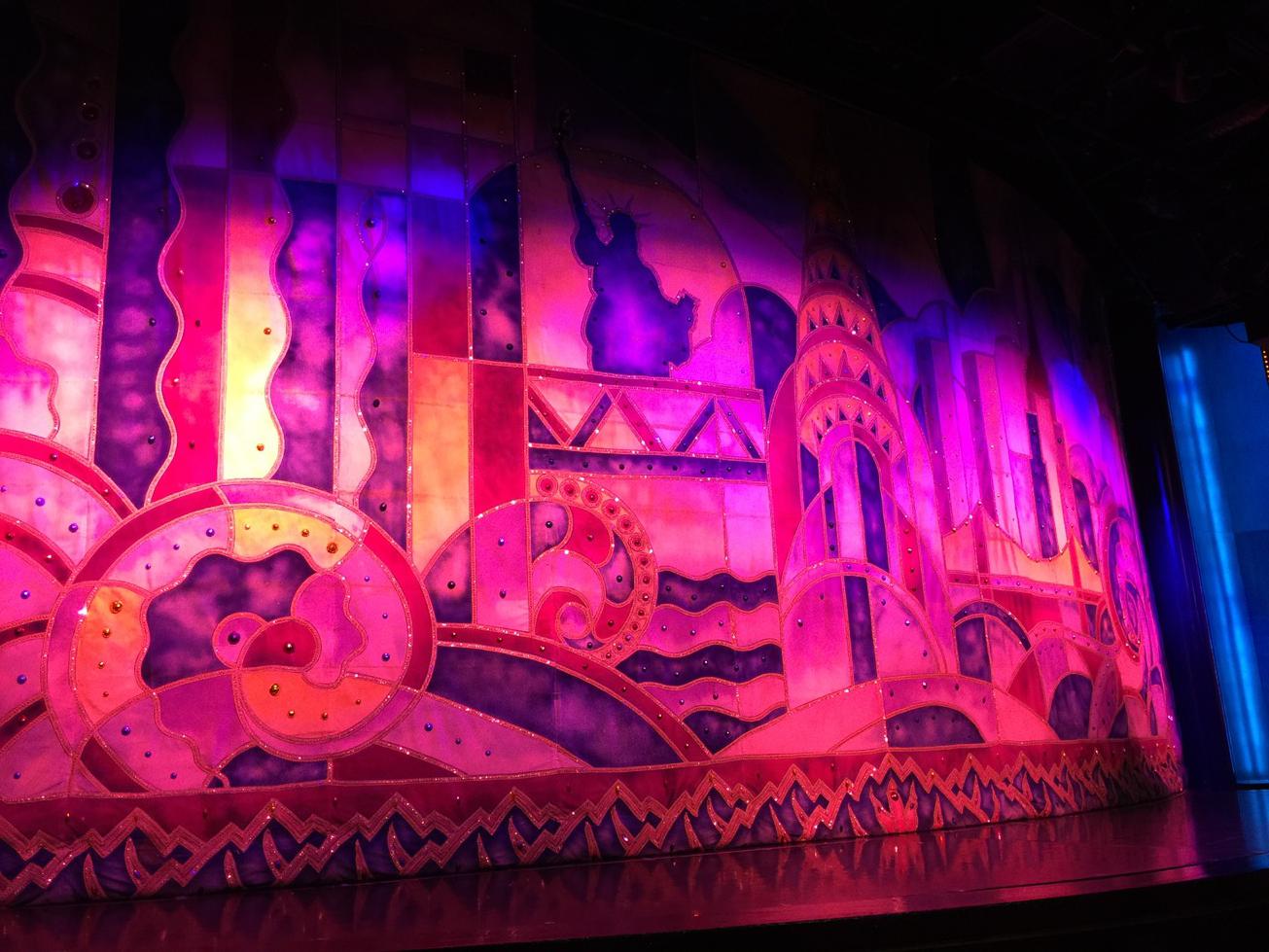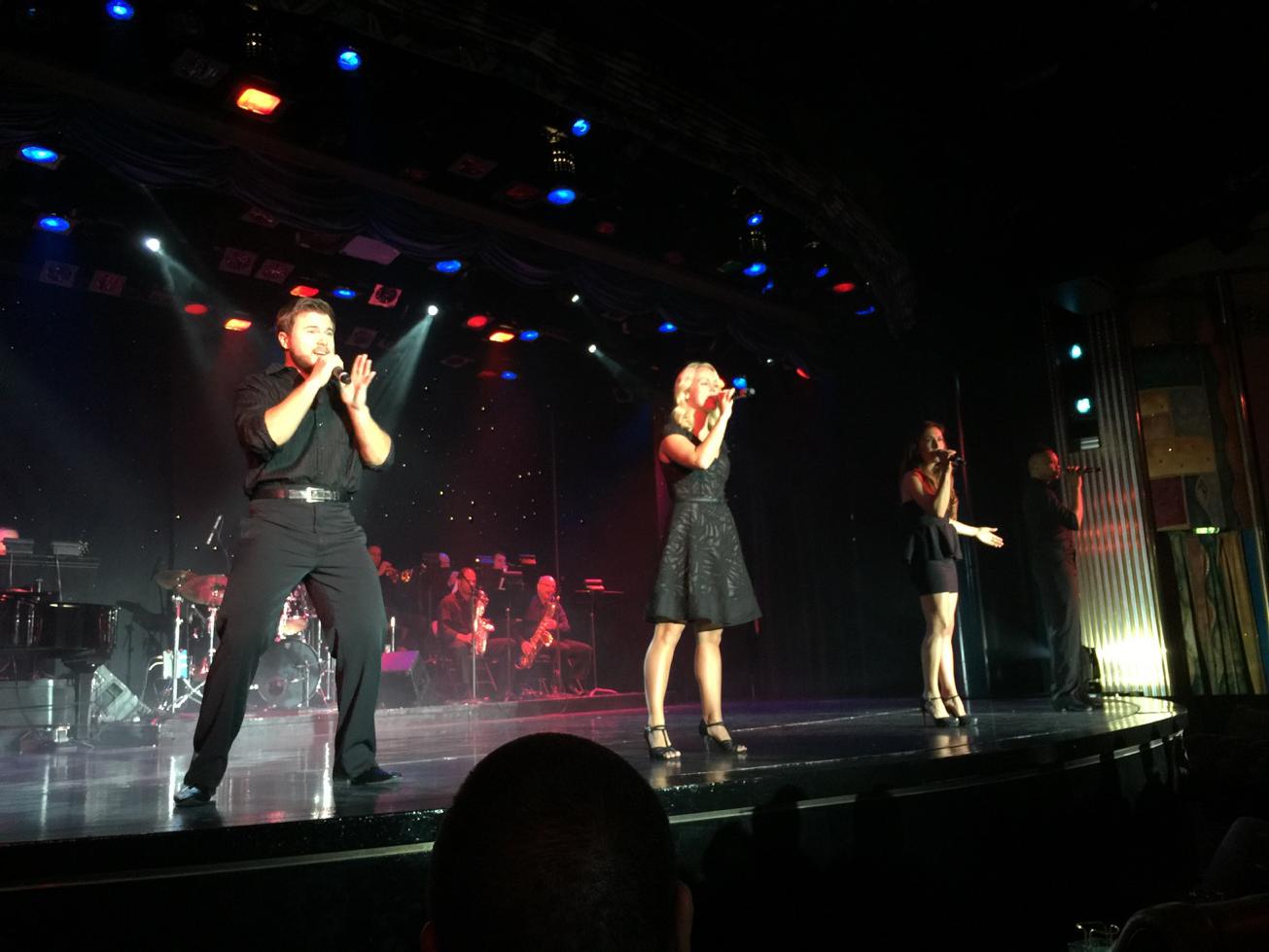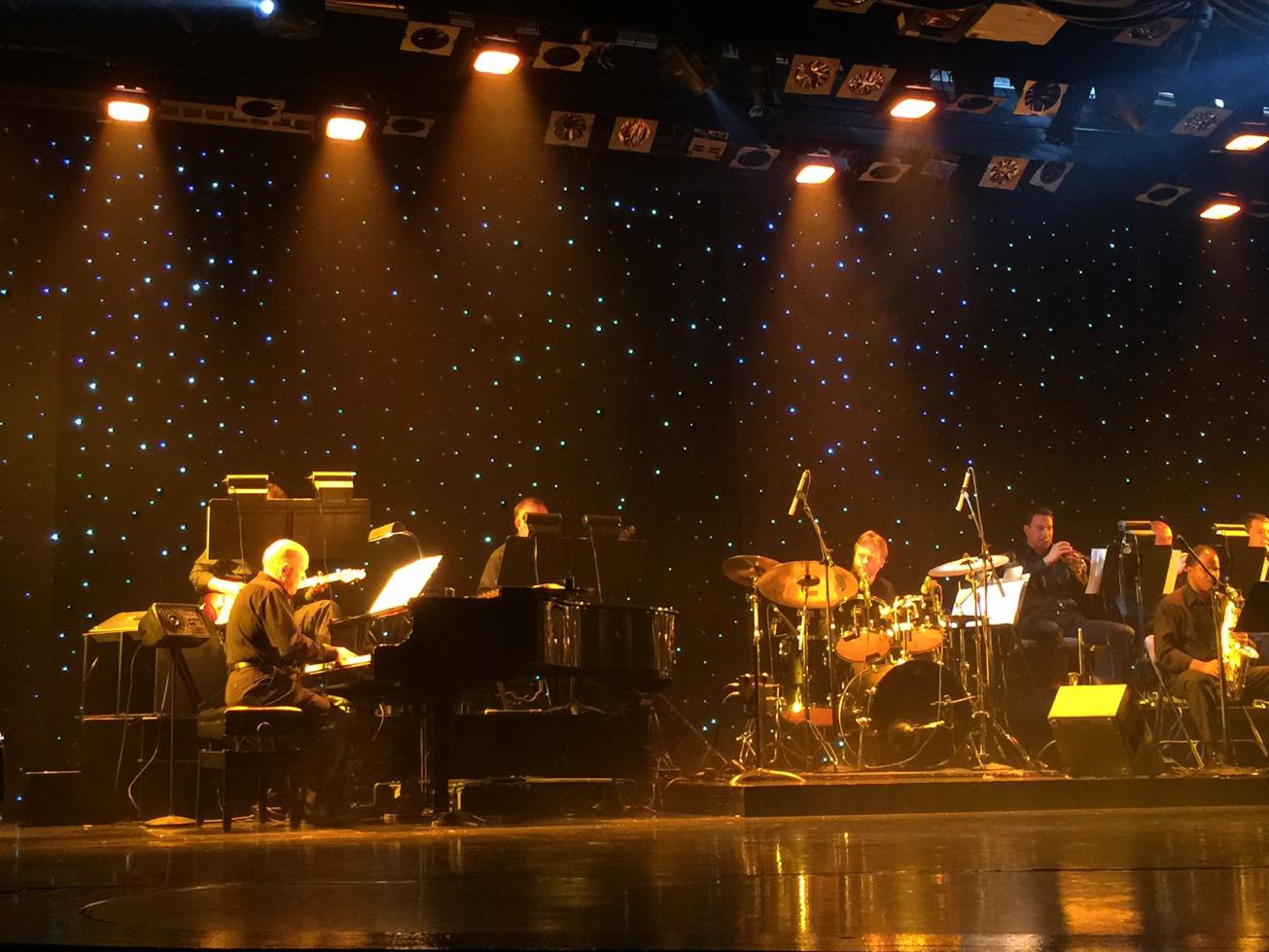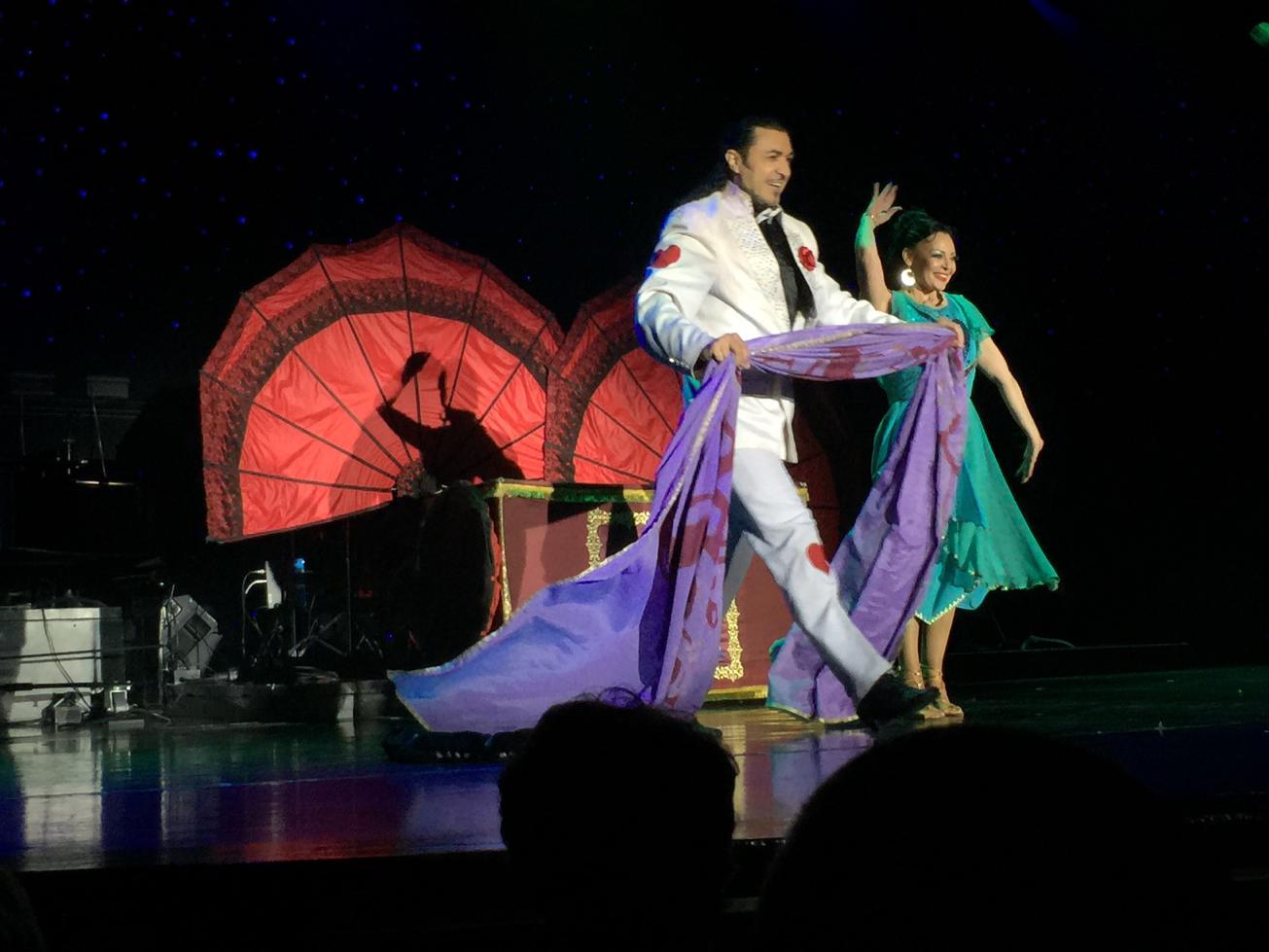 I still don't feel like I've got to know the ship well enough to pass too much comment, so expect more on this as our little relationship develops!
Sail-away
Leaving Venice was something really quite special. The deck was crowded and everyone was out for the trip along the grand canal. The sun was setting behind the ship (which is where the header photo came from) and the wind's chill didn't deter the masses who, like Lesley and I, were entranced by the view. There was plenty of music, dancing, and crew with mobile bars to keep everyone fuelled!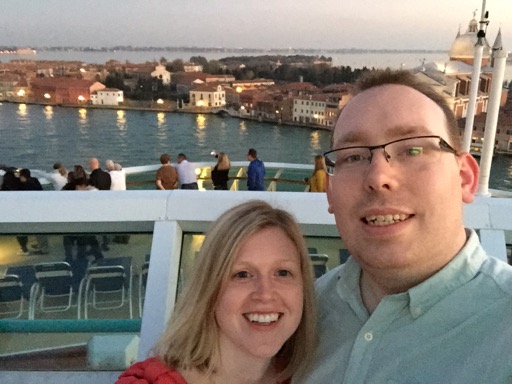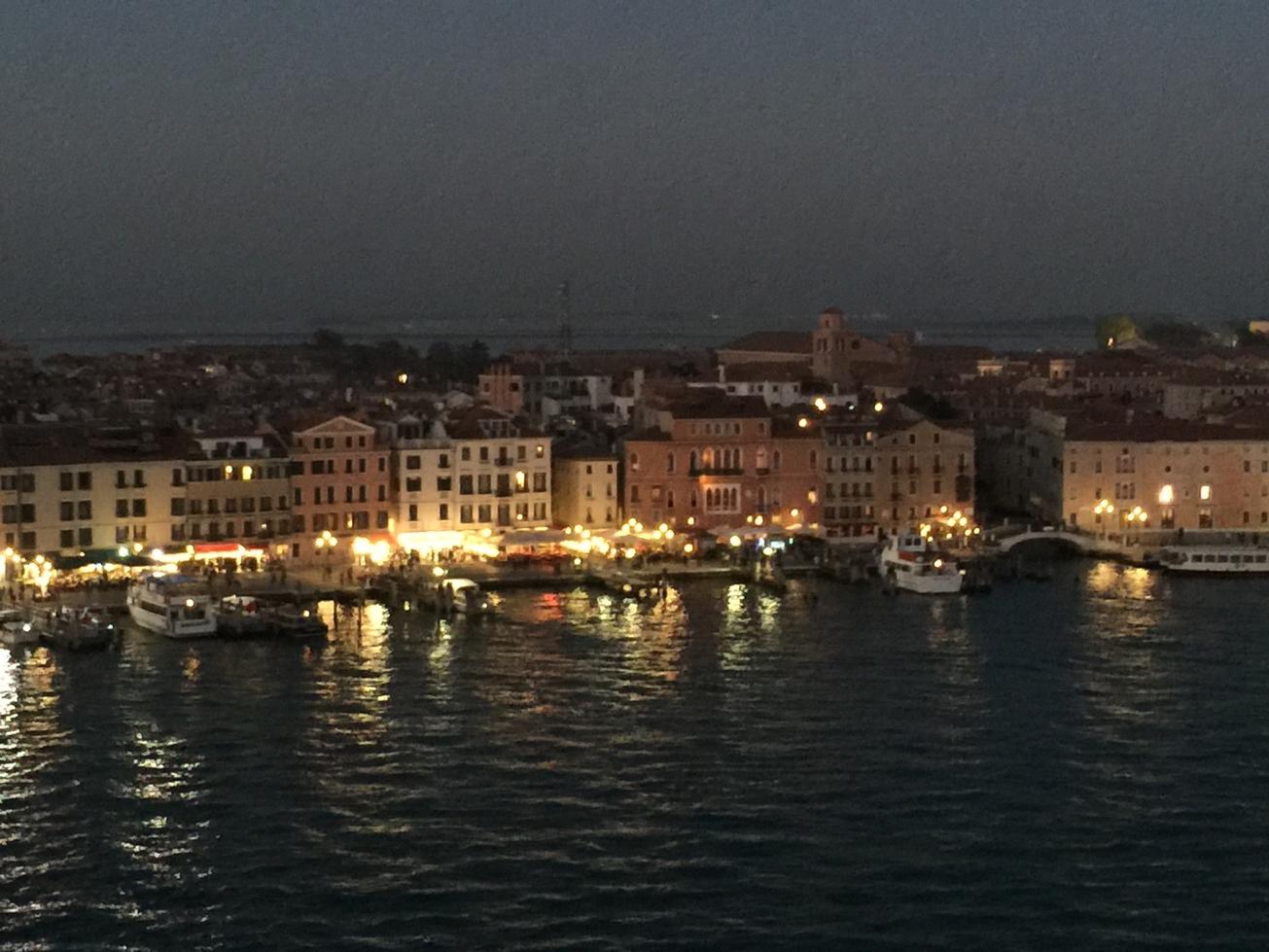 We'll have a day in Venice at the end of the cruise and I can't wait to explore the city properly.
Food
As you all know, food is a big part of cruising! So what is it like? So far I've managed to avoid the Main Dining Room on the ship, with lunch being taken at the hot dog stand on the pool deck and dinner being in the Chops Grille speciality restaurant. The hot dog was OK, though the bread was a little stale. I think this was mainly due to low footfall quite early in the day before most people had boarded. I'll try it again as I love a good hotdog! The range of accompaniments and sausages themselves were impressive so I look forward to trying the full range in due course!
Dinner was booked stupidly late tonight; despite being totally knackered I ended up booking dinner at 21:00 which was honestly a pretty stupid idea. Thankfully it didn't turn out to be the disaster I thought it might be, and Lesley and I both enjoyed the meal (and I had plenty of wine courtesy of my Ultimate drinks package – more on that in another entry).
I had scallops to start, a fillet steak as the main event, and a melting-middle chocolate bomb to finish. All of it was pretty good, though I don't know how the standard compares to the MDR yet. I'll find out tomorrow!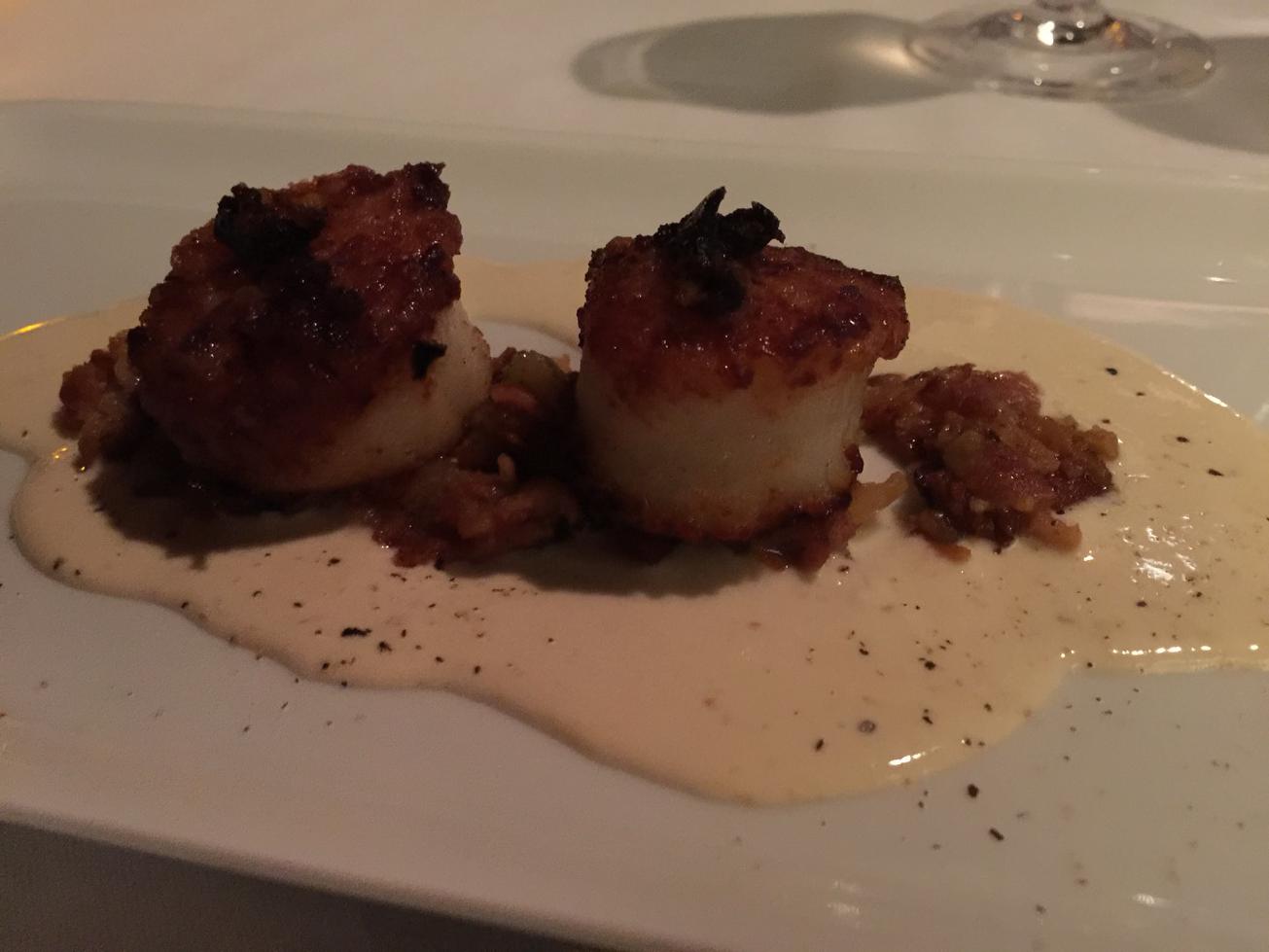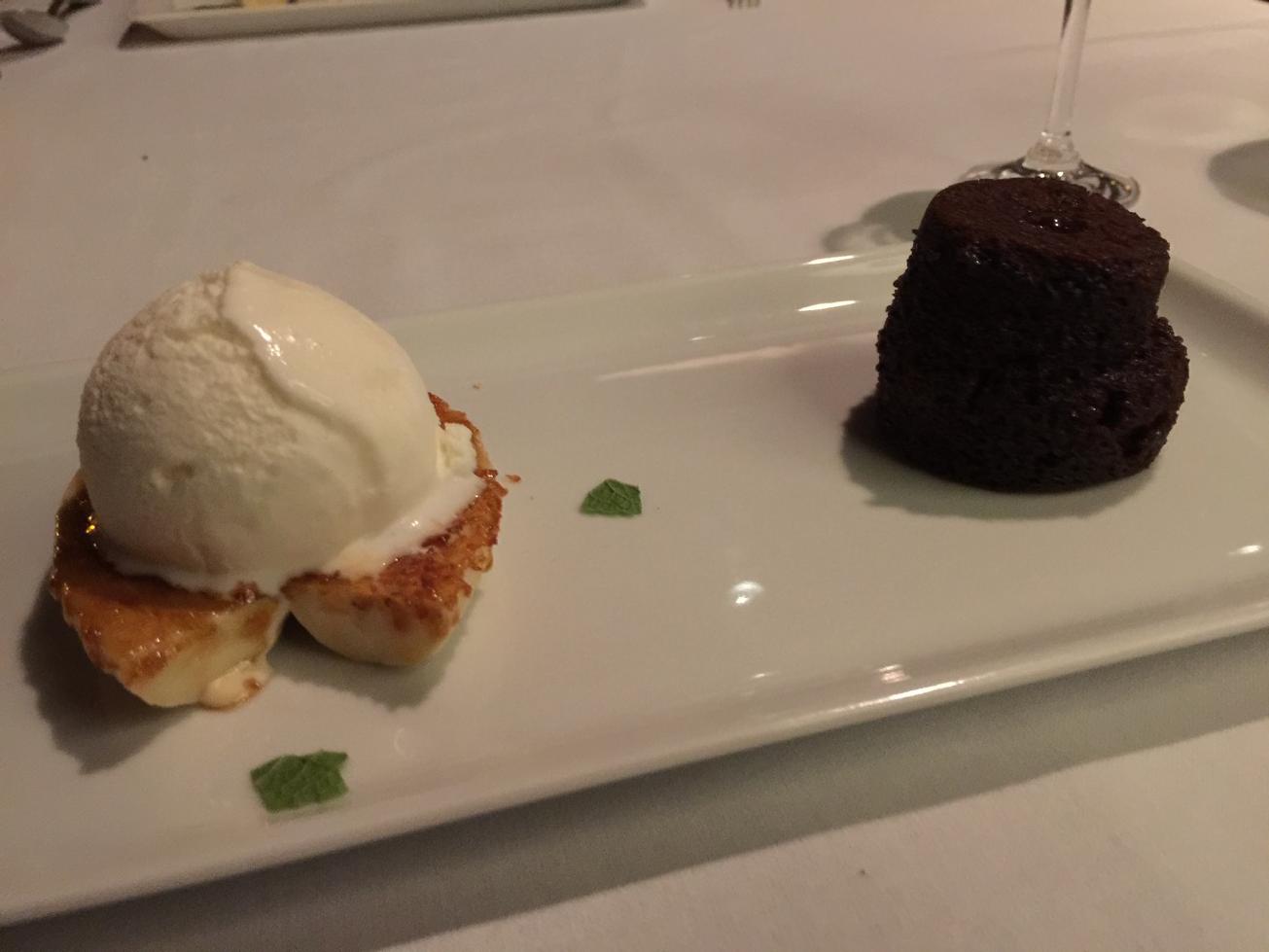 Well I'm pretty exhausted so I'm almost certainly leaving out loads of details. I'll probably remember things and include them in another entry on a day that didn't involve getting up before some people had gone to bed.